After the World Trade Center attack, First Responders had difficulty communicating quickly and comprehensively. Other crises and emergency events such as the Sandy Hook School shootings, Hurricane Katrina, the Deepwater Horizon oil spill, the Parkland School shootings and many more have continued to validate the desperate need for interoperable communication among First Responders.
First Responders, first line of defense
In emergency situations, First Responders are the first line of defense for safety and rescue missions. They depend on digital and connected technologies to facilitate life-saving assistance, manage crisis situations, and to bring order to chaos. There is a lack of infrastructure for communications media (radio, video, mobile communications, sensory information, telephony, data files and chat) throughout disconnected silos in both vertical and horizontal environments. Universally, national interoperable communications solutions for emergency response have remained elusive, despite significant investments and determined efforts by many.
The company supplies secured communications technologies that deliver speed, flexibility
Providing a solution for interoperable communications is Agile, Bethesda, Md., formerly known as Agile Interoperable Solutions. The company supplies secured communications technologies that deliver speed, flexibility and a range of 4G, 5G and LTE coverage. Agile's line of incident command products support both land and marine applications and do not require hardware changes or full replacement with each new generation.
CORE system integration platform
Each Agile technology is an extension of its flagship product, CORE (Common Operating Radio Engine). CORE integrates Landline, Cellular, Radio, Wi-Fi and Satellite communications in a portable, ruggedized enclosure supporting incident response and command and control functions. CORE provides interoperability and unified incident command for secure communications among multiple and disparate parties, agencies, vehicles and IoT-enabled devices under harsh conditions.
In conjunction with CORE's interoperable capabilities, Agile's remote management and virtual SIM technologies provide flexibility and economies of both SIM utilization and hardware maintenance. The management server allows in-field units to be supported, updated, and reconfigured remotely. Virtualization allows SIMS to be loaded onto Agile's cellular gateways from a central SIM library as needed to change or add cell carriers or a number of active LTE connections. Agile's technologies provide voice, SMS, MMS, IMS and data over 4G, 5G and LTE up to gigabit coverage.
Public and infrastructure safety
First Responders should be first in line to this technology because their job is to save lives"
"First Responders should be first in line to this technology because their job is to save lives," says Vernon Guillermo, Agile's Co-Chief Executive Officer/COO. "Emergencies are unpredictable, and the nature of risk dictates that one does not know who one needs to coordinate with, where that person is or what form of communications and information will be required to mitigate or manage the issues that arise."
First Responder workforces face the most demanding and often dangerous work environments, performing jobs that are critical to public safety and protecting infrastructure, delivering patients to hospitals, fighting fires, operating mass transit vehicles and maintaining the power grid. "These mission-critical workers cannot afford to be disconnected from dispatchers and operations – even for a few minutes. Agile's technology, CORE, provides the solution for First Responders to achieve secured interoperable communications", says Shehryar Wahid, Agile Co-Chief Executive Officer/CTO.
Bridging communication gaps
"During times when immediate and coordinated communication is tantamount, Agile can provide the bridge to close communications gaps and help keep First Responders connected and assist them in their efforts to save lives", says Wahid. Agile's technologies are being deployed by a major Southern Florida municipality's First Responders and firefighters and are on the verge of being deployed by other governmental and non-governmental entities.
The 9-11 Commission discovered that a lack of interoperable communications between fire and police was a serious problem that hampered evacuations and contributed to the deaths of personnel after the attacks on the World Trade Center buildings. The Department of Homeland Security (DHS) National Emergency Communications Plan (NECP) defines "interoperability" as follows, "The ability of emergency responders to communicate among jurisdictions, disciplines, and levels of government, using a variety of frequency bands, as needed and as authorized."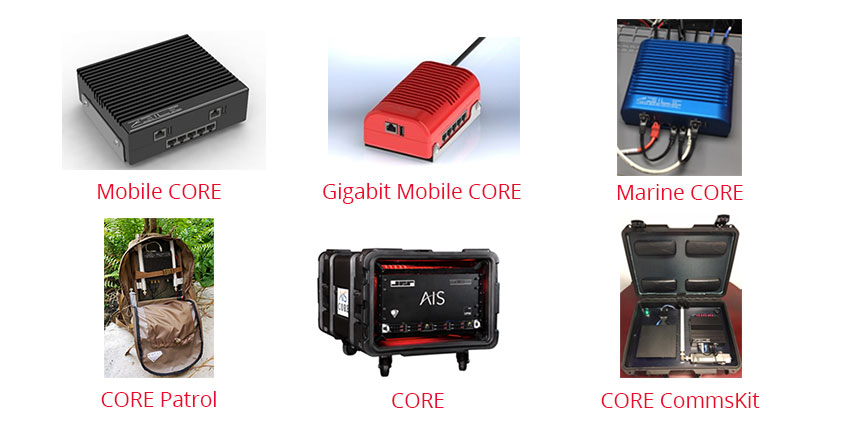 CORE integrates landline, cellular, radio, WiFi and satellite communications
Secured interoperable communications tools
Wahid says Agile's technologies help address this challenge by offering secure interoperable communications tools. Additionally, emergency environments are not static events; new primary, secondary and tertiary effects can emerge rapidly. Therefore, communications are needed with those both in immediate proximity and considerably more remote. "The individuals who are tasked with running these communication systems can themselves be bandwidth-challenged, given the increasing complexity of technology they are required to master while facing increasingly tighter budgets," Wahid adds.
Funding and implementation of technology in general can be challenging. In addition to direct purchasing of Agile products, Agile offers leasing options to ensure affordability to those with challenging budgets. All Agile's products are solid-state and ruggedized to withstand severe and extreme weather conditions. Agile is the crucial tool and solution First Responders need to help them save lives. "Agile just provides First Responders the desperately needed secured interoperable communications tools," Wahid says.
"There is a misconception that interoperable communications have already been achieved," says Guillermo. "Unfortunately, with unpredictable emergencies that arise all over the world, First Responders are reminded with each event about the critical need for integrative communications under the most rigorous of circumstances. Agile's mission is to bring the complete solution to First Responders globally."
Download PDF version
Download PDF version