Chubb FIRE RESCUE ACESSORIES
(1)
Browse FIRE RESCUE ACESSORIES
Rescue/RIT Accessories products updated recently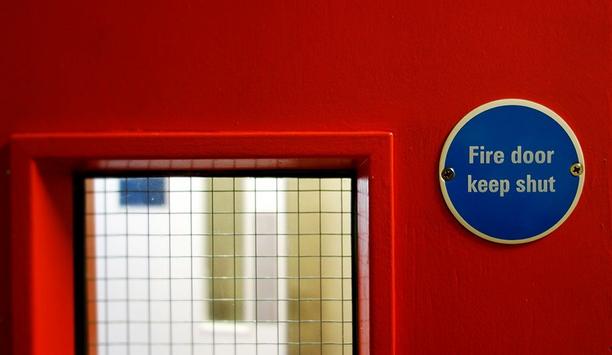 Fire Door Safety – Time To Bridge The Gap
Fire safety doesn't happen by accident; it requires universal attention. With that, Karen Trigg of Allegion UK explores why the importance of working fire doors is often overlooked and why now is an opportune time to bridge the gap between fire safety education and action. Improving fire safety within UK buildings is a challenge we are all continuously facing. Irrelevant of the sector, it's of the highest importance for any building type - from schools and hospitals to high-rise residential and industrial facilities. Because when it comes to fire, there are no exemptions. Most of us are only made aware of the danger of fire from headline disasters and yet, in the year ending March 2021, fire response teams attended 151,086 fires in the UK, of which the average total response time to primary fires in England was 8 minutes and 35 seconds. Role of Fire doors Fire door hardware is tested under BS EN 1154, BS EN 1155, and BS EN 1634 standards and CE marked Fire doors play a fundamental role in these scenarios and are rigorously constructed and tested to British Standards BS 476: Part 22 or BS EN 1634-1 to ensure they remain fire-resistant for a minimum of 30 minutes (FD30) or 60 minutes (FD60) - holding out long enough to cover response times and evacuation. Fire door hardware is also meticulously designed to comply with UK Construction Products Regulations and is tested under BS EN 1154, BS EN 1155, and BS EN 1634 standards and CE marked. After all, without functioning hardware, a fire door is rendered useless. Fire door safety Fire door safety is an area that should never be neglected. Often, fire doors are the first line of defense in protecting people and property in the event of a fire - but only when installed and maintained appropriately. Yet, as incident reports repeatedly highlight, the significance of working fire doors remains habitually overlooked. The latest in reformed guidelines hope to address this, with the introduction of this year's Fire Safety Act 2021 and the Building Safety Bill highlighting the diligent detail in which all responsible parties must approach the subject. Missing knowledge Fire doors fall under what's described as a building's passive fire protection system. At their most basic and when closed, they form a barrier and enable a building to compartmentalize the spread of fire and smoke. When open, they provide an essential means of escape. Yet there's nothing rudimentary about fire door safety. However, danger commonly lies where fire door safety is misunderstood. Especially when you consider that last year alone, for local authorities, a staggering 65% of 26,318 planned fire door maintenance and replacement phases did not progress as scheduled - leaving doors neglected and buildings vulnerable. And while some may dispute that 2020 fell to extenuating circumstances, there's no argument that fire door safety has become too easy to neglect. Closing The Gap The gap in fire door safety expertise is resulting in poor design choices, faltering standards Evidently, the gap in fire door safety expertise is resulting in poor design choices, faltering standards, and a general lack of knowledge. While it's clear that expertise is lacking across various touchpoints - think product selection, installation, and maintenance - there is momentum to incite real change and the resources to improve awareness and education. In response, and leading by example, is the Architects Registration Board (ARB) which recently published guidance to suggest fire safety is taught under the architecture curriculum at universities. And while this shows positive steps are being made, the onus can't solely be passed to the next generation of architectural professionals. All professional areas must commit and, in an age where information is almost instantaneous, there are several methods to gain a greater understanding of fire door safety - and all from trusted sources. Fire Door Safety Week In light of Fire Door Safety Week, the British Woodworking Federation Group shares regular advice and useful toolkits on fire door safety; including a five-step checklist that's designed to support building owners in assessing their own fire doors (via certification, apertures, gaps, and seals, closers and operation). Information pools like this provide modern building managers with the know-how they need to monitor and act - deciding to repair or replace fire doors where necessary. For those actively involved in the maintenance stage, further guidance on topics such as certification and door closer adjustments is available online and by manufacturer request - showing fire door safety doesn't need to be tackled alone. Fire safety awareness Professionals can ensure that their standards don't slip after time passes, by understanding more about fire door safety When it comes to product selection and installation, there's also a wealth of information and walkthroughs available in the form of detailed product datasheets and installation guides. These can often be found online and allow for a greater understanding of the hardware that's available, leading to better design decisions and more reliable installation. Aside from product manuals, installers and contractors are commonly offered specialist site visits, training portals, and even hardware classification guides in a bid to assist with projects post-installation. With this, professionals can ensure that their standards don't slip after time passes, by understanding more about the rounded process that fire door safety is and being ready for maintenance periods when they approach. Today's associations, professional bodies, and manufacturers are on hand more than ever to assist specifiers, installers, and end-users throughout the process that is fire door safety. The support is there, and the resources are readily available and so, there's now a real opportunity to improve fire safety awareness and education for the better. How Allegion UK can Help Allegion UK has a wealth of resources to help professionals undertake product selection, installation, and maintenance checks on fire doors and hardware. This simple toolkit provides information and tips on detecting potential faulty doors and poor installation, a guide to the EN classification system, and a safety checklist. There's also an option to order a free door gap tester or download Allegion's general guide to service and maintenance for free. For information on product selection and installation, please speak to the experts or head to the download center for technical fitting instructions.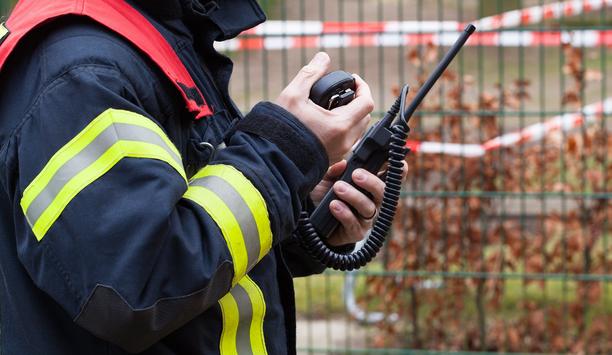 Why Communication Breakthroughs Are Going to Be Crucial To A Healthy Post-Pandemic Fire Sector
Communication technology has always been a key area of innovation for a variety of sectors, but the emergency services sector, in particular, is one of those that stands to gain a great deal. Those operating in the fire sector typically operate in noisy, dangerous conditions where communication is essential but difficult. hands-free communication From Bluetooth headsets to clunky hands-on radio systems, there have been a plethora of communication innovations in recent years designed to connect workers while keeping them safe and productive. Wearable, hands-free communication systems represent the latest frontier in this quest for safe communication Wearable, hands-free communication systems represent the latest frontier in this quest for safe, productive communication, and the pandemic has changed the communication game business of all shapes and sizes will be looking at 'hands-free' communication technology in a brand new light. Since the onset of the pandemic, even the most hands-on workplaces have had to practice social distancing and mask-wearing, adding another layer of health and safety onto an already complex set of rules and regulations. Where workers might once have been able to share radios and other equipment, they now need to do what they can to stay apart and not cross-contaminate surfaces. That means working hard to limit contact with surfaces, and each other. Critical communication in the fire sector If any sector is ready to lead the charge in terms of communication innovation, it's the fire sector, which typically sees its workers operating in loud, hazardous environments, has been a driving force behind some of the greatest communication innovations of the past couple of decades and will continue to innovate to keep its workers safe and connected. According to some sources, the critical communications industry is growing at a rate of knots and will be worth more than $20 billion by 2028. That's a compounded annual growth rate of nearly 10%, no doubt accelerated by the pandemic and our renewed focus on worker safety and the need for hands-free communication solutions. Perhaps the best way to speculate about future breakthroughs and how they will materialize is to first look back at how the emergency services, hospitals, and other sectors, have pioneered the way teams communicate. There have been countless communication breakthroughs over the years, but which ones have stood the test of time, and which ones are going to be most valuable to us as we emerge into a post-pandemic world? 'smart PPE' and wearable communication technology Workers in a variety of settings were able to communicate completely hands-free without removing their PPE Wearable communication technology isn't new by any means, but its adoption and innovation have certainly been accelerated since the pandemic. While front-line and mission-critical workers carried on throughout the pandemic, they still needed to adhere to social distancing guidelines wherever possible and that also meant limiting contact with surfaces and staying in PPE. Workplaces in other sectors, when they were able to go back to the office, also faced the same conundrum. Health and safety had changed and businesses needed to adapt accordingly. Their answer? Wearable communication technology in the form of 'Smart PPE'. By incorporating comms technology into masks, helmets, visors, and overalls, workers in a variety of settings were able to communicate completely hands-free without removing their PPE, giving them complete freedom without compromising on safety. No more pulling off visors to fiddle with intercoms, or reaching for the bulky radio that's been passed around from shift to shift. Smart PPE makes operating in hostile environments by giving them the ability to stay in touch with their co-workers without having to interface with anything physically or share personal devices. Intelligent 'active listening' ear protectors Did you know that an estimated 22 million workers every year are exposed to potentially damaging levels of noise? The traditional solution would be to muffle the sound with ear guards, but that comes with its own set of problems. Communication is as much about listening as it is speaking. For workers in busy, loud, or dangerous environments, being able to hear what's going on around you while also protecting your ears from potentially damaging sounds is crucial. Active listening headphones can protect workers from potentially damaging noises such as heavy machinery, but let through important sounds such as warning signals, radio communications, or the voices of their co-workers. That means instead of constantly taking protective ear guards on and off, or lifting a cup of the gear to hear a colleague yell something important, active listening headphones allow workers to stay alert and in-tune with their surroundings without putting their hearing at risk. Pioneering self-healing networks A perfect companion to 'smart PPE' but also an excellent technology in its own right, self-healing networks are designed for teams that are constantly on the move, from hospital staff to busy fire teams. They're called 'self-healing' because of their ability to reconnect units that come back within range, and they stay connected even when one or more units drop off the network. Sectors like the emergency services are going to play a critical role in keeping those innovations coming A self-healing network is a cut above Bluetooth, which is typically unreliable with limited range and requires no base unit - allowing team members to roam far and wide and stay in touch so long as they're in range. It facilitates 'always on' communication, meaning no need to push buttons to talk and can be voice-activated, so no member of staff has to come into contact with another or with any surface. While not invented since the pandemic, much like Smart PPE, its uptake has increased dramatically. Communication breakthroughs have been central to health and safety for several years, but as we emerge into a so-called 'new normal' following the pandemic, sectors like the emergency services are going to play a critical role in keeping those innovations coming.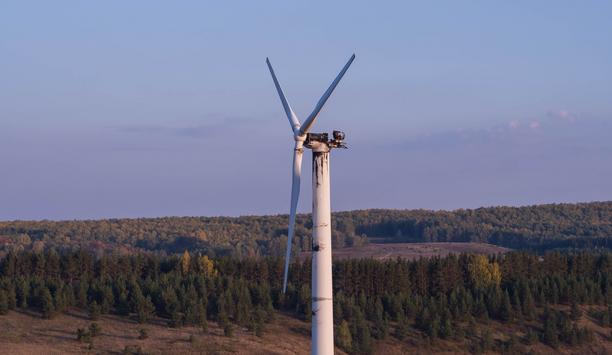 Using State-Of-The-Art Technology To Prevent And Put Out Wind Turbine Fires
As more and more countries in Europe and North America commit to net zero, a key strategy is replacing old fossil fuel-driven forms of power generation and replacing them with renewable energy, such as wind turbines and solar panels. The wind industry has seen a particular boom, with tens of thousands of new turbines installed every year across the globe. However, like any other heavy machinery, wind turbines can catch fire due to mechanical or electrical failures. These fires can have impacts beyond the turbine if there is secondary fire spread to surrounding lands, resulting in potentially catastrophic loss. Without this technology in place, a single fire could cost $7-8 million and cause substantial downtime. The time is now for the industry to use all available technology to prevent these incidents and reduce the risk of fires spilling into the environment. How do wind turbine fires start? Wind turbine fires can catch fire due to external causes, such as lightning strikes, or internal causes, such as mechanical or electrical failure resulting in sparks or heat in the nacelle. Most nacelle fires start at one of three points of ignition – converter and capacitor cabinets, the nacelle brake, or the transformer. Nacelle brakes are used to stop the turbine's blades from spinning in an emergency. Converter and capacitor cabinets and transformers are necessary for the turbine to generate power and transform it into a voltage that can be exported to the grid. An electrical fault at either location can produce arc flashes or sparks, which can ignite nearby Class A combustibles, like cables, plastics, or fiberglass. Nacelle brakes are used to stop the turbine's blades from spinning in an emergency. The brakes can cause turbine fires, albeit due to sparks from mechanical stress and friction rather than electrical failure. While some turbines have been designed with safer, electrical brakes, mechanical brake systems are often used as a backup in the event of power or control failure. These ignition points are all necessary for the safe generation of electricity from the wind, and cannot simply be designed out. As such, wind farm owners and operators must be ready to deal with fires when they spark. Why are wind turbine fires hard to fight? Modern wind turbines often exceed 250 feet in height, while most ground-based firefighting can only reach up to 100 feet. A team sent up-tower to manually fight the fire would constitute a major health and safety risk, as turbines have limited space and escape routes – putting employees not only in direct contact with fire but at risk of being in the turbine if it collapses. As such, when turbines catch fire, they are often left to burn out, with firefighters' efforts focused on preventing the spread and clearing the area as fiery debris falls. This results in irreparable damage to the turbine, necessitating its replacement. What is the cost of a wind turbine fire? The cost of replacing a burned-out wind turbine depends on a number of factors. First and foremost is the size and initial cost of the turbine. Turbines with more than 3MW of rated capacity can cost between $3-10 million to install during development. Replacement turbines can often cost even more, as manufacturers are likely to charge more for individual, one-off installations. Another key loss is business interruption, or how long the turbine was offline – and therefore not generating revenue. The average loss due to a turbine fire was estimated by insurance company GCube to be $4.5 million in 2015. As turbines have grown larger and therefore more expensive to replace with greater losses in revenue, we expect a fire to cost anywhere between $7-8 million for new models. How can turbine owners and manufacturers manage fire risk? Firetrace's system is designed with flexible Heat Detection Tubing, which ruptures in response to extreme heat or open flame Turbine manufacturers are already taking steps to "design out" fire risk in turbines. For example, lightning protection systems on turbine blades safely re-direct the surge of electricity away from cables, while condition monitoring systems can identify whether a component is overheating and likely to catch fire. In order to put out any turbine fires that do start at their source, turbine owners and manufacturers can install automatic fire suppression systems at common points of ignition. Firetrace's system is designed with flexible Heat Detection Tubing, which ruptures in response to extreme heat or open flame, releasing a clean suppression agent precisely at the source of the fire before it can spread. Wind farm owners who have taken a more proactive approach to manage risk via fire suppression systems have been able to snuff out fires before they can spread throughout the turbine or into the environment. By investing in the latest technology for fire suppression, owners and operators have avoided the worst-case scenario, saving millions in operating costs.
Chubb Installs Hybrid Fire Solution In Historic Scotland Hotel
Chubb recently installed a hybrid fire solution, comprised of a combination of hardwire and wireless fire systems, in Glenapp Castle, a 21-bedroom, luxury five-star hotel in Ayrshire, Scotland. The solution meets the historic Scotland preservation agency's stringent requirements. Chubb is a part of Carrier Global Corporation, the foremost global provider of healthy, safe, sustainable, and intelligent building and cold chain solutions. Challenge The owners sought to convert the castle's entire top floor into a luxury apartment but due to the historic nature of the building, it required a robust fire system in place. Normally if a void in a loft space is under a certain size, it does not need to be covered, but Historic Scotland requires all voids to be completely covered, so close attention to detail was required. Chubb's initial site visit involved a thorough eight-hour examination, exploring every nook and cranny of the loft space, which revealed many voids, including the eaves spaces and the turrets at the top of the tower. Solution Chubb's proposed solution comprised of a combination of hardwire and wireless fire systems The project required Chubb to devise a hybrid fire solution – one that would protect both the existing building and the renovation project. Chubb's proposed solution comprised of a combination of hardwire and wireless fire systems; cabling for the renovation of the top floor; and wireless modules such as smoke detectors and sounders, to the existing cabling in the finished building. During the project, the scope of the renovation changed considerably, which required Chubb to be flexible in adjusting the original fire solution specified. Working closely alongside other contractors, Chubb also worked to interface the fire solution with various other systems including the BMS system, sprinkler system, dynamic emergency lighting system, and pressurization system to keep the fire exit stairways clear. One unusual challenge Chubb encountered was the discovery of bats in the loft space, which required the team to seek a bat license and involve the Bat Conservation Trust. Delayed work due to COVID-19 When the renovation started in January 2020, the proprietor intended to have the luxury apartment open for late summer, but the COVID-19 pandemic delayed work until Spring 2021. Glenapp Castle reopened in May 2021 showcasing its new 4,500 square foot luxury penthouse apartment – The Endeavour – which was recently recognized in The Week's "World's Top 10 Best Luxury Hotel Penthouses." Results Chubb team has been extremely thorough in recognizing fire protection required and delivering a bespoke solution Since completing the project, Chubb has enhanced the existing fire maintenance contract in place to cover the full scope of works completed and with the addition of remote monitoring. Due to the castle's remote location, the owners wanted to ensure that the fire systems would be monitored by Chubb's alarm receiving center 24/7. Authority Comment "This has been a challenging project for all our contractors, in respect of Historic Scotland's requirements and the unforeseeable delays caused by COVID-19." "The team at Chubb has been extremely thorough and attentive throughout, both in recognizing the level of fire protection required and delivering a bespoke solution to very high standards," said Paul Szkiler of Truestone, the owners of Glenapp Castle.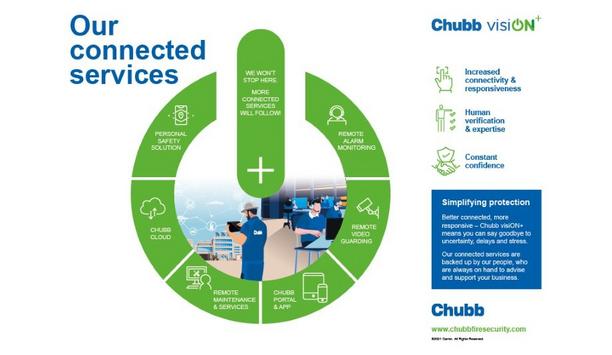 Chubb Launches VisiON+ Remote Fire Safety And Security Services For Better Connectivity And Responsiveness
Chubb announces the launch of Chubb visiON+ for its customers worldwide, a range of complementary remote fire safety and security services for improved connectivity, responsiveness and overall peace of mind. With visiON+, Chubb is changing how protection is managed, using valuable data analytics to remotely take the right actions at the right time, maintaining full protection. Chubb is a part of Carrier Global Corporation, the global provider of healthy, safe and sustainable building and cold chain solutions. Alarm monitoring capabilities Chubb's visiON+ builds upon the strength of Chubb's remote alarm monitoring capabilities across over 20 monitoring centers worldwide and the first services in the range include: Remote maintenance and services: Immediate, proactive support and remote troubleshooting for fire and security systems. Remote alarm monitoring: Monitoring center operators connect remotely to existing surveillance systems and promptly activate the agreed response procedure when required. Personal safety solution: A mobile app allowing office-based employees, as well as remote workers, to share their exact location and situation directly with Chubb's monitoring center response team to summon help. Chubb portal: An online dashboard and mobile app providing customers the ability to remotely monitor and manage their fire safety and security accounts. Chubb cloud: Customer access to Chubb's cloud, reducing reliance on on-site servers, allowing for increased scale of operations and reduced costs. Physical security systems By combining Chubb's extensive experience in fire and security with these remote solutions, customers will be able to take advantage of direct, immediate and easy connectivity with Chubb 24/7, along with verification from Chubb's trusted experts to provide the correct response to any issue they may face in the workplace. The service also provides customers with valuable insights to better tailor future security approaches The service also provides customers with valuable insights to better tailor future security approaches. By connecting their existing physical security systems with Chubb's remote offering, facilities managers and business leaders will also be able to manage the significant challenges presented by the new hybrid working model. Remote protection services "We are excited to announce the launch of our Chubb visiON+ offering, which builds on our many years of experience as a leading fire and security services provider and reflects our belief that remote services provide the most effective protection against a host of fire and security challenges today," said Anthony Brennan, President, Chubb. "When combined with Chubb's extensive expertise, the improved connectivity and responsiveness offered by this range of services will help our customers improve the safety of their buildings and occupants across the globe." Chubb visiON+ products are available to Chubb customers in Canada, Europe, and Asia. Chubb is committed to expanding the range of remote protection services it offers, integrating how they're used, and streamlining customers' experience even further.
Chubb Fire & Security On Fire Extinguishers – The First Line of Defense
Portable fire extinguishers play a vital role in preventing a fire from becoming a major conflagration. Indeed, the guidance notes of the Regulatory Reform (Fire Safety) Order (FSO) references this very point, stating how the safe use of an appropriate fire extinguisher to control a fire in its early stages significantly reduces the risk to people and property. In fact, according to the Fire Industry Association (FIA), almost 90% of workplace fires are successfully fought with a fire extinguisher. Fire extinguishers are an essential part of any fire safety strategy. Understanding the law, recognizing specific risks, and identifying products that are genuinely 'fit for purpose' is similarly key. But it is also important to stay flexible; fire extinguishers are not a panacea. It is better by far that the risk is identified and removed before trouble occurs. A small fire fought with a fire extinguisher should be a trigger for the responsible person to review their fire risk assessment. Competent Fire Equipment Supplier FSO recommends that all premises are provided with appropriate and sufficient fire-fighting equipment The FSO recommends that all premises are provided with appropriate and sufficient fire-fighting equipment – typically, fire extinguishers, blankets, and buckets. CE marking or the new UKCA marking is the minimum requirement for most products. A certified body should also have given assurance of fire-fighting performance e.g. BSI Kitemark. The best way for an organization to demonstrate it is compliant is to source products from a competent fire equipment supplier, such as Chubb, and to survey and install in accordance with the relevant British Standard BS 5306-8. Having documented proof that a competent survey, design, and installation has been completed is essential. Positioning of fire extinguishers Fire extinguishers should be positioned on escape routes; close to the exit from the room or floor, the final exit from the building, or, if necessary, adjacent to the hazard. Dedicated stands should be used or the extinguisher hung on a wall to fix their position. Ideally, no one should have to travel more than 30 meters to reach a general fire extinguisher, much less for equipment providing specific protection. The type and position of all fire-fighting equipment should be indicated by signs so that they can be quickly and easily located in an emergency. Depending on local conditions, such as the likelihood of vandalism or the environment where extinguishers are located, more robust stowage may be required. Compliance and Inspection Having the appropriate, approved extinguishers correctly sited and installed to meet the fire risks and to comply with BS 5306-8 is only half of the equation. The equipment needs to be commissioned and properly maintained thereafter, usually every 12 months, in compliance with BS 5306-3 by a competent supplier providing competent service engineers. Third Party Accreditation schemes, such as the BAFE SP101 scheme held by Chubb, give that assurance to you. Anything less and you risk equipment failing to operate or becoming dangerous to use. Between inspections by a competent service engineer, the employer should appoint an individual to regularly check that the fire extinguishers are placed in the correct position, untampered, and ready if needed. The employer also needs to provide training on how to choose the right extinguishers and when to use them. If your fire strategy allocates specific responsibility to certain people, such as fire marshals, then they will need to undertake comprehensive training. Chubb provides employee and Fire Marshall training amongst its suite of courses. How to identify different Fire Extinguishers and their uses Fire safety training should include best practice advice on when to tackle a fire and ensuring escape routes are cited As part of any fire safety strategy, it's important to consider that employees know where fire extinguishers are located and crucially, how to use them. Fire safety training, such as the one offered by Chubb, should include best practice advice on when to tackle a fire and ensuring escape routes are cited. If a fire broke out, would you and your colleagues know which type of extinguisher to use? The infographic illustrates the different types of fire risks and which type and color of fire extinguisher you should use. End-of-Life and recycling Of course, eventually, every fire extinguisher reaches the end of its useful working life. As a business, you have a legal duty of care to dispose of waste legitimately and safely via a licensed waste carrier. At Chubb, we offer a safe and legitimate service for the collection and disposal of condemned extinguishers. Chubb's Extinguisher Recycling Unit (ERU) is a dedicated facility offering a service for the safe processing and disposal of fire extinguishers across the UK; giving you total peace of mind that your extinguisher is being disposed of in an environmentally conscious and socially responsible manner. We have worked closely with the Environment Agency to develop safe, efficient, and environmentally friendly processes, ensuring that our site maintains its ISO14001 certification. One hundred percent of extinguishers entering our ERU are reused or recycled.