Rosenbauer FIRE HOSE REELS
(1)
Hose Reel products updated recently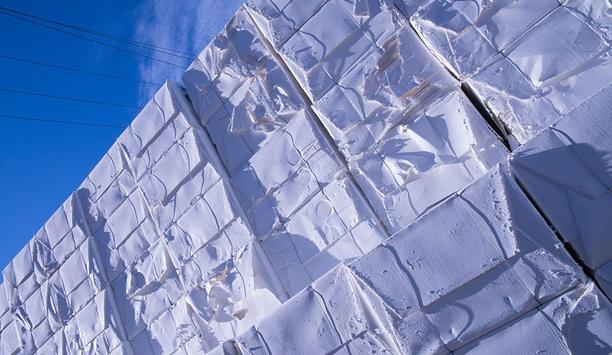 Fire Protection For Paper And Pulp Plants
There is a sense in some markets that the paper and pulp industry will decline owing to the digital technologies with which people interact every day. While this might be considered logical, the reality is completely different. In fact, the paper and pulp industry has experienced a steady growth and will continue to do so in 2021. Production of paper increased by more than 450% in the last decades and the demand of paperboard in the world is expected to grow significantly, driven by e-commerce and big retailers increasing their presence in the online sales universe. This sustained growth in production capacity and paper consumption presents several fire risks to companies and exposes communities that develop around paper mills, to the impact of disasters caused by these fire risks. Fire risks in the paper and pulp industry Paper and cardboard are combustible, but this is not the only fire risk found in these types of industries. Raw materials and finished goods storage are sensitive to fire. In addition, the paper making process includes several stages where fires can occur, due to hot surfaces or poor ventilation. The most relevant fire risks on a paper plant are: Storage Areas: As mentioned before, paper and cardboard are combustible. Solid paper blocks and reels have hard surfaces that don't ignite easily, but usually these reels can suffer minor damages or have loose sheets that significantly increase the fire risk. When paper reels are stacked in columns, gaps in the center can act as chimneys and when fires start in the bottom of the stack, this chimney effect will accelerate smoke and hot air spread, increasing vertical and horizontal flame spread. Wood and Bale storage fire risks Bale storage also presents a high fire risk, as loose materials are always present Raw materials for the paper making process can have two main sources, forestry products (mainly wood) or recycled cardboard and paper. Wood storage presents several challenges, especially due to wood chips that are highly combustible and, in some cases, even explosive. Bale storage also presents a high fire risk, as loose materials are always present. Fire in baled paper is difficult to extinguish and generates heavy smoke. In many recycling facilities, these paper bales are stored outdoors, where paper or rags soaked in flammable liquids, embedded between the paper sheets, can ignite resulting in a fast spreading fire. Chemicals, flammable liquids and gases In addition, it is possible to find different types of chemicals, flammable liquids and gases that are used in the paper making process. These materials have their own fire-related risks that need to be taken in consideration. Production Areas: In pulp factories, there are several long-distance conveyors that transport wood and wood chips. These conveyors constitute a fire risk and the most probable causes of fire are bearing damage, overheating of the conveyor and igniting chips in the environment. IR dryers, a common source of fire After the wood has been transported, chipped and digested, the paper making process becomes extremely humid, due to the large amounts of hot water and steam needed. But, as soon as the pulp fiber sheet starts to dry, the hot surfaces in contact with the paper sheets can be a source of ignition. IR dryers used in the process are also a common source of fire in the paper industry. When the sheet of paper is formed, close contact with reels and bearings moving fast can create static electricity that could ignite loose paper or airborne particles. Problems like these are likely to be more extensive in tissue mills. Paper dust is generated in certain parts of the process, especially where paper shits are slit or cut. Poorly insulated steam pipes lead to fire Poorly insulated steam pipes can ignite paper dust or even their own insulation materials. In addition, paper dust gathers in the ventilation grills of machinery, causing overheating and igniting as well. Heated oil is used in several parts of the process as well and if a malfunction occurs on the Hot Oil Roll systems, leaks might occur, exposing hot surfaces to this oil and causing ignitions. A paper mill has hydraulically operated machinery, where leaks or sprays might ignite as well. Service Areas: As in many other manufacturing facilities, several service areas can be found. Electrical and network equipment rooms have an inherent fire risk due to damaged wires or equipment, overheating or short circuits in high voltage circuits. Transformer and generator areas entail fire risks as well. High fire risk for boiler rooms Flammable gas distribution systems can be ignition sources, in case of leaks or damaged pipes or valves Hot water and steam are key components for the paper making process. For this reason, paper plants use high capacity boilers that can be powered by flammable liquids or gases. A high fire risk can be considered for boiler rooms. Flammable gas distribution systems can be ignition sources, in case of leaks or damaged pipes or valves. In addition to the fire risks mentioned in these areas, many maintenance operations can also pose fire risk, especially when hot works are being performed. Sparks caused by welding or the use of certain tools can ignite paper sheets or dust in the air. Poor housekeeping and buildup of paper dust, for example, increases the risk associated with maintenance and construction works. Prevention, the first line of defense According to the Health and Safety Executive from the United Kingdom, 60% of fires on paper mills are caused by machine faults and poor housekeeping. The first line of defense to avoid fire risks in paper plants is prevention. As mentioned before, a high number of fires in these types of facilities occur because of poor housekeeping and machine malfunction. The key is to identify the risks and possible ignition sources, and apply measures to minimize them. As in many industries, fire protection has two main components: Passive and Active protection. Passive fire protection measures Passive measures include fire rated walls, ceilings, and floors in the most critical areas. Chemical storage areas should be physically separated from other dangerous areas, if this is not possible then the walls separating areas should be fire rated and materials must be stored in a way that minimizes the risk of fire spread by radiation or conduction. Proper compartmentalization and intumescent protection of structural elements should be part of the package as well. Passive measures include proper ventilation and smoke control. As mentioned before, paper dust is a major fire risk, which is why ventilation and cleaning of hoods over the paper machine is important to minimize the possibility of ignition. Fire resisting construction should be designed with the following goals in mind: Protection of escape routes Form compartments to contain fires that might occur Separate areas of higher fire risk Protect load bearing and structural members to minimize risk of collapse Sprinkler systems, gas extinguishing systems and hose reels Active fire protection includes sprinkler systems, gas extinguishing systems and hose reels to support fire brigades Active fire protection includes sprinkler systems, gas extinguishing systems and hose reels to support fire brigades. Finished goods stored indoors should be protected with sprinkler systems and the same should be considered for chemical storage areas and certain raw materials. Paper bales, ideally should be protected by sprinklers that are suitably designed to cope with the height and located, in all cases, 3 meters above the level of bales stacked vertically (which should not exceed 5 meters height). Spark detectors in hoods, pipes and ventilation systems Dangerous sparks could be generated in several parts of the paper making process, which is why spark detectors must be installed in hoods, pipes, and ventilation systems. Water spray and CO2 systems can be used to protect machinery against these risks. Means to fight fires, like extinguishers and hose reels, should be provided to support fire brigades. All the elements should be properly identified and all personnel should be trained and made aware of the location of such devices. Importance of fire alarms Fire alarms are required in all paper mills and fire alarm call points should be provided in all locations, according to international guidelines, such as NFPA 72 or EN54. The spread of flames and smoke in paper, wood and chemical storage might become extremely fast. For this reason, early detection is critical. Many technologies might be applied in the different areas of a paper plant. Nevertheless, there are dusty or humid areas where regular heat or smoke detectors might fail under certain circumstances. For these areas, especially located outdoors, innovative state-of-the-art detection solutions might be applied, like Video Fire Detection (VFD). NFPA 72 standard for flame and smoke detection NFPA 72 provides guidelines to implement this technology for flame and smoke detection NFPA 72 provides guidelines to implement this technology for flame and smoke detection, opening interesting alternatives for designers and fire protection engineers. Many EHS managers and fire protection professionals selected VFD, because it is the only fire detection solution that effectively covered their needs. Many engineers, specialized in fire protection for paper plants, explained that they tested linear heat detection, aspiration smoke detection, IR/UV detectors and even beams, but none of these technologies performed as they needed on the dirtiest or more humid areas. Video Fire Detection (VFD) solutions Outdoor storage areas are often unprotected, because deploying flame or heat detection in large open areas can be costly and mostly ineffective. VFD solutions can detect smoke and flames in outdoor conditions, allowing the monitoring and protection of wood and paper bales in large areas. Fire detection and alarm systems should be designed with the following goals: Minimize risk of fires, including the use of fire detection technology in areas where regular detection technologies cannot be implemented or are not practical. Minimize risk of flame and smoke spread, with state-of-the-art detection algorithms that guarantee fast and effective detection. Also, reliable algorithms minimize the possibility of nuance or unwanted alarms. In case of a fire, fast detection gives occupants life-saving time to reach to a place of safety, before the flames and smoke have spread to dangerous levels. Global production of paper and pulp reached 490 million tons in 2020, with many industries and markets depended on the paper and pulp supply chain. That is why innovative ways to protect this supply chain, are key to sustain the paper market growth in the future.
Optimize Your Firefighter Training Program
Want to know an easy way to judge the quality of a fire department? Look at how much they train. Career, volunteer or combination, fire departments become successful through training. Yet all training is not equal. Focus too much on hands-on training (HOT) and you could be missing important legal and compliance updates. Lean heavily on web-based training and you may fail to identify shortcomings in skills proficiencies. Keep students confined to a classroom and you may lose their interest quickly. Not surprisingly, a balance of all three types of training is needed to produce competent, empowered firefighters. For this article, I was challenged to think about what's missing from our current fire training programs. As I thought about the varied way we approach fire training, three issues jumped out at me. Base training on facts and statistics Take advantage of new technologies Incorporate policy into your training Your training program should also be strong in the types of calls you respond to most Base Training On Facts And Statistics If your department has a robust training program, outlined by a calendar of various topics and employing a mix of HOT, online and classroom training, you're ahead of the curve. But even in departments with well-developed training programs, training is often based on preference or habit, not data. Think about the topics in your training program. Do you know why they're included? Do they match your call make-up? Are they targeting specific skill shortcomings? (And yes, we all have them!)What's missing from many fire department training programs is a detailed needs assessment What's missing from many fire department training programs is a detailed needs assessment that in turn establishes a factual basis for the year's training topics. The needs assessment should include: Surveying the members to determine the types of training they want or feel they need. Measuring firefighter proficiency on basic tasks, such as NFPA 1403 drills, NFPA 1710 drills and EMS patient assessment skills audits, to assess personnel by mandate or by industry best practice. This will identify skills deficiencies to address through training. Incorporating call volume statistics and details. A significant percentage of the calls fire departments respond to are EMS and vehicle extrication But I'd venture to guess the training programs of most departments don't match those percentages. Yes, you need to train for the high-risk, low-frequency tasks. But your training program should also be strong in the types of calls you respond to most. Incorporating these "facts and stats" into your training program will help you keep it fresh, relevant and interesting. Firefighters can use their phones and tablets to access department training information and complete training assignments Take Advantage Of New Technologies There is something to be said for back-to-the-basics, keep-it-simple firefighter training. But it's a mistake to ignore technological advances. From teaching safe apparatus backing procedures to practicing hoseline deployment and Vent/Enter/Isolate/Search (VEIS) tactics, instructors have more options than ever before. Some instructors regard simulators as second-rate to "the real thing." Certainly, simulation and other forms of technology-driven instruction can't replace the value of hands-on experience. But they can augment it in important ways. Driver simulators, for example, not only save money because apparatus don't have to be taken out of service or sustain wear and tear; they also provide an environment where firefighters can learn without risk of injury. If sitting behind a computer isn't your kind of thing, live-burn simulators, vehicle fire simulators and hazmat simulators are available—and they all significantly boost training efficiency.Technology will never replace hands-on instruction, but it can facilitate it But you don't need fancy simulators to incorporate technology into your fire training program. Learning management systems (LMS) are another important tool that can increase training program efficiency. Although they've been around for a long time, LMS continue to improve. The ability to integrate with mobile devices is huge, allowing firefighters to use their phones and tablets to access department training information and complete training assignments. Leveraging this technology can allow you to more efficiently manage information, schedule training and free up valuable time needed for other important tasks. If you've attended some of the larger regional or national fire conferences recently, you may have had the opportunity to see audience response technology in action. By capturing the firefighters' responses to questions in real-time, instructors can adjust the material to reflect students' knowledge level. Audience response is also simply a great way to keep firefighters engaged. Technology will never replace hands-on instruction, but it can facilitate it. If you're using training methods that haven't changed in decades, something's missing from your training program. Without incorporating policy into your training, you're only giving your firefighters half the equation Incorporate Policy Into Your Training I saved the biggest and best for last. When I work with fire departments across the country, I repeatedly discover the failure to incorporate policy into training. Think about it: Training curricula are almost always designed around procedures—the how of doing something. But isn't the why just as important? And that's what policy is all about. Without incorporating policy into your training, you're only giving your firefighters half the equation.Inevitably firefighters will encounter times when following the procedure isn't possible Inevitably firefighters will encounter times when following the procedure isn't possible. That's when policy training kicks in—firefighters understand the fundamental objective, and they can think on their feet about how to achieve it. Training on policy also helps departments address the issues that so often get firefighters into trouble. How many of your firefighters really understand your department's social media policy? What about the rules surrounding sick time usage? These are things that trip up firefighters time and time again. If you're not training on policies, it's unlikely firefighters remember them. How many of your firefighters really understand your department's social media policy? In addition, normalization of deviance is a risk to every organization. When personnel fail to follow policies and no negative repercussions result, it can quickly establish a new normal. Policy-based training resets the "normal" and makes sure that members of the organization comply with the policy and not what they think the policy says.Most line-of-duty death reports cite failure to comply with policy or lack of adequate policy Fire instructors often avoid training on policy because they regard it as boring or unrelated to what really matters—firefighter safety and survival. Yet most line-of-duty death reports cite failure to comply with policy or lack of adequate policy as contributing factors in the incident. If you're worried that policy will make your training program dry and uninteresting, link it to real-world events. An online search provides lots of examples of when things went wrong and how adherence to policy might have produced a different outcome. And limit policy training to small chunks. Take out a 10-page policy and go through it line by line, and your students' eyes will glaze over in seconds. Instead, look for ways to enrich your current training by bringing relevant pieces of policy into it. Your firefighters will be learning the department's policies without even realizing it! Focus On Continuous Improvement Fire chiefs and fire instructors have a challenging job. Budgets are tight, and training is often one of the first things to be cut. Yet we need firefighters to be proficient in all-hazards response. Every department has a long training wish list. But if we focus on continuous quality improvement, we can get a little better each year. Looking for opportunities to incorporate statistics, technology and policy into our training is a good place to start.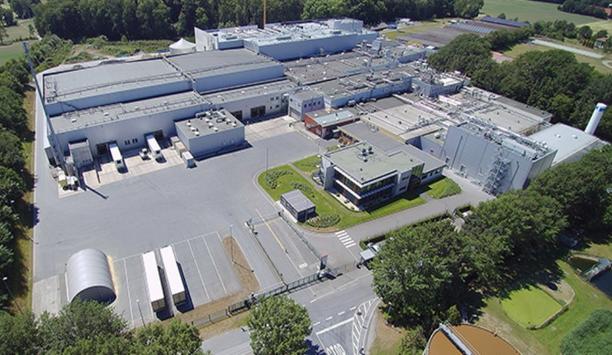 Rosenbauer Provides Comprehensive Fire Protection For The Food Processing Industry
Due to the concentration of production resources and inventories in ever-larger operating facilities, fire loads and possible consequential fire damage in food processing plants have risen considerably in recent years. The causes of fires are manifold: short circuits, ignition of packaging materials, fires in cold storage rooms, or grease fires are just a few of the causes. The consequences of fires can threaten the existence of companies. High property damage, expensive remediation measures as well as business interruptions, and loss of clients mean that, according to the bvfa (German Federal Association of Technical Fire Protection), almost half of the companies affected by a fire cannot resume operations. VOSSKO, the convenience specialist VOSSKO GmbH & Co. KG, based in Germany, specializes in the production of frozen products. The company serves clients with its country-specific product range in the retail and catering sectors as well as hospitals, care facilities, and schools worldwide. More than 700 employees work at the site in Ostbevern with a production capacity of 30,000 t per year. VOSSKO is thus one of the most important employers in the region. Delivering sprinkler system To safeguard production operations and protect employees, VOSSKO opted for comprehensive fire protection from Rosenbauer, in accordance with the applicable VdS regulations. The delivery and production areas as well as high-bay warehouses are protected with a classic sprinkler system. This is reliably triggered by heat build-up. The filled piping network brings water immediately to the seat of the fire and enables rapid and effective extinguishing. Optimal protection for every area Sprinkler systems with dry alarm valves were installed in the cooling areas prone to frosts, such as the deep-freeze warehouses and the packaging and shipping areas. In these sections, the pipe network from the alarm valve to the sprinkler is filled with compressed air. If a sprinkler opens due to the effects of heat, the pressure in the pipe network drops, the alarm valve opens and the pipe network is deluged. VdS-compliant fire protection concept meets insurance requirements and safeguards ongoing production operations Adequate protection in the waste areas is provided through a deluge system that quickly releases a large amount of water in the event of a fire and thus prevents its spread. Common rooms, offices, and the factory outlet are also protected by a sprinkler system. In the canteen, the RPE Kitchen Ansul kitchen protection system provides sufficient safety against possible grease fires. The extinguishing effect here is based on a reaction of the extinguishing agent with the burning fat and is hygienically harmless. Impressive technology A tank with a capacity of 1,250 m3 of water supplies the extinguishing systems. The pumps with a flow rate of almost 16,000 l/min [4,220 gpm] transport the extinguishing agent to the approximately 6,200 sprinklers installed throughout the plant. This VdS-compliant fire protection concept meets insurance requirements and successfully safeguards ongoing production operations.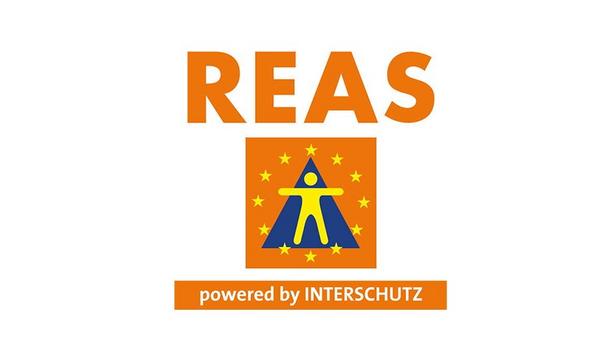 Rosenbauer To Exhibit At REAS 2021 In Brescia
After the Civil Protect in September, Rosenbauer Italia will also present an extensive selection of Rosenbauer products at REAS 2021 from October 8 to 10. As an absolute highlight, the RT Revolutionary Technology can be experienced at the booth (No. C10-D9 in Hall 1).The Rosenbauer team is looking forward to the visit!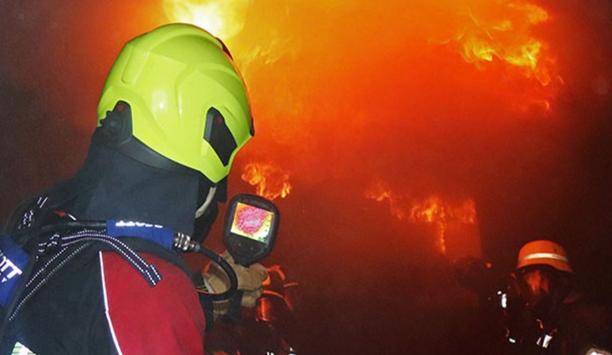 Rosenbauer's FLIR Thermal Imaging Cameras Are More Than Sight
Thermal imaging cameras are indispensable for modern firefighting operations. They are used for situational awareness, in search and rescue operations, or to locate the seat of the fire, to name just a few of the many applications. The cameras are an indispensable tool, especially for inside fire attacks, as they provide SCBA crews with a good view even in zero visibility. They see what is not visible to the human eye, namely the heat radiation from objects and people. It is like having a sixth sense - and enables emergency crews to orient themselves better in completely smoke-filled buildings and to recognize more details, to move around more quickly, to find people and animals faster, and to locate the seat of the fire or embers more rapidly and precisely. Protection Of Life And Health In addition to more efficient use, a thermal imaging camera also contributes to protecting the health and lives of the emergency crews: with this equipment, they can better assess the fire situation, more easily recognize dangers such as a flashover or an unstable ceiling, see what is lurking behind a door, locate escape routes and secure their way back. A crew with a camera is faster and safer on the way into and out of a burning or smoky building than a crew without The fact is, a crew with a camera is faster and safer on the way into and out of a burning or smoky building than a crew without. The thermal imaging camera is, therefore, an enormous safety asset for all those involved in an inside fire attack. Experts have long called for them to be part of the standard SCBA equipment, and ideally, each individual should carry their own withdrawal insurance with them. A Camera For Each SCBA Wearer What has so far often failed because of the cost, can now be implemented economically: every SCBA wearer has their own thermal imaging camera! Rosenbauer has expanded its existing portfolio in this respect and now offers two new, super-compact, easy-to-use, and highly attractively priced cameras: the FLIR K1 at around € 600 (exc. VAT) and the FLIR K2 for about € 1,500 (exc. VAT). FLIR K1 The FLIR K1 is a handy thermal imaging camera with a built-in rechargeable battery. It supports firefighters in assessing the situation and allows a quick overview of operational events, even in complete darkness and with a lot of smoke. The line of sight is therefore never lost. The camera is waterproof, can withstand a two-meter drop onto a concrete floor, and, at only 410 g, is an absolute lightweight. With a sensor resolution of 160 x 120 pixels and a thermal sensitivity < 100 mK, it meets the requirements for reconnaissance missions. In the process, the thermal image is overlaid by a second visual camera, thereby optimizing the displayed image. Up to 10,000 thermal images or photos (integrated digital camera) can be saved as JPEG files for documentation. With a fully charged battery, the K1 can be used to record thermal images for up to 5.5 hours. FLIR K2 The FLIR K2 is a tactical inside fire attack camera with a replaceable rechargeable battery. It has the same IR detector (focal plane array) and IR resolution (160 x 120 pixels) as the K1, but displays more image modes and higher object temperatures (up to 500 °C). Again, a second integrated visual camera overlays the displayed thermal image and optimizes the resolution. The FLIR K2 has been specifically designed and tested for inside fire attacks. It comes with two batteries that can be charged either in the camera or in an external charger within 2.5 hours. In addition, the K2 is just as easy to handle (glove-compatible one-button operation) as the K1, has the same operating time and, at around 700 g, is also one of the lightest cameras in this class. New High-End Cameras The thermal imaging camera range is rounded off by the C1 camera that can be attached to the Rosenbauer helmets Also, new to Rosenbauer's equipment range are FLIR models K33, K45, K53, K55, and K65, the latter of which is NFPA 1801:2018-certified. These cameras have IR resolutions of 240 x 180 pixels or 320 x 240 pixels. The thermal images are displayed on large, bright 4" displays and are ultra-sharp. The operating time of the cameras is more than four hours each, the batteries are charged within two hours. The thermal imaging camera range is rounded off by the C1 thermal imaging camera, the only one of its kind in the world, which can be attached to the Rosenbauer HEROS Titan and HEROS H30 firefighting helmets. Its display is simply folded in front of the helmet wearer's field of vision if required so that the thermal image is always at eye level. The huge advantage of the C1 is that the SCBA wearer has their hands free in every situation - for rescue, protection, and extinguishing.