Chubb CLEAN AGENT SYSTEMS
(3)
Browse CLEAN AGENT SYSTEMS
Clean Agent System products updated recently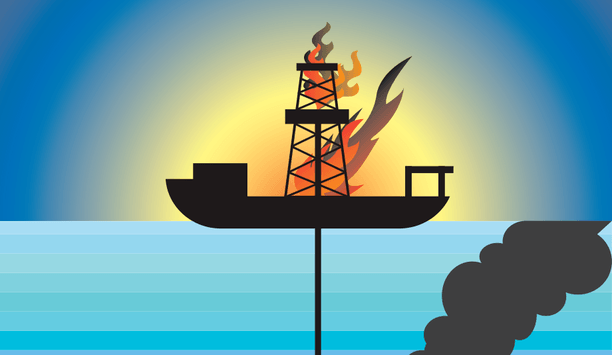 Fire Suppression Fluids And Gases, The Future Of Marine Fire Safety
The original fire suppression agent has always been, of course, water. In the age of sail, it was ideal. Not so with the advent of the combustion engine, however. When applied to burning petroleum, the fire spreads. It also simply destroys electronics. Carbon dioxide (CO2) and Halon derivatives were the first widely used commercial fire suppression solutions, gaining popularity in the 1950s and '60s. Unlike water, they were highly effective, electrically non-conductive and didn't leave any residue. As compressed gases, storage wasn't a major issue. Unfortunately, Halon was found to be a high ozone depleting chemical; as a result, production was banned in 1990. Evolution Of Fire Suppression Systems Ideal for marine applications, HFC227 is fast, effective and clean With the sunsetting of Halon and the search for alternatives, CO2 gained prominence. However, it has three significant drawbacks: it's a greenhouse gas, requires a large number of cylinders and is potentially fatal if breathed at design concentrations. In the 1990s, HFCs rose to dominance as a fire suppression solution. Ideal for marine applications, HFC227 is fast, effective and clean. Like Halon and CO2, however, it's a greenhouse gas and contributes to global warming. Discharging an average-sized cylinder of HFC227 has the same CO2 equivalent as driving a car 268,760 kilometers. This is why it is being eliminated as part of a phased-down mandate from the EU, and restricted or taxed by various countries such as Australia and Norway. It is expected that similar legislation will begin to affect Canada and US-flagged vessels. Environmental Profile Of HFCs In 2002, 3M introduced Novec™ 1230 Fire Protection Fluid. It offers a number of important advantages over other clean agents in marine fire suppression applications. It has low acute toxicity and high extinguishing efficiency. This gives it a wide margin of safety compared to other chemical clean agents such as HFC227. A fluid, it vaporizes rapidly during discharge, is non-corrosive, non-conductive and leaves no residue. It is, importantly, a long-term, sustainable solution with virtually zero global warming potential, e.g., it has an atmospheric life of about a week versus HFC227's 34 years. So confident is 3M of its product, it offers its BlueSkySM Warranty; if it is ever banned or restricted from use due to its environmental properties, the company will refund the cost of the fluid. Unlike CO2, a gas, Novec 1230 fluid can be flown to the vessel or platform allowing less downtime waiting for supplies to arrive by ground For the marine and offshore oil and gas industries, Novec 1230 fluid offers distinct advantages. Because it's a fluid, recharging is simple. Unlike CO2, a gas, it can be flown to the vessel or platform. This means less downtime waiting for supplies to arrive by ground. It also takes up significantly less space. Recently, Sea-Fire Europe ceased distribution of HFC227. The move was strategic and ethical, given the environmental profile of HFCs. Novec 1230 Fluid For Recreational Marine Market With the phase-down of HFCs, supplies are running out. This means in the immediate future there will be a serious inability to service systems. Also, with shortages beginning, costs are rising, making the switch to Novec 1230 fluid a smart move financially. While 3M will obviously benefit from this, the real winner here is our planet and the people we share it with" Sea-Fire recognizes that it may lose business in the short term as boat and shipbuilders continue to choose HFC-based fire systems strictly based on cost alone. But, ultimately, eliminating the use of hydrofluorocarbons is the right thing to do for the marine industry as a whole. As the first manufacturer to introduce Novec 1230 fluid into the recreational marine market in 2012, Sea-Fire is fully prepared for the phase-out of HFCs. Benefitting The Marine Industry "As a corporation, 3M is committed to improving every life," said David Olds, 3M account executive for fire suppression applications. "Sea-Fire Europe made a difficult decision when announcing it would cease distribution of HFC227. While 3M will obviously benefit from this, the real winner here is our planet and the people we share it with." Sea-Fire Marine has long held the belief that it is in the business of protecting people and property at sea. With its recent declaration that its master European distributor Sea-Fire Europe is ending distribution of HFC-based fire suppression fluids, it can add the environment to its list.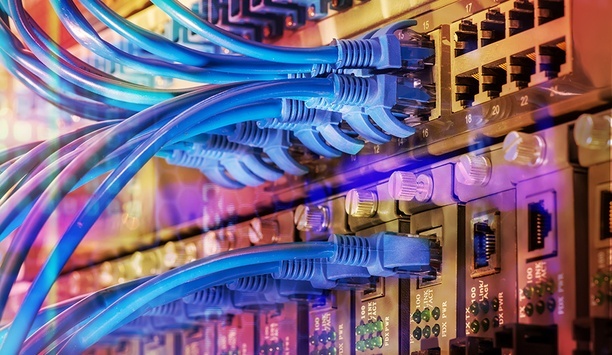 How Targeted Suppression Stops Fires At The Source
While whole room protection – sprinklers or gas systems – is a common choice, there is an argument for thinking smaller; taking fire detection and suppression down to the equipment, enclosures and even the components where a fire is most likely to start. Traditional Fire Suppression Methods A traditional water-based sprinkler system is the most common form of fire protection found in commercial and industrial buildings. They offer reasonable cost, large area protection for entire facilities, safeguarding the structure and personnel by limiting the spread and impact of a fire. Every square foot of the protected area is covered equally regardless of the contents of the space, whether it's an empty floor or an object with an increased risk of fire. Sprinklers aren't always the most appropriate choice. Not all fires are extinguished by water of course, and in some cases, water damage can be just as harmful or even more so than the fire. They are an impractical choice for instance for facilities housing anything electrical, such as data centres and server rooms. There is also the risk of accidental activation, with an estimated cost of up to $1,000 for every minute they are left running. Water damage can be just as harmful or even more so than any fire, so sprinklers may not be appropriate Targeted Supplementary Fire Suppression An alternative method to protect whole server rooms and data centres is gas fire suppression, which either suppresses the fire by displacing oxygen (inert) or by using a form of cooling mechanism (chemical/synthetic). These aren't without risk; in the case of inert gas, oxygen is reduced to less than 15% to suffocate the fire, but must be kept above 12% to avoid endangering the lives of personnel. Similarly, clean agent gas can be toxic in high doses. There are smaller, focused systems that give the option of highly targeted supplementary fire suppression within fire risk areas. Installing a system directly into the areas most at risk, means that fires can be put out before they take hold and cause serious damage. Both sprinkler and gas systems can contain a fire, but micro-environment or closed space systems are completely automatic, detecting and suppressing the fire so rapidly that activating a sprinkler or gas total flooding system often isn't necessary. The most popular enclosure fire suppression systems achieve this though the use of a flexible and durable polymer tubing that is routed easily through the tightest spaces. The tubing is extremely sensitive to heat and, because it can be placed so close to potential failure points, detects it and releases the fire suppression agent up to ten times faster than traditional systems. An airline was forced to cancel over 2,000 flights after a "small fire" in one of its data centers Cost-Effective Fire Protection Highly customizable, small enclosure fire suppression is specifically designed to protect business critical spaces and equipment. It is typically used inside machinery like CNC machines, mobile equipment like forklifts and inside server rooms and electrical cabinetry but is suitable for any hazard that's considered to have an elevated fire risk. Some may question the need or cost-effectiveness of protecting micro-environments. However, examples abound of where fires that have started at component level have gone on to cause damage of the highest magnitude, and the cost of downtime can be crippling to many time-sensitive facilities and processes. An airline was forced to cancel over 2,000 flights in August 2016 when what was described as a "small fire" in one of its data centers ultimately led to a computer outage. The cost of that small fire, and the domino effect that quickly escalated from it, has since been announced as $150m. Admittedly that number is unusually high - the average cost of a data centre outage today is estimated at a more conservative $730,000 – but this is still an expense businesses can ill afford. Preventing Major Losses Staying with the transport industry, newer metros systems have redundant systems in place to prevent interruptions. However, older metro lines, such as the one in New York City, have experienced electrical fires that started small, but grew to such a magnitude that service was affected for months.Older metro lines, such as New York City's, have experience electrical fires that start small but grew exponentially A wind energy customer experienced a fire in a turbine converter cabinet. The loss of the cabinet was valued at over $200,000 and disabled the turbine for six weeks. Following investment in fire suppression systems inside the electrical cabinet, a subsequent fire was detected and suppressed before major damage could be caused. The cost on this occasion was therefore limited to a $25,000 component and downtime was less than two days.Equally - happily - there are also many instances where the installation of small enclosure fire suppression has prevented disaster. In the manufacturing world, CNC machines are valued at hundreds of thousands of dollars and need to be constantly operational to justify the investment. Oil coolant used in the machines can create a flash fire in an instant due to failed components or programming errors. The fact that many of these facilities are run 'lights out' with no personnel present further exacerbates the risk. If a fire is not dealt with immediately, the machine will be destroyed; sprinklers don't react quickly enough for this scenario and would be ineffective. Ensuring Business Continuity One such flash fire occurred inside a protected CNC machine at a machine shop in Iowa. The polymer tubing ruptured within a fraction of a second, releasing the suppression agent and extinguishing the flames. The machine was undamaged and was operational again with a few hours. Contrast this to a previous fire at the same facility in an unprotected machine; it was out of operation for 4 days, costing the business thousands of dollars in downtime In short, fire protection is an essential element of our industrial and commercial environments to ensure both safety and business continuity. However, the nature of that protection is changing, as capacity increases to cost-effectively protect specific areas where fires are most likely to start. Risk mitigation analysis needs to look beyond what has been accepted in the past and find ways to further limit the impact of a small fire using this next level of protection. The benefits can really have a positive effect on the bottom line in the event of fire.
Chubb Installs Hybrid Fire Solution In Historic Scotland Hotel
Chubb recently installed a hybrid fire solution, comprised of a combination of hardwire and wireless fire systems, in Glenapp Castle, a 21-bedroom, luxury five-star hotel in Ayrshire, Scotland. The solution meets the historic Scotland preservation agency's stringent requirements. Chubb is a part of Carrier Global Corporation, the foremost global provider of healthy, safe, sustainable, and intelligent building and cold chain solutions. Challenge The owners sought to convert the castle's entire top floor into a luxury apartment but due to the historic nature of the building, it required a robust fire system in place. Normally if a void in a loft space is under a certain size, it does not need to be covered, but Historic Scotland requires all voids to be completely covered, so close attention to detail was required. Chubb's initial site visit involved a thorough eight-hour examination, exploring every nook and cranny of the loft space, which revealed many voids, including the eaves spaces and the turrets at the top of the tower. Solution Chubb's proposed solution comprised of a combination of hardwire and wireless fire systems The project required Chubb to devise a hybrid fire solution – one that would protect both the existing building and the renovation project. Chubb's proposed solution comprised of a combination of hardwire and wireless fire systems; cabling for the renovation of the top floor; and wireless modules such as smoke detectors and sounders, to the existing cabling in the finished building. During the project, the scope of the renovation changed considerably, which required Chubb to be flexible in adjusting the original fire solution specified. Working closely alongside other contractors, Chubb also worked to interface the fire solution with various other systems including the BMS system, sprinkler system, dynamic emergency lighting system, and pressurization system to keep the fire exit stairways clear. One unusual challenge Chubb encountered was the discovery of bats in the loft space, which required the team to seek a bat license and involve the Bat Conservation Trust. Delayed work due to COVID-19 When the renovation started in January 2020, the proprietor intended to have the luxury apartment open for late summer, but the COVID-19 pandemic delayed work until Spring 2021. Glenapp Castle reopened in May 2021 showcasing its new 4,500 square foot luxury penthouse apartment – The Endeavour – which was recently recognized in The Week's "World's Top 10 Best Luxury Hotel Penthouses." Results Chubb team has been extremely thorough in recognizing fire protection required and delivering a bespoke solution Since completing the project, Chubb has enhanced the existing fire maintenance contract in place to cover the full scope of works completed and with the addition of remote monitoring. Due to the castle's remote location, the owners wanted to ensure that the fire systems would be monitored by Chubb's alarm receiving center 24/7. Authority Comment "This has been a challenging project for all our contractors, in respect of Historic Scotland's requirements and the unforeseeable delays caused by COVID-19." "The team at Chubb has been extremely thorough and attentive throughout, both in recognizing the level of fire protection required and delivering a bespoke solution to very high standards," said Paul Szkiler of Truestone, the owners of Glenapp Castle.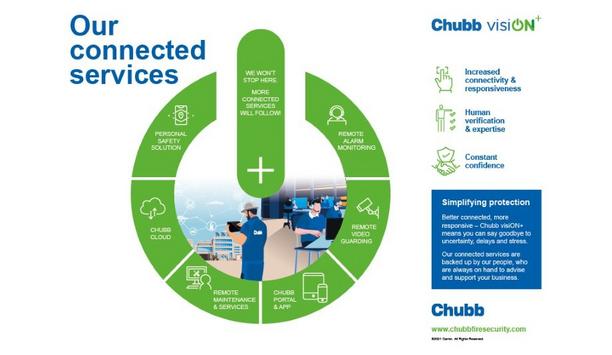 Chubb Launches VisiON+ Remote Fire Safety And Security Services For Better Connectivity And Responsiveness
Chubb announces the launch of Chubb visiON+ for its customers worldwide, a range of complementary remote fire safety and security services for improved connectivity, responsiveness and overall peace of mind. With visiON+, Chubb is changing how protection is managed, using valuable data analytics to remotely take the right actions at the right time, maintaining full protection. Chubb is a part of Carrier Global Corporation, the global provider of healthy, safe and sustainable building and cold chain solutions. Alarm monitoring capabilities Chubb's visiON+ builds upon the strength of Chubb's remote alarm monitoring capabilities across over 20 monitoring centers worldwide and the first services in the range include: Remote maintenance and services: Immediate, proactive support and remote troubleshooting for fire and security systems. Remote alarm monitoring: Monitoring center operators connect remotely to existing surveillance systems and promptly activate the agreed response procedure when required. Personal safety solution: A mobile app allowing office-based employees, as well as remote workers, to share their exact location and situation directly with Chubb's monitoring center response team to summon help. Chubb portal: An online dashboard and mobile app providing customers the ability to remotely monitor and manage their fire safety and security accounts. Chubb cloud: Customer access to Chubb's cloud, reducing reliance on on-site servers, allowing for increased scale of operations and reduced costs. Physical security systems By combining Chubb's extensive experience in fire and security with these remote solutions, customers will be able to take advantage of direct, immediate and easy connectivity with Chubb 24/7, along with verification from Chubb's trusted experts to provide the correct response to any issue they may face in the workplace. The service also provides customers with valuable insights to better tailor future security approaches The service also provides customers with valuable insights to better tailor future security approaches. By connecting their existing physical security systems with Chubb's remote offering, facilities managers and business leaders will also be able to manage the significant challenges presented by the new hybrid working model. Remote protection services "We are excited to announce the launch of our Chubb visiON+ offering, which builds on our many years of experience as a leading fire and security services provider and reflects our belief that remote services provide the most effective protection against a host of fire and security challenges today," said Anthony Brennan, President, Chubb. "When combined with Chubb's extensive expertise, the improved connectivity and responsiveness offered by this range of services will help our customers improve the safety of their buildings and occupants across the globe." Chubb visiON+ products are available to Chubb customers in Canada, Europe, and Asia. Chubb is committed to expanding the range of remote protection services it offers, integrating how they're used, and streamlining customers' experience even further.
Chubb Fire & Security On Fire Extinguishers – The First Line of Defense
Portable fire extinguishers play a vital role in preventing a fire from becoming a major conflagration. Indeed, the guidance notes of the Regulatory Reform (Fire Safety) Order (FSO) references this very point, stating how the safe use of an appropriate fire extinguisher to control a fire in its early stages significantly reduces the risk to people and property. In fact, according to the Fire Industry Association (FIA), almost 90% of workplace fires are successfully fought with a fire extinguisher. Fire extinguishers are an essential part of any fire safety strategy. Understanding the law, recognizing specific risks, and identifying products that are genuinely 'fit for purpose' is similarly key. But it is also important to stay flexible; fire extinguishers are not a panacea. It is better by far that the risk is identified and removed before trouble occurs. A small fire fought with a fire extinguisher should be a trigger for the responsible person to review their fire risk assessment. Competent Fire Equipment Supplier FSO recommends that all premises are provided with appropriate and sufficient fire-fighting equipment The FSO recommends that all premises are provided with appropriate and sufficient fire-fighting equipment – typically, fire extinguishers, blankets, and buckets. CE marking or the new UKCA marking is the minimum requirement for most products. A certified body should also have given assurance of fire-fighting performance e.g. BSI Kitemark. The best way for an organization to demonstrate it is compliant is to source products from a competent fire equipment supplier, such as Chubb, and to survey and install in accordance with the relevant British Standard BS 5306-8. Having documented proof that a competent survey, design, and installation has been completed is essential. Positioning of fire extinguishers Fire extinguishers should be positioned on escape routes; close to the exit from the room or floor, the final exit from the building, or, if necessary, adjacent to the hazard. Dedicated stands should be used or the extinguisher hung on a wall to fix their position. Ideally, no one should have to travel more than 30 meters to reach a general fire extinguisher, much less for equipment providing specific protection. The type and position of all fire-fighting equipment should be indicated by signs so that they can be quickly and easily located in an emergency. Depending on local conditions, such as the likelihood of vandalism or the environment where extinguishers are located, more robust stowage may be required. Compliance and Inspection Having the appropriate, approved extinguishers correctly sited and installed to meet the fire risks and to comply with BS 5306-8 is only half of the equation. The equipment needs to be commissioned and properly maintained thereafter, usually every 12 months, in compliance with BS 5306-3 by a competent supplier providing competent service engineers. Third Party Accreditation schemes, such as the BAFE SP101 scheme held by Chubb, give that assurance to you. Anything less and you risk equipment failing to operate or becoming dangerous to use. Between inspections by a competent service engineer, the employer should appoint an individual to regularly check that the fire extinguishers are placed in the correct position, untampered, and ready if needed. The employer also needs to provide training on how to choose the right extinguishers and when to use them. If your fire strategy allocates specific responsibility to certain people, such as fire marshals, then they will need to undertake comprehensive training. Chubb provides employee and Fire Marshall training amongst its suite of courses. How to identify different Fire Extinguishers and their uses Fire safety training should include best practice advice on when to tackle a fire and ensuring escape routes are cited As part of any fire safety strategy, it's important to consider that employees know where fire extinguishers are located and crucially, how to use them. Fire safety training, such as the one offered by Chubb, should include best practice advice on when to tackle a fire and ensuring escape routes are cited. If a fire broke out, would you and your colleagues know which type of extinguisher to use? The infographic illustrates the different types of fire risks and which type and color of fire extinguisher you should use. End-of-Life and recycling Of course, eventually, every fire extinguisher reaches the end of its useful working life. As a business, you have a legal duty of care to dispose of waste legitimately and safely via a licensed waste carrier. At Chubb, we offer a safe and legitimate service for the collection and disposal of condemned extinguishers. Chubb's Extinguisher Recycling Unit (ERU) is a dedicated facility offering a service for the safe processing and disposal of fire extinguishers across the UK; giving you total peace of mind that your extinguisher is being disposed of in an environmentally conscious and socially responsible manner. We have worked closely with the Environment Agency to develop safe, efficient, and environmentally friendly processes, ensuring that our site maintains its ISO14001 certification. One hundred percent of extinguishers entering our ERU are reused or recycled.