Rainer Klug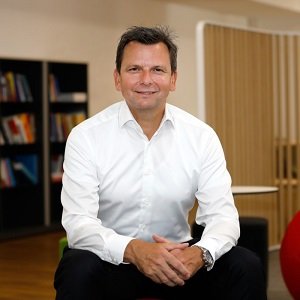 Rainer Klug
Member of the Executive Board,
Drägerwerk AG & Co. KGaA
Rainer Klug is currently a Member of the Executive Board at Drägerwerk AG & Co. KGaA Division Safety. Prior to Draeger, Rainer was Group Senior Vice President & Head of Global Operations Mobile Security at Giesecke + Devrient.
News mentions
In connection with the COVID-19 pandemic, Dräger has received an order from the British government to deliver respiratory protection masks (FFP3). The delivery of the order will start in 2020 and will stretch until the end of 2021. The expected net sales are roughly EUR 100 million. For this purpose, a mask production will be set up in the UK, in the Blyth area of Northumberland. There, Dräger has had a development and production site for respiratory protection technology for firefighters and industry for over 50 years. Production sites in France and the US This is in addition to the existing production network in Sweden and South Africa and the recently decided new production sites in France and the US. The investment in the expansion of production capacities across all five production sites will require a mid-double-digit million euro amount in the 2020 financial year. Certified FFP respiratory protection masks Rainer Klug, Chief Officer of Safety Division at Dräger: "We are very pleased about the major order from the British government. It gives us the opportunity to expand our international production network for FFP masks. With this additional production unit, Dräger will increase volumes quickly and flexibly. Our international production network enables us to react very quickly and specifically to national or local requirements on the one hand, and to cover international requirements in a closely networked and flexible manner on the other. Dräger thus operates a highly responsive manufacturing system for certified FFP respiratory protection masks, with a product design originating from our own development in Germany."
As a result of the COVID-19 pandemic, Dräger has decided to expand its production capacities for light respiratory protection in Europe. To this end, the company will expand existing production sites in Sweden and Germany and build a completely new factory in France. Rainer Klug, Executive Board Member for Safety Division at Dräger: "We assume that demand for light breathing protection will be higher than before the Corona pandemic in the long term. Our goal is to ensure a stable supply of high-quality FFP-masks in Europe." Air-purifying respirators In order to establish a stable European production network for protective equipment, Dräger has decided on the following measures: Dräger will significantly expand the existing production site for FFP-masks in Sweden. In future, more than twice as many FFP-masks will be produced here per year as before – a number in the mid-double-digit million range. Additionally, Dräger creates further capacity for powered air-purifying respirators for light respiratory protection in Germany. France site The company will also set up a new production site in France. In the future, FFP2-and FFP3- masks will be produced here for the whole of Europe. Investments in new machinery will require a low double-digit million euro amount in fiscal 2020. Klug: "We are particularly pleased about the very close and constructive cooperation with the French government. The good exchange and the common goal of providing people with high-quality respiratory protection made it easier for us to decide on an additional location in Alsace."
Dräger has received a government contract from the US government to supply respiratory protection masks in connection with the COVID-19 pandemic. The US Ministry of Health has awarded Dräger the contract to supply N95 respiratory masks (FFP2) which is approved by the National Institute of Occupational Safety and Health (NIOSH). The contractually agreed number of units is in the higher double-digit million range and delivery will take place within the next 18 months. Dräger will build a new production facility on the east coast of the US, especially for this major order. According to current plans, production will start in September. High-quality FFP respiratory masks Rainer Klug, a member of the Executive Board of Dräger's safety division: "In the current pandemic, the worldwide production capacities for high-quality FFP respiratory protection masks are fully utilized. In order to meet the demand nevertheless, we are setting up a new factory exclusively on-site in the USA. This is a pragmatic approach that provides early and sustainable help. Such a model would also be possible in other countries, especially in Europe. We are currently discussing such offers with several countries." Dräger is now entering the concrete planning and implementation phase.
Experts sections