Andreas Zeller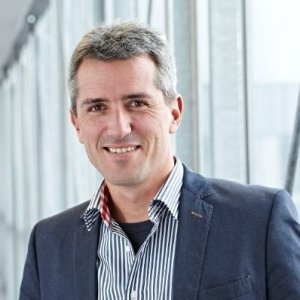 Andreas Zeller
Chief Sales Officer,
Rosenbauer International AG
Andreas Zeller is presently working as the Chief Sales Officer at Rosenbauer International AG. Prior to this, he was the chairman/CEO of Rosenbauer Saudi Arabia and a product/marketing manager at Lenzing Technik GmbH. Andreas holds a degree in Mechanical Engineering from the Graz University of Technology.
News mentions
Rosenbauer is continuing to expand its operations in Upper Austria. The international fire equipment provider, which has its corporate headquarters in Leonding, Austria, is setting up a new point of contact for its customers in Asten. The Rosenbauer Österreich Customer Center will offer fire services for everything they need for operations. There, they will be able to have all their technology, vehicles, pumps, and equipment inspected and serviced, procure spare parts and buy a new kit. The location, which is already home to a logistics center, is the fourth in Austria after Leonding 1 and 2, the two production facilities for vehicles and extinguishing systems, and Linz-Pichling, where fire helmets are made. Its opening underlines the company's commitment to the region. More space for servicing Fire trucks will be maintained and repaired in a purpose-built workshop with twelve service bays. That is five more than Leonding, where servicing will cease once the Asten site is up and running and the space that this frees up will be used for production. The servicing infrastructure at the new location includes state-of-the-art test equipment for firefighting pumps and foam proportioning systems, a cable winch test rig, a washing station, and a preservation unit applying for underbody protection. Vehicle service bays are fitted with efficient exhaust extraction systems The vehicle service bays are fitted with efficient exhaust extraction systems, while the extinguishing agent test stations have a dedicated tank for collecting foam concentrate. The preservation unit features an automated air purification system with high-performance filters. An assembly area with metal machining equipment and a welding station is also being set up in the workshop so that minor modifications and refurbishment, modernization, and general overhaul work can be carried out on fire trucks. "We want to keep on growing in our Customer Service business unit and broaden our range," says Andreas Zeller, Chief Sales Officer at Rosenbauer. "We see a lot of potential in the refurbishment in particular and are setting our sights on more than just domestic fire services – more than that, we want Asten to be a base for an international operation." New one-stop-shop Alongside the servicing infrastructure, Rosenbauer will be offering fire services a full range of spare parts and equipment at its customer center in Asten. The new shop will have much more floor space than was previously available in Leonding and will offer all key products for fire services, particularly own-brand personal protective equipment and technical safety gear. This includes HEROS firefighting helmets, FIRE FLEX protective suit, Rosenbauer nozzles, and the NAUTILUS range of submersible pumps. Experienced expert consultants will be on hand to help fire services choose the right equipment, and the key products will also be available online in the near future. "We want to be easily accessible to fire services, and close links with our customers are very important to us," says Markus Wieshofer, Managing Director of Rosenbauer Österreich. "They can visit us at our new shop in Asten, order equipment conveniently online, or put in requests through our mobile equipment shop. Then, we'll take a bus full of products directly to the fire house and provide an on-site consulting service."The Rosenbauer Österreich Customer Center will be open to fire services starting in April. The shop is due to open on April 12, followed by the service department a month later on May 10. Thanks to its convenient location near the Asten exit, the new Rosenbauer customer center is easily accessible via the West Autobahn freeway.
Unfortunately, the coronavirus came very quickly to the trade fair industry in 2020. This also presented Rosenbauer with a major challenge. There were many new products developed with the highest level of engineering, precision, and passion, which should now be presented to our customers, business partners, and dealers. However, since it was not possible to present these at a conventional trade fair, an alternative had to be found. Accordingly, a unique 360-degree campaign was created in marketing, which presents all of these new products via all communication channels. This required intensive collaboration with many departments such as product management, corporate communications, and external agencies. After the successful implementation of this campaign, the idea also came up to offer customers an even more intensive way of interacting with Rosenbauer products, asking individual questions or simply getting more general information. Due to the cancellation of many trade fairs, there was the opportunity to hold a virtual trade fair. This meant a special challenge in the preparation of data such as 3D models, the development of a holistic architectural concept, and of course the integration of the entire Rosenbauer sales network. Advantages of a virtual trade fair Cost in relation to range Less time spent Reusability of content such as webinar videos etc. No time commitment Flexible number of participants Optional anonymity New presentation formats are possible Various integration options for departments such as sales, product management, etc. Preparation points People are also dependent on the technology used by the end customer Of course, a virtual trade fair also brings with it various difficulties and challenges. Personal encounters and intensive physical exchanges are not possible. People are also dependent on the technology used by the end customer. This means that there could be problems with outdated browsers, for example. In order to make the experience as attractive as possible, the following points were important for preparation: Strategic approach including naming Selection of trade fair software providers Advertising plan (social media, newsletter, etc.) Course of the event and the respective program items Film production of webinars and "How-to…" videos 3D model implementation and 360-degree photography Production Integration On Virtual Platform After the strategic points had been worked out and the design for the trade fair had been defined, the entire content of the new products was integrated onto the virtual platform together with the technical software provider meetyoo and WEKA-Industriemedien. This required intensive coordination and precise project management in order not to lose track of the mass of content that is created here. After an intensive implementation phase, the Rosenbauer Online Product Days could now begin. First Virtual Trade Fair Appearance In December 2020 Rosenbauer CEO and CSO welcomed the visitors via video message It started with a trade fair for Germany, Austria, and Switzerland in December 2020. Here customers, business partners, and Rosenbauer dealers were given an overview of all new products. After logging in on the platform, one went directly to the reception hall. Right at the beginning, Rosenbauer CEO Dieter Siegel and CSO Andreas Zeller welcomed the visitors via video message, and afterward, they could ask questions directly at the information desk. In a networking lounge one could exchange ideas individually, and with just a click one went into the so-called exhibition hall or one of the highlights of the fair – the auditorium. There, the latest products were presented again in detail in short videos by the respective product managers. It was a great opportunity to deal intensively with these products. Afterward, it was possible to ask Rosenbauer engineers and product managers questions directly at the respective product stands in the exhibition hall or to view the products in detailed 3D models. Various download options for information material, such as brochures and data sheets, were also available here. In addition to the presentation of great new product achievements, some new products also had the world premiere here, such as the introduction of RDS Connected Fleet or the presentation of the new firefighter boot BOROS. An opportunity for live interaction with Rosenbauer employees was available from 8 am to 5 pm. The Germany-Austria-Switzerland trade fair was generally accessible for 4 weeks, 24 hours a day. Questions and discussions could therefore also be held afterward. International Virtual Fair In March 2021 After this first virtual fair, which was a great success, it was decided to offer this opportunity to an international audience as well. This means that all content including webinars was translated into English and the entire global sales department was also involved. This trade fair took place on March 3rd and 4th. Customers were able to chat with Rosenbauer employees and ask questions across all time zones. It was generally a great challenge for the entire project team, as 24 hours (technical) support had to be ensured. But this was also mastered together and so interested parties from all over the world could or can still find out more about Rosenbauer's new products. A virtual trade fair such as Rosenbauer Online Product Days is an interesting alternative to appearing at a conventional trade fair and offers advantages and simplifications and thus a valuable and contemporary alternative to traditional trade fair visits. The next few weeks and months will show whether this really is the future. What is certain, however, is that there will be more hybrid solutions that combine the best of both worlds.
Experts sections