Hose products updated recently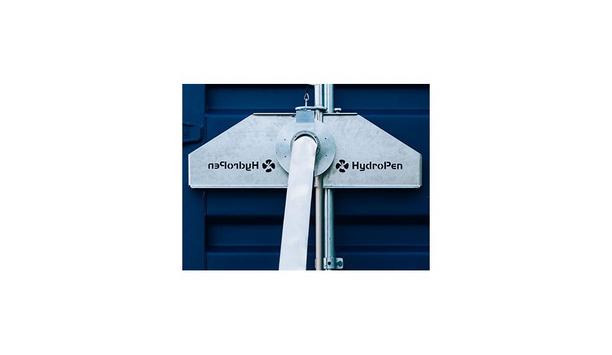 Viking Acquires HydroPen Container Firefighting System
VIKING Life-Saving Equipment has acquired HydroPen, the company behind the unique HydroPenTM container firefighting solution supplied to hundreds of ships. HydroPen's rapid uptake has been due to its combination of innovation, efficiency and ease of use. Attached to a ship's hose and raised on a telescopic arm by a single crew member, water pressure alone powers its 'drill and spray' nozzle to penetrate a container door before switching to spray mode to extinguish a fire with water, foam or CO2 – directly at its source.HydroPen was founded in 2016 by Martin Winkel, CEO and Jesper Rosenfelt Hansen, CTO and system inventor. Their inspiration was to apply innovative, safe and user-friendly technology, to revolutionize firefighting on board container vessels. fire-fighting equipment improvements Around the same time, the need for new solutions was on the rise across the industry. Nine major container ship fires were reported in 2019, followed by ten incidents in 2020, while the leading transports and logistics insurer, TT Club estimates that a container fire occurs on average once every 60 days. The International Union of Marine Insurance has called for ship design and fire-fighting equipment improvements on Ultra Large Container Ships. The acquisition also follows a fire in April onboard a 4,200TEU container ship off Malaysia, which called 50 local firefighters into action after the vessel returned to anchorage. "This is a significant acquisition for VIKING and for safety in the container shipping industry," says Lasse Boesen, Senior Product Manager, VIKING. "We approached the HydroPen originators shortly after the system won the 2017 Danish Tech Challenge accelerator prize. From its official launch at SMM 2018, VIKING became HydroPen's exclusive distributor, going on to support orders from some of the industry's biggest names." integrating HydroPen We are integrating HydroPen into our portfolio, in another evolution of our full scope strategy for marine safety: "Once crews familiarize themselves with HydroPen, there is no going back - and since its introduction, the system has already proven itself in live firefighting situations. Recently, HydroPen has also generated interest among land-based fire-fighting operators who have been quick to recognize its value," adds Boesen. "We are integrating HydroPen into our portfolio, in another evolution of our full scope strategy for marine safety," says Henrik Uhd Christensen, CEO, VIKING. "The HydroPen system meets a specific and widespread industry challenge and safety concern while aligning with VIKING's role as an innovation leader and trusted safety partner, as also demonstrated by the system winning the Safety at Sea Award for Best Safety Product, Fire-fighting." container firefighting technology Both HydroPen's Martin Winkel and Jesper Rosenfelt Hansen are happy to see VIKING carry the baton forward on bringing the HydroPen system to market. "VIKING and HydroPen have enjoyed an exceptional spell of cooperation from day one" says Mr. Winkel and continues: "Driving innovation at the service of saving lives is at the core of what we've wanted to achieve with HydroPen and we are confident that our innovation will be safe with VIKING. Together we have successfully positioned the HydroPen system as the most innovative container firefighting technology in the industry and we can't wait to follow the journey ahead, both as active stakeholders in the transition period and beyond."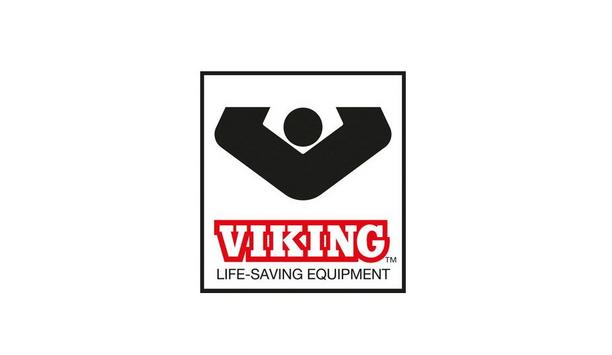 VIKING Passes Major Test Of Adaptability
VIKING Life-Saving Equipment A/S has now been operating for a full year in market conditions dictated by the COVID-19 pandemic. Despite the challenging situation, VIKING maintained a high level of activity and achieved satisfactory earnings in 2020. Turnover of nearly 2.6 billion DKK represents a decline of 185 million DKK year over year, yet it is still the second-highest figure ever recorded by the company. Profit before tax of 168.9 million DKK is also lower than the record result in 2019. VIKING CEO Henrik Uhd Christensen is satisfied with the company's ability to withstand difficult market conditions, which have simultaneously impacted the most important customer groups and triggered a perfect storm. "We made great efforts to prepare and to understand how COVID-19 would impact our business. The extreme fluctuations in demand have greatly impacted our production and service apparatus, but our strong global structure with a worldwide presence has enabled us to service customers despite the far-reaching restrictions. We have demonstrated our ability to adapt. Dedicated employees throughout our organization deserve the highest praise for successfully maintaining and expanding our market position," says Henrik Uhd Christensen. Struggling Industries Poised For A Rebound The passenger ship market saw a meltdown of the cruise industry from the outset of the pandemic The largest customer segment, the cargo vessel market, benefited during the financial year from high freight rates in container shipping. The cargo market as a whole is volatile, particularly in the subsegments tank and dry bulk, as seen when tankers were used to store oil due to a slump in sales. Global freight transport by sea is expected to continue growing, albeit at lower freight rates. The passenger ship market, which consists of cruise vessels and ferries, saw a meltdown of the cruise industry from the outset of the pandemic. The reduced mobility between countries and regions also severely impacted ferry traffic due to closed routes and ships taken out of service. "I am certain that cruises will bounce back, but the industry probably won't approach normalization until 2022. The large operators normally receive prepayments, which provides some crisis resiliency. The current situation is quite extraordinary, but we believe that most of our customers will make it through to the other side. Ferry services are a part of critical infrastructure and will also survive," says Henrik Uhd Christensen. Transition In The Offshore Industry The offshore market reached a historic low with negative oil prices in the spring of 2020 as demand cratered due to the declines in transport. The oil and gas industry is dominated by large publicly-traded corporations that react severely to market declines, which means that an investment backlog will need to be addressed as the market recuperates. But this sector will also need a year of transition before the turnaround takes root. Sales to smaller, more specialized segments have been impacted by the barriers to in-person sales. Segments impacted include sales to military customers (Defense segment) and sales of fire suits and other personal protective equipment (PPE segment). Digital meeting procedures, which were quickly implemented on very short notice, have proven to be a good alternative given the circumstances. Customers Buy The Full Package "With the uncertainty about what framework Covid-19 will offer us, we are off to a good start in 2021. The continued integration of the companies we have acquired in recent years, combined with an organizational adjustment, has resulted in a well-functioning foundation for future business development. The process has been complicated by the limitations on our ability to meet, but we have managed to make things work." "The strong rationale underlying these acquisitions has been confirmed by our customers. When purchasing products for newbuilds and when entering into multi-year service agreements, customers increasingly place full-scope orders that span our entire product and service program," Says Henrik Uhd Christensen. Acquiring Other Companies VIKING has dedicated resources during the pandemic to further developing its product range and digital infrastructure The service area is seeing increasing demand for fixed price agreements in the rental and service of liferafts, as well as in Life Boat Service (LBS) and Marine Fire Service (MFS). VIKING acquired the Norwegian lifeboat manufacturer Norsafe in the autumn of 2018, followed in 2019 by the purchase of Rotterdam-based Drew Marine FSR and its global service network for fire-fighting equipment. In addition to integration efforts, VIKING has dedicated resources during the pandemic to further developing its product range and digital infrastructure – and the company feels well-equipped for the future. Financial Resiliency In Uncertain Times VIKING expects business activity this year at levels similar to 2020 and with a higher profit. "We have done really well in the past year, also when compared to other players in our industry. We have improved our debtor portfolio, reduced inventories, and reduced costs without compromising on our high-quality standards. The financial year saw a record-high cash flow by far, which provides resilience in times like these," says Henrik Uhd Christensen. The declining demand for maritime safety equipment has had unfortunate consequences for a significant number of employees at VIKING's factories, especially in Asia.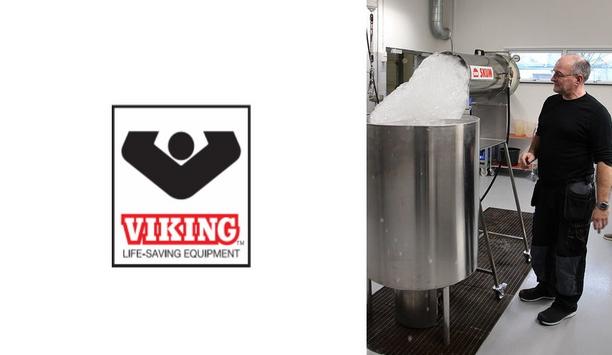 VIKING Spearheads Testing Of Life-Saving Marine Firefighting Foam
VIKING Life-Saving Equipment is driving more investment into its marine fire service business. The inauguration of VIKING's Foam Lab Odense, which specializes in the testing of a vessel's reserves of firefighting foam, intensifies the company's focus on marine fire service, a segment earmarked for significant growth in the coming years. Marine Firefighting Equipment "Our ambition is to cover all aspects of marine firefighting equipment, and our new state-of-the-art laboratory puts us on the global map in this segment, too." "Our class approvals comply with IMO regulations for testing all foam types, and we expect to receive DANAK accreditation in the course of 2021 as the ultimate stamp of approval for our work," says Anders Nørgaard Lauridsen, head of VIKING's activities in and around the Baltic region. Foam Test If a vessel's foam is over three years old, it is mandatory for the vessel to undergo an annual foam test at a reputable laboratory. VIKING can offer a simple, user-friendly package solution, whereby shipowners purchase a test kit comprising a container for collecting a foam sample, instructions on how to take the sample on board, and a prepaid shipping label. Certification When the foam is received at the lab, it is subjected to a barrage of tests including, degree of expansion, drainage time, pH value, density, and contamination, to ensure, among other things, that the foam will effectively extinguish a fire. A service checklist and data are saved electronically via an iPad, and a certificate is issued to verify the completion of the test. This ensures traceability and enables monitoring of the condition of the foam. Experienced Specialist Foam samples are heat-treated for 24 hours before mixing them with saline solution There are two specialists at the foam lab, both able to perform a variety of tests, including low and high expansion tests, chemical resistance tests, small scale fire tests, and conductivity tests. When foam samples are received, they are heat-treated for 24 hours before being mixed with saline solution and subjected to a meticulous testing program, defined according to current IMO standards. "VIKING's Marine Fire Service strategy is initially to handle more than 1,000 foam samples a year, which we'll receive directly from global shipowners and our servicing stations," says Anders Nørgaard Lauridsen. Heading Foam Lab Ove Andersen joined VIKING in mid-May to head Foam Lab Odense. He is a qualified marine engineer and has extensive experience, gained from 15 years as an operations manager in the district heating sector and subsequently from his three years at the DFL fire testing laboratory in Svendborg, Denmark. He is fully familiar with international test standards and quality management systems, including IMO1312, IMO670, other regulations for foam testing, and requirements for test equipment. Good Quality Foam "The thought of building something from scratch at VIKING appealed to me." There are relatively few, yet important, standards for this segment, and from my background in the fire sector, I can say that it's vital for vessels to have good quality foam on board – particularly foam that's expandable and has adequate drainage time." "The same applies here as to other VIKING products, human lives are at stake," says Ove Andersen. Strong Position VIKING has hired Lone Friis, who holds a bachelor's degree in laboratory, food and process technology, to assist at the foam lab. The new team of two has recently taken delivery of a sophisticated testing device, which optically reads drainage time and ensures a consistent test process. "We're a global player with the support of a strong network, and our foam lab will strengthen our maritime customers' perception of us as a competent partner and full-service supplier to the marine fire service segment, too," says Anders Nørgaard Lauridsen. Agreement Concepts Marine fire service is often sourced as part of VIKING's multi-annual service contract for maritime operators, the VIKING Shipowner Agreement (SOA), and is also offered to the oil and gas industry as part of our Offshore Service Agreement (OSA). Foam analysis is a natural, integral part of both of these agreement concepts.