Events News
Fire Protection and Safety in Tunnels 2017 amendments
Published on 25 July 2017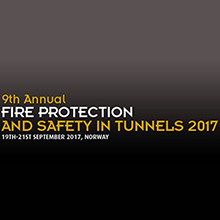 FPST offers attendees the chance to network and collaborate with key industry elites and peers
The 9th edition of Fire Protection and Safety in Tunnels conference returns to Norway this September, gathering leading operators, experienced service providers and senior fire safety experts in an intimate setting to collaboratively explore pressing topics regarding fire safety; such as technological advances and risk minimisation strategies to enhance fire prevention and suppression strategies.
For 2017, this prestigious event is amplified in multiple aspects; here are 3 reasons why this year's Fire Protection and Safety in Tunnels conference is a must-attend event:
• Site Visit - Arna Tunnel, Bergen
Visit the biggest Tunnel Boring Machine (TBM) used in Norway to date! The gigantic machine is equipped with 62 cutters, weights 1,800 tonnes and stretches 150 metres long. We will begin the tour by visiting the information centre where presentations will be given to see how this particular TBM model operates. From here, we will first explore the area out of the tunnel, to review the construction work occurring; then we travel down the first 800 metres of the tunnel to discover the transportation of trains travelling on the conveyor belt.
• Share and Collaborate with tunnelling and fire experts
FPST offers attendees the chance to network and collaborate with key industry elites and peers to find solutions to the most pressing topics such as ventilation strategies and many more to enhance fire protection and safety in tunnels to build for a better future.
• Influential Speaker Panel
We are delighted to welcome several influential speakers from the fire safety and tunnelling world to discuss and pinpoint the latest innovation, key opportunities, and effective solutions available; ensuring our attendees leave with enhanced knowledge to improve fire protection and safety in tunnels. Take a sneak peek below:
Graham Green, President, Institute of Fire safety managers (UK)
Arild Petter Sovik, Senior PRINCIPAL Engineer, National Tunnel Manager, Statens
Tony Cash, Lead Fire Engineer, RIFA
Other news
Related links
| Product Category | Month | Company |
| --- | --- | --- |
| | | |
| | | |
| Country | Events | |
| | | |
| | | |