Ford FIRE TRUCKS AND VEHICLES
(49)
Browse FIRE TRUCKS AND VEHICLES
Vehicle products updated recently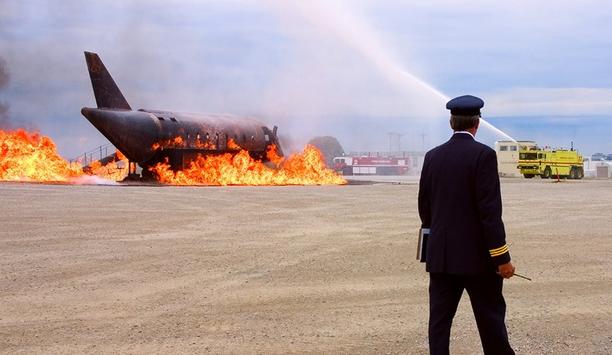 Aviation Incidents: A Look at Local Authority Fire Service Response
One if the few bonuses of the 2020 COVID-19 Lockdown in the UK was the dramatic reduction of aircraft noise around our homes. Certainly in the Southeast of England, it gave us some thought as to the number of aircraft in the sky, and what the consequences might be if something went wrong… Aviation in the UK is split between what is known as Commercial Airport Transport (CAT) and General Aviation (GA). The CAT sector operates out of 25 airports and accounts for around 900 aircraft. However, the GA sector accounts for 15,000 aircraft, flown by 32,000 pilots, operating out of 125 aerodromes licensed by the Civil Aviation Authority (CAA) and over 1,000 other flying sites (According to the General Aviation Awareness Council – our mapping data suggested 1650 sites) (1,2). Roughly 96% of the aircraft in the UK are engaged in General Aviation, engaged in business, leisure engineering and training activities, and HM Government estimate that the sector employs around 38,000 people (3). Each licensed airfield has its own firefighting response, termed airport rescue and firefighting services (RFFS) governed by the CAA guidelines and they are required to be:- .. proportionate to the aircraft operations and other activities taking place at the aerodrome; Provide for the coordination of appropriate organizations to respond to an emergency at the aerodrome or in its surroundings; Contain procedures for testing the adequacy of the plan, and for reviewing the results in order to improve its effectiveness. (CAA 2020) Ensuring Adequate firefighter training So simply put, each airfield needs to ensure it has adequate training, media, personnel in appropriate quantities to deal with any likely incident, given its size and traffic. There are around 1654 airfields in the UK, with 125 of those being licensed However, this is only limited to licensed airfields and the response is typically limited to the airfield itself, and the immediate surrounding area. Airfield vehicles are often specialist aviation firefighting vehicles – not necessarily suitable for driving potentially long distances to an incident. Even so, it is a well-established principle that RRFS would only fight the initial stages of any fire, to be relieved by, and with command passed to local authority fire services. There are around 1654 airfields in the UK, with 125 of those being licensed. In 2019-2020 (to date) there have been 62 air crashes, of which 9 involved a fatality. If we plot the locations of all airfields of any type, all the licensed airfields and the crashes, we can see the spatial relationship between them. Below, we see the two distributions – on the left, crashes versus all airfields and on the right crashes versus licensed fields. It's clear that the crosses (crashes) and dots (fields) are not always in the same place, so clearly there is a potential problem here – namely the specialized airfield fire response is unlikely to be able to respond. Using the spatial analytical capability of QGIS, the open-source GIS software, we can then start to look at the distances from the airfields of the crashes. We can see that (based on the 2019-2020 data) that on average a crash occurs 3.22km from an airfield, but 15.78km from a licensed airfield (where the firefighting teams are). The maximum distance from a licensed airfield was 57.41km, two thirds of the crashes were more than 10km from a licensed airfield and over a third were more than 18km away. Fig 1a (left) shows crashes versus all airfields. Fig 1b (right) shows crashes versus licensed airfields only. Aircraft incidents pose complex firefighting challenges So, what does this all mean? Well the simple conclusion we can draw from this data is that there is a sizable risk of an aircrash occurring on the grounds of a non-airport fire service. In 2019-2020 there have been 62 air crashes, of which 9 involved a fatality Bearing that in mind, it's also worth considering that aircraft incidents pose challenges to firefighters and firefighting, that need to be considered. The construction of aircraft has been evolving since the first days of flight, with materials that are strong, light and cheap to produce being adopted and in recent years created to order. This has seen a move from natural materials, such as wood and canvas towards aluminum and man-made materials, and in recent years man made mineral fibres (MMMFs) which are lighter and stronger than natural materials, and can be moulded into any shape. The problem is, MMMFs disintegrate into minuscule fibres when subject to impact or fire, which can stick like tiny needles into firefighters' skin, leading to skin conditions, and pose a significant risk to respiratory systems if breathed in. As with all fires, there are risks associated with smoke products, with exposure to fuels and other chemicals and so there is the potential for a widespread hazmat incident, with respiratory and contamination hazards. Finally, there is always the risk, more so perhaps with military aircraft, of explosives or dangerous cargoes on the aircraft that put firefighters at risk. The problem is therefore this: There is a constant, but small, chance of an aviation incident occurring away from an airport, and requiring local authority fire services to act as the initial response agency, rather than a relieving agency. These incidents, when they do occur, are likely to be unfamiliar to responding crews, yet also present risks that need to be addressed. PLANE Thinking Despite this landscape of complex risk and inconsistent response coverage non-airfield fire services can still create an effective response structure in the event of an aviation incident away from an airfield. We have drawn up a simple, 5-step aide-memoire for structuring a response, following the acronym PLANE (Plan, Learn, Adapt, Nurture, Evolve). We are aware that all brigades will do this already to some extent (in fact they are obliged to). We are also aware that there was little point going into the technical details of firefighting itself – that is handled elsewhere and in far more detail – but instead we considered a broad, high-level system to act as a quick sanity check on the response measures already in place. There is always the risk, more so perhaps with military aircraft, of explosives or dangerous cargoes on the aircraft that put firefighters at risk In many ways this mirrors existing operational risk exercises, and begins with a planning process – considering the nature of risk in the response area, building links with other agencies and operators, and collating and analyzing intelligence. Services should expand their levels of knowledge (Learn) around the issue, and consider appointing tactical advisors for aviation incidents and using exercises and training programs to test and enhance response. Having identified the risk landscape, and invested in intelligence about it, we may then need to consider adapting our approaches to make sure we are ready to respond, and having carried out all of this activity, we need to keep the momentum going, and continue to nurture those relationships, and that expertise cross the service. Rapid technological advancement Aviation technology does not stand still. Many of us will have seen this week the testing in the lake district of the emergency response jetpack (4), and this is just one example of the pace of technological advances in the sector. Consider the huge emerging market of UAVs, commercially and recreationally and the potential for incidents related to them, as well as their potential application in responses. Finally, Services, potentially through their dedicated TacAd roles, need to keep abreast of emerging technologies, and ensure that the Planning and Learning continues to match the risk. Aviation technology does not stand still So, in conclusion, we have a (very) simple system for preparing for the potential for airline incidents off airfields. We are happy to admit that it's not going to solve all of every brigades' problems, and we'd like to think it simply holds a mirror to existing activities. We do hope that it does give a bit of structure to the consideration a potentially complex process, and that it is of some use, if only as a talking point. Best practices and technologies and will be among the topics discussed at the Aerial Firefighting Europe Conference, taking place in Nîmes, France on 27 – 28 April 2021. The biennial event provides a platform for over 600 international aerial firefighting professionals to discuss the ever-increasing challenges faced by the industry. References 1. General Aviation Awareness Council. Fact Sheet 1 - What is General Aviation (GA)? 2008. 2. Anon. UK Airfields KML. google maps. 2020. 3. Davies B. General Aviation Strategic Network Recommendations. GA Champion, 2018. 4. Barbour S. Jet suit paramedic tested in the Lake District "could save lives." BBC News. 2020. Article Written by Chris Heywood and Dr Ian Greatbatch.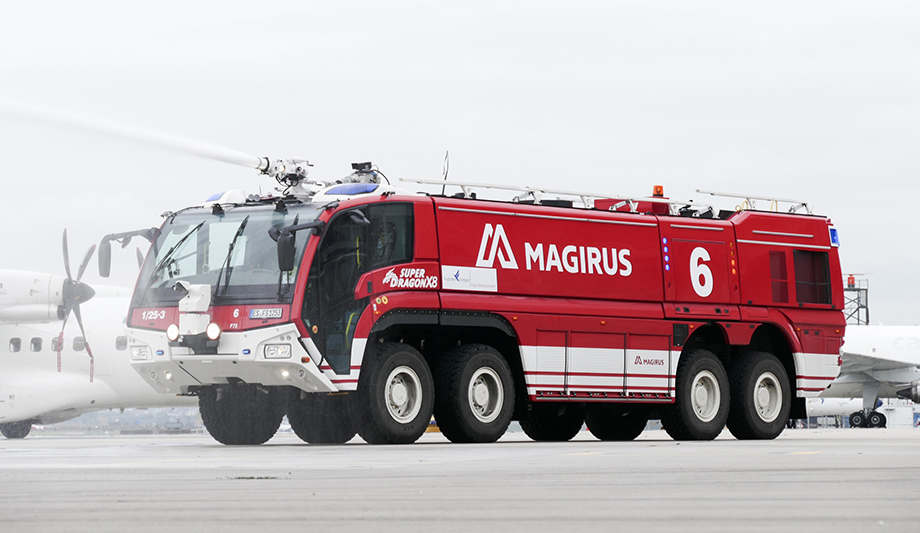 Fire Fleets Switch Gears To Fully Automatic Transmissions
For those responsible for procuring and managing fire vehicle fleets, speed, driveability and reliability are paramount concerns. As well as the ability to accelerate, slow and stop rapidly and safely in city traffic, fire engines need to be highly manoeuvrable in tight spaces or on rough terrain. They are required to access many different types of environment at high speed, and, even more than other types of heavy-duty vehicles driven at slower speeds by professional lorry drivers, they need to be easy to operate. At the same time, vehicles are needed that are large and powerful enough to carry fire crews, heavy specialist equipment and large quantities of water or foam. They must also provide a smooth ride, for when crews are wearing bulky items such as masks and oxygen tanks. And they have to be extremely reliable, as breakdowns can cause loss of life. In recent years, manufacturers have generally preferred to specify fully automatic transmissions For all these reasons, fully automatic transmissions are now specified on most European fire vehicles, particularly in Germany, France, Spain and the UK. Compared to manuals, they can offer up to 35% quicker acceleration, with more torque at launch as well as no power interruption during gear changes upwards or downwards, enabling quick deceleration of the vehicle and bringing appliance to a complete stop when combined with an Allison Transmission retarder. That all adds up to faster response times and better manoeuvrability on crowded city streets. Automatics are also far more reliable and durable than manual or automated manual gear boxes, which are prone to wear and tear, particularly on the clutch. A key benefit that most automatics offer is a torque converter, which eliminates the need for a clutch altogether. automatic transmissions Compared to manuals, they [fully automatic transmissions] can offer up to 35% quicker acceleration This was the rationale for the specification of Allison automatic transmissions on London Fire Brigade's latest Mercedes-Benz Atego and Scania trucks. "The Allison [automatic] transmission was specified partly because of its responsiveness and controllability, and partly because it has proven itself to be such a reliable solution for LFB's operations," Neil Corcoran, engineering and technical manager at Babcock International Group, which manages and maintains the LFB fleet, told us." We have seen for ourselves that the Allison has minimal maintenance requirements. And, of course, the dependability of equipment is essential in emergency services." Allison has a dominant position in the European fire sector, where it has spent decades designing and building fully automatic transmissions that perform at their best in critical situations and offer vital benefits not provided by manual or automated manual transmissions (AMTs). This is particularly true in airport fleets, where vehicle response times are dictated by legislation. London Fire Brigade has a large number of Mercedes-Benz Atego fire trucks, all equipped with Allison transmissions Cleaner fuels In recent years, manufacturers have generally preferred to specify fully automatic transmissions. This continues to be true now when, in common with other commercial vehicle markets, they are looking at alternatives to diesel fuel, such as compressed natural gas (CNG) or liquefied natural gas (LNG), to reduce emissions in the medium to long term, particularly in urban areas. Automatics are far more reliable and durable than manual or automated manual gear boxes, which are prone to wear and tear Automatics tend to be well suited to both compressed and liquefied natural gas engines because the torque interrupts that occur with manual and automated manual transmissions during gear shifts are more volatile and less predictable in the case of spark-ignited CNG and LPG engines. Automatics, by contrast, can provide a smooth transfer of power to the drive wheels and maximum efficiency between engine and transmission, resulting in better performance, manoeuvrability, safety and driver comfort, as well as a significant reduction in noise. In 2019, German fire engine manufacturer Magirus revealed the world's first compressed natural gas (CNG)-powered firefighting vehicle in series production. Part of the company's 'Innovative Drive Line (iDL)' series, the (H) LF 10 fire engine has an Iveco Eurocargo 4x2 chassis with 420 litres of CNG and a fully automatic Allison transmission. It has a range of up to 300 km or pump operation of up to four hours. Speed and power for forest fire vehicles Automatic gears are also increasingly specified on 4x4 vehicles used to tackle forest fires as they outperform AMTs in extreme conditions. Forest firefighting vehicles need to be able to carry powerful, high-capacity pumps and canons as well as very large quantities of water or other extinguishing media. And they must be able to travel rapidly over large distances and very rough and steep terrain, in extreme heat. AMTs and manual transmissions cannot cope well with these conditions. An example of a newly launched automatic forest firefighting vehicle is the Spanish-made UROVESA K6 IS, which is equipped with the Allison 3000 Series™ transmission. It features a chassis with a maximum gross vehicle weight (GVW) of 16 metric tonnes, excellent traction and extremely robust parts. According to UROVESA's President and CEO Justo Sierra, the automatic transmission, combined with an independent suspension system, affords greater guarantees of safety and efficiency than other vehicles and is in great demand for forest firefighting applications because it can travel at twice the speed of conventional 4x4 trucks. "These transmissions facilitate driving, prevent gear shift errors, enable both hands to be on the wheel at all times and enhance driver ergonomics and safety," explained Sierra. The UROVESA K6 IS forest firefighting vehicle, made in Spain, equipped with a fully automatic transmission. It can travel at twice the speed of conventional 4x4 trucks combating vehicle rollback There are a number of ways in which automatics help reduce accidents and improve driver awareness, comfort and safety, from combating vehicle rollback – a major concern with manual transmissions – to providing superior vehicle control and manoeuvrability at low speeds. Furthermore, because the engine's responses are so closely related to what the driver asks of it, the vehicle's start-up progress is more predictable to cyclists and pedestrians who might otherwise misinterpret a slow start as an intention to remain stationary. Electronic features like putting the transmission into neutral when leaving the cab or safety interlocking with body equipment further reduce the risk of accidents. Built to last Fire vehicles tend to be in use for only a few hours each week, with low mileage. Consequently, they can be operational for up to 25 or 30 years. So it's even more important for fleet buyers that they get specifications right, to ensure their vehicles will pass the test of time and provide the performance they need for decades. That's one more reason why so many continue to opt for Allison planetary automatics.
Optimize Your Firefighter Training Program
Want to know an easy way to judge the quality of a fire department? Look at how much they train. Career, volunteer or combination, fire departments become successful through training. Yet all training is not equal. Focus too much on hands-on training (HOT) and you could be missing important legal and compliance updates. Lean heavily on web-based training and you may fail to identify shortcomings in skills proficiencies. Keep students confined to a classroom and you may lose their interest quickly. Not surprisingly, a balance of all three types of training is needed to produce competent, empowered firefighters. For this article, I was challenged to think about what's missing from our current fire training programs. As I thought about the varied way we approach fire training, three issues jumped out at me. Base training on facts and statistics Take advantage of new technologies Incorporate policy into your training Your training program should also be strong in the types of calls you respond to most Base Training On Facts And Statistics If your department has a robust training program, outlined by a calendar of various topics and employing a mix of HOT, online and classroom training, you're ahead of the curve. But even in departments with well-developed training programs, training is often based on preference or habit, not data. Think about the topics in your training program. Do you know why they're included? Do they match your call make-up? Are they targeting specific skill shortcomings? (And yes, we all have them!)What's missing from many fire department training programs is a detailed needs assessment What's missing from many fire department training programs is a detailed needs assessment that in turn establishes a factual basis for the year's training topics. The needs assessment should include: Surveying the members to determine the types of training they want or feel they need. Measuring firefighter proficiency on basic tasks, such as NFPA 1403 drills, NFPA 1710 drills and EMS patient assessment skills audits, to assess personnel by mandate or by industry best practice. This will identify skills deficiencies to address through training. Incorporating call volume statistics and details. A significant percentage of the calls fire departments respond to are EMS and vehicle extrication But I'd venture to guess the training programs of most departments don't match those percentages. Yes, you need to train for the high-risk, low-frequency tasks. But your training program should also be strong in the types of calls you respond to most. Incorporating these "facts and stats" into your training program will help you keep it fresh, relevant and interesting. Firefighters can use their phones and tablets to access department training information and complete training assignments Take Advantage Of New Technologies There is something to be said for back-to-the-basics, keep-it-simple firefighter training. But it's a mistake to ignore technological advances. From teaching safe apparatus backing procedures to practicing hoseline deployment and Vent/Enter/Isolate/Search (VEIS) tactics, instructors have more options than ever before. Some instructors regard simulators as second-rate to "the real thing." Certainly, simulation and other forms of technology-driven instruction can't replace the value of hands-on experience. But they can augment it in important ways. Driver simulators, for example, not only save money because apparatus don't have to be taken out of service or sustain wear and tear; they also provide an environment where firefighters can learn without risk of injury. If sitting behind a computer isn't your kind of thing, live-burn simulators, vehicle fire simulators and hazmat simulators are available—and they all significantly boost training efficiency.Technology will never replace hands-on instruction, but it can facilitate it But you don't need fancy simulators to incorporate technology into your fire training program. Learning management systems (LMS) are another important tool that can increase training program efficiency. Although they've been around for a long time, LMS continue to improve. The ability to integrate with mobile devices is huge, allowing firefighters to use their phones and tablets to access department training information and complete training assignments. Leveraging this technology can allow you to more efficiently manage information, schedule training and free up valuable time needed for other important tasks. If you've attended some of the larger regional or national fire conferences recently, you may have had the opportunity to see audience response technology in action. By capturing the firefighters' responses to questions in real-time, instructors can adjust the material to reflect students' knowledge level. Audience response is also simply a great way to keep firefighters engaged. Technology will never replace hands-on instruction, but it can facilitate it. If you're using training methods that haven't changed in decades, something's missing from your training program. Without incorporating policy into your training, you're only giving your firefighters half the equation Incorporate Policy Into Your Training I saved the biggest and best for last. When I work with fire departments across the country, I repeatedly discover the failure to incorporate policy into training. Think about it: Training curricula are almost always designed around procedures—the how of doing something. But isn't the why just as important? And that's what policy is all about. Without incorporating policy into your training, you're only giving your firefighters half the equation.Inevitably firefighters will encounter times when following the procedure isn't possible Inevitably firefighters will encounter times when following the procedure isn't possible. That's when policy training kicks in—firefighters understand the fundamental objective, and they can think on their feet about how to achieve it. Training on policy also helps departments address the issues that so often get firefighters into trouble. How many of your firefighters really understand your department's social media policy? What about the rules surrounding sick time usage? These are things that trip up firefighters time and time again. If you're not training on policies, it's unlikely firefighters remember them. How many of your firefighters really understand your department's social media policy? In addition, normalization of deviance is a risk to every organization. When personnel fail to follow policies and no negative repercussions result, it can quickly establish a new normal. Policy-based training resets the "normal" and makes sure that members of the organization comply with the policy and not what they think the policy says.Most line-of-duty death reports cite failure to comply with policy or lack of adequate policy Fire instructors often avoid training on policy because they regard it as boring or unrelated to what really matters—firefighter safety and survival. Yet most line-of-duty death reports cite failure to comply with policy or lack of adequate policy as contributing factors in the incident. If you're worried that policy will make your training program dry and uninteresting, link it to real-world events. An online search provides lots of examples of when things went wrong and how adherence to policy might have produced a different outcome. And limit policy training to small chunks. Take out a 10-page policy and go through it line by line, and your students' eyes will glaze over in seconds. Instead, look for ways to enrich your current training by bringing relevant pieces of policy into it. Your firefighters will be learning the department's policies without even realizing it! Focus On Continuous Improvement Fire chiefs and fire instructors have a challenging job. Budgets are tight, and training is often one of the first things to be cut. Yet we need firefighters to be proficient in all-hazards response. Every department has a long training wish list. But if we focus on continuous quality improvement, we can get a little better each year. Looking for opportunities to incorporate statistics, technology and policy into our training is a good place to start.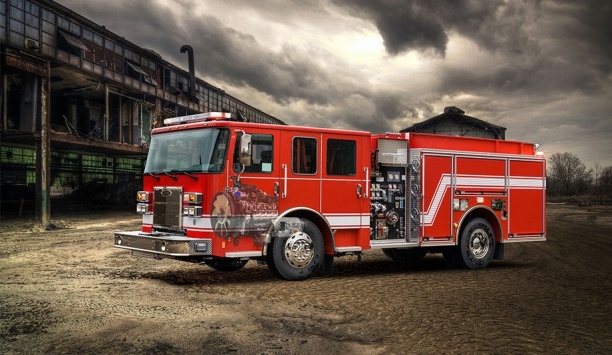 Pierce Introduces New Pierce Saber Custom Chassis With Ford Turbo Diesel Power Train
Pierce Manufacturing introduces Pierce Saber custom chassis with Ford 6.7L Power Stroke V-8 turbo diesel power train Pierce Manufacturing Inc., an Oshkosh Corporation company, has introduced the first-ever Pierce® Saber® custom chassis equipped with a Ford 6.7L Power Stroke V-8 turbo diesel power train. Roush – a leader in motorsports and high-performance passenger vehicles – oversaw the integration, testing, and validation of the new system. Pierce Saber custom chassis "We are very excited to offer fire departments our industry-leading Pierce Saber custom chassis now matched with Ford's proven and efficient 6.7L Power Stroke V-8 turbo diesel power train," said Jim Johnson, Oshkosh Corporation Executive Vice President and President of the Fire & Emergency segment and Pierce Manufacturing. "This new configuration – available with major assistance from Ford and Roush – may be the ideal choice for departments looking for an entry level custom chassis that delivers one hundred percent Pierce quality, performance, and value." Features and functions The 6.7L Power Stroke V-8 turbo diesel power train's components are optimised for modern day emission regulations. The engine utilises rugged components – like a composite graphite iron block, dual alternators, and high-strength aluminium cylinder heads. Because of its built-in efficiencies, the power train generates nearly the equivalent amount of horsepower to the rear wheels as larger and heavier engines commonly offered in this class. In addition, the tremendous reach of the Ford service network backs the power train, which is covered by a 5-year/100,000-mile warranty. "The Ford 6.7L Power Stroke V-8 turbo diesel power train is engineered from the ground up to maximise performance, efficiency, and reliability," explained John Schultz, Pierce's Director of Custom Pumper Products. "In addition, customers who have been behind the wheel are impressed with how the vehicle drives and accelerates as well as the quiet cab interior." Pierce Saber demo units The Pierce Saber custom chassis serves as the benchmark in its class, and is among the industry's most popular custom chassis. The cab is renowned for its excellent visibility, safety features, interior room, and storage space. A flat floor in the crew cab area provides surer footing, and the steps are low and offset for easier entry and exit. A one-piece wraparound windshield delivers excellent outward visibility. Pierce Saber apparatus configured with the Ford 6.7L Power Stroke V-8 turbo diesel power train are now available for sale through Pierce dealers. Demo units are now beginning to tour portions of the country. Ford Focus By Ford Motors Imparts Practical Training To Emergency First Responders
The new 2012 Ford Focus by Ford Motor Company is being used to train first responders on modern vehicles Since 1990, Ford has provided more than 2,000 vehicles to give first responders the opportunity to train on modern vehicles. Ford Motor Company donated 12 vehicles to the Dearborn (Mich.) Fire Department and provided a sneak peek at the 2012 Ford Focus to help first responders train with their new vehicle rescue equipment. Ford is developing new materials and improved structural designs to enhance occupant protection and is committed to educating first responders on new vehicle technologies to aid post-crash emergency rescues. New Focus features a suite of advanced new airbags and extensive use of high-strength steel including boron. Ford also is helping take this training national by partnering with PennWell Publishing, the publisher of Fire Engineering Magazine, in developing a training video series on advanced vehicle extrication techniques, which will be available in 2011. Ford Motor Company is using one new Ford Focus and a dozen other modern vehicles to help train first responders. The new 2012 Focus, which contains high-strength materials and advanced safety features and airbags, is the latest teaching tool to educate members of the Dearborn Fire Department on how best to use their new extrication equipment in rescue situations. "Ford's goal is to design safe vehicles. But we also are committed to helping educate first responders who work to save the lives of occupants involved in severe crashes," said Todd Fronckowiak, Ford's manager of Government Investigations and Design Analysis Engineering. "For decades, Ford has supplied vehicles to fire departments so they can train on the latest vehicle technologies and materials with their increasingly advanced extrication tools." Since 1990, Ford has provided more than 2,000 vehicles to give first responders the opportunity to train on modern vehicles. Ford is also supporting PennWell Publishing, publisher of Fire Engineering Magazine, which is developing an extrication training video series that will be available to fire professionals nationwide in 2011. First Responders are being trained by new 'Ford Focus' and other vehicles to enhance their rescue and safety skills In 2009, Ford's training efforts included helping to stage the first-known emergency responder training event specifically focused on hybrid vehicles. Following the introduction of its first hybrid model, the 2006 Ford Escape Hybrid SUV, Ford began publishing emergency responder hybrid vehicle guides with instructions on how to quickly and safely disable the vehicle's electrical and battery systems before attempting to rescue occupants. "It's important that our personnel have real-world experience using extraction methods on vehicles made with modern materials so they are best prepared to save lives at the scene of an accident," said Richard Miller, chief of the Dearborn Fire Department. "Knowing their commitment to first responder training, we reached out to Ford and asked them to supply cars for this exercise so that Dearborn firefighters could train and test our new equipment on a broad range of vehicles." More than 100 Dearborn firefighters received training over the past three days with new extrication equipment, commonly known as "the jaws of life," that the Dearborn Fire Department obtained through the Assistance for Firefighters Grant Program. With roughly twice the cutting strength as the department's old equipment, the new tools are more effective cutting through higher-strength steel, such as the boron steel used in the 2012 Ford Focus and other models. Boron steel is one of the strongest weldable materials, allowing engineers to design parts that are lighter and stronger than ordinary steel, which means they help protect vehicle occupants while enabling fuel economy improvements. The Dearborn Fire Department training included a demonstration for city officials, including Dearborn Mayor John O'Reilly Jr.