Lion Apparel FIRE GEAR
(35)
Turnout/Bunker Gear products updated recently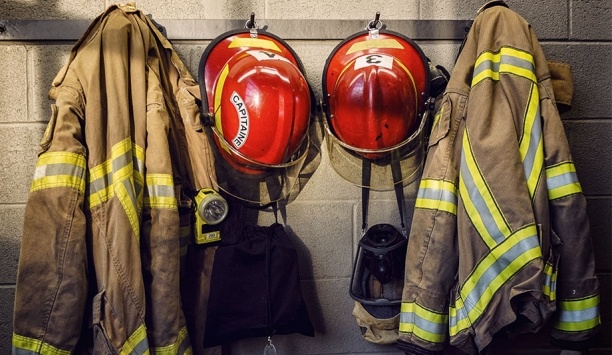 Firefighter Uniform Adapts To Cancer Risk, Active Shooter Threat
More than an outfit. More thought than one leg at a time. Putting on the uniform is not just an ordinary daily task, but a habitual part of preparing for the unexpected. Yes, a firefighter's uniform is more than an outfit. Think about who is wearing it and the risks they are exposed to on a daily basis. The firefighter comes from a long line of heroes, a brotherhood and sisterhood, with traditions to uphold and a reputation to maintain. Their uniform is no different. Its historical navy-blue threads. Classic, professional appearance. Tactical features. Technology-driven fabric. Over time, the uniform's engineering has needed to adapt with new designs and react to worsened exposures and more dangerous rescue missions. The 21st Century firefighter's uniform is unique and specific to the job with current trends fixating on the best user experience while future plans focus on preventative and safety measures due to increased societal and architectural risks. Comfortable firefighter uniform So, what does the 21st Century firefighter want? Comfort. Beyond Personal Protective Equipment, it is an overwhelming plea for a more comfortable uniform to wear. This includes garments that are easy "wash and wear" materials that do not require additional ironing. Firefighters do not want to lose the professional appearance or tactical functionality of the uniform The trend calls for lightweight, breathable, cool-weather wear that is less restrictive and offers more give and more stretch so firefighters can perform their job responsibilities more efficiently. However, they do not want to lose the professional appearance or tactical functionality of the uniform. "We need something that looks presentable every time," said Chief Robert Burdette of Grand Blanc Fire Department, Michigan. Additionally, more firefighters are also starting to wear polo shirts or mesh T-shirts under their Turnout gear, for a lighter weight, more breathable option from the traditional uniform shirt. The trend calls for lightweight, breathable, cool-weather wear that is less restrictive Risk of cancer Unfortunately, comfort is not the only concern firefighters have when it comes to uniforms, or their safety in general. As risky and demanding of a profession the fire service can be, the fires have proven not to be the most hazardous or life threatening. According to the Firefighter Cancer Support Network, "Cancer is the most dangerous threat to firefighter health and safety today." A study conducted by the National Institute for Occupational Safety and Health (NIOSH) concluded that firefighters have a 9% increased chance of being diagnosed with cancer and a 14% increased chance to die from cancer compared to the general United States population. Chief Dennis Jenkerson of the St. Louis Fire Department in Missouri is one of many chiefs actively fighting these statistics. Responsible for 32 firehouses, Jenkerson has witnessed the reality of this threat with the loss of four of his own and understands the validity of the situation. For the last 18 months, the St. Louis Fire Department has made headway implementing a drastic culture change by evaluating everything from equipment, apparel, lifestyle and more. Cancer affecting firefighters "It is so prevalent that everything we do anymore has to do with some emphasis on protecting firefighters from getting cancer," said Chief Mike Ramm of Sylvania Township Fire Department, Ohio. "Cancer is the most dangerous threat to firefighter health and safety today" According to the Firefighter Cancer Support Network, the cancers that have mostly affected firefighters are respiratory (lung, mesothelioma), gastrointestinal (oral cavity, esophageal, large intestine) and kidney. "Testicular cancer is through the roof," added Jenkerson, who has pushed his firefighters to get tested for cancers earlier than normally necessary. He also explained that the imagery of a firefighter drinking from a fire hydrant can no longer happen. He emphasized the importance of cleaning up instantly after every fire. Think of the simple act of removing grimy gloves after a call – at least one hand has been exposed to the cancerous contaminants if it was accidentally used to take off the other glove. If that unwashed, contaminated hand touches food that goes into the mouth of the firefighter, he/she is essentially eating what may cause esophageal, oral cavity or gastric cancers. Cancer is the most dangerous threat to firefighter health and safety today According to the International Association of Fire Fighters (IAFF) via the Firefighter Cancer Support Network, cancer caused 61% of the career firefighter line-of-duty deaths from January 1, 2002 to March 31, 2017. Additionally, 70% of the line-of-duty deaths for career firefighters were because of cancer in 2016. Unfortunately, this hazard is not going away any time soon. The new building materials and new house furnishings have become the culprit for this major concern. These materials are man-made and are not of natural resources. When burned, they create deadly carcinogens that the firefighters are getting exposed to firsthand. Immediate decontamination process Jenkerson's implementation of a culture change includes an immediate decontamination process following a fire, which involves getting hosed with water, cleansing wipes for all soft tissue areas of the body and an immediate shower back at the station. "Any place you can get a five degree rise in skin temperature, the absorption level goes up 10 times," Jenkerson warned. His firefighters are instructed to remove their bunker gear, uniform, helmet and all other equipment right away that get immediately washed once they have returned to the station. Hems, collars, cuffs and cargo pockets are areas of the uniform where toxins get caught He also restricts all firefighters and EMTs from going on a second run until they have showered and have put on a new, clean set of clothes, all the way down to their underwear. "There are no two-runs. We have to get this stuff off [of them]." Uniform manufacturers are tasked with finding a solution to help facilitate Jenkerson's and other Fire Chiefs' visions by designing a uniform with as little gaps and fold-over materials as possible. "Everything needs to be sealed tight," Jenkerson explained. Hems, collars, cuffs and cargo pockets are all areas of the uniform where toxins get caught. A lightweight shirt option that offers a crew collar with a two to three button placket and a lightweight, ventilated hidden cargo pant could be the future of fire uniforms. "There isn't another profession that has the thousands of dangers that we have every day," Ramm explained. Additional and ongoing efforts currently underway according to the NFPA Journal, include those by the Firefighter Cancer Support Network, the Congressional Firefighter Cancer Registry, the Fire Protection Research Foundation, the FPRF Campaign for Fire Service Contamination Control, and the International Association of Firefighters. Active shooter emergency response Firefighters and EMTs increasingly need to wear bullet proof vests with the surge in active shooter calls An additional and unfortunate trend that is also sweeping the nation is the need for firefighters and EMTs to wear bullet proof vests. Departments are trying their best to arm their men and women with this protection along with ballistic helmets in certain regions due to the surge in active shooter calls. "In areas that have a lot of gang-related activity, [bullet proof vests] would be beneficial," said Jason Reyes of Allen Fire Department, Texas. "Sometimes you go on calls when the city doesn't have enough police to respond to calls, which creates a situation that leaves firefighters unprotected and vulnerable." Currently the market has ballistic vests available that can either be worn over or under a firefighter's uniform and under their bunker gear. Uniform manufacturers also offer an external vest carrier option that is worn over a firefighter's uniform to look like part of the uniform shirt to maintain a professional appearance. Distinguishing firefighters from law enforcement "Firefighters find themselves becoming targets more and more these days," added Deputy Chief of Operations Dwayne Jamison of Bartow County Fire Department, Georgia. "Many departments, including my own, are looking to outfit their firefighters with bullet proof vests." Although this trend has not affected every region, industry experts can see the need becoming more widespread if threats continue to increase the way they have been. Along the same lines, firefighters want to be identified as firefighters and not mistaken for law enforcement. "We don't want to look like police," Jenkerson said. "We want to be identified as firefighters. Even if it takes a different stripe." When it comes to uniform trends for firefighters, it is clear there is more to focus on than the technical details. For many fire departments, future trends could serve as a tool to prevent deadly toxins from being absorbed and from lethal bullets puncturing unprotected firefighters and EMTs. The uniform is more than an outfit. With a larger purpose than to shield a body, the uniform goes beyond the navy-blue threads, professional appearance and tactical features to one day supporting what could be a lifesaving concept. Sources Firefighter Cancer Support Network, Preventing Cancer in the Fire Service National Fire Protection Association, Firefighters and Cancer NFPA Journal, Fast Track: Some of the national efforts underway to fight cancer in the fire service; Roman, Jesse; 2017
Airport Firefighting & Emergency Rescue – A Day In The Life Of A Firefighter
Airport firefighters operate very differently to their municipal fire and rescue colleagues For the thousands of firefighters covering over 80 major commercial airports throughout Europe, life is very different from that experienced by their municipal fire and rescue service colleagues. The differences range from the type of regime they experience to the types of emergency they are called upon to deal with on a daily basis. Richard Cranham, Business Development Manager at Bristol Uniforms Ltd, explains more. Airports with scheduled passenger services range from the largest international airports such as Heathrow, Gatwick, Paris, Amsterdam Schiphol and Frankfurt, to some of the smallest, which include those serving smaller communities in Scandinavia and the Highlands & Islands Airports group in Scotland with 10 locations spread across some of the most inaccessible parts of the country. BAA (formerly The British Airports Authority) is the largest airport operator in the UK with 7 locations and employing over 450 firefighters at their sites at Heathrow, Gatwick, Stansted, Southampton, Glasgow, Edinburgh and Aberdeen. An airport firefighter's typical day Unlike their municipal counterparts, airport firefighters are required to cover all types of emergencies within the airport boundaries with many of the incidents unrelated to aircraft accidents or fires. Major aircraft accidents are very rare thanks to strict safety regulations and major improvements in aircraft design and build. Airport firefighters must cover all emergencies within airport boundaries - including incidents unrelated to aircraft accidents or fires In many locations the fire services work closely with the ambulance and other emergency services dealing with all types of accidents including traffic incidents, vehicle fires, and fire alarms across the sites as well as being placed on standby whenever a pilot alerts traffic control to any type of malfunction which could present a safety hazard on landing. The most frequent incidents affecting jet aircraft involve overheating of undercarriages, wheels, tyres and brakes as well as engine problems, which although uncommon, nevertheless require putting into action major emergency standby routines. Station Officer at Bristol International Airport, Rich Lynn, who has 48 firefighters on station explained that his team is required to cover all emergencies on site including those involving buildings, vehicles and aircraft-related incidents. "We provide emergency cover for all 11 buildings on the airport site as well as dealing with aircraft-related emergencies. Although we have very few aircraft fires the main potential areas for fire are overheating sub-assemblies, wheels and brakes and any ruptures in hydraulic lines which work at high pressure and could easily cause a fire in contact with hot metal. Carbon fibre braking systems and fans on wheels on modern aircraft have greatly reduced the fire hazard." A plane coming in to land at Schiphol airport, Amsterdam Chief Fire Officer at Schiphol Airport, Michel Wendel, explained that his firefighters are called upon to deal not only with aviation related incidents, but many others in and around the Schiphol area which are more closely related to normal fire duty callouts. On average there are in the region of 50 aviation related incidents annually with several hundred other callouts for various fire and other related hazards during the year around the large Schiphol site. Although the airport only has one terminal building, this is split into three large departure halls serving the 6 runways which range in length from over 2km to 3.8km. The most recent runway to be built was completed in 2003 and there are already plans to add a seventh in the near future. Schiphol is the world's lowest major airport being 3 metres below sea level. Schiphol has a good air traffic accident record. The last major fire was in October 2005 and was non-aviation related. A fire broke out at the airport's detention centre, killing 11 people and injuring 15. The complex was holding 350 people at the time of the incident. The last aviation accident occurred over 12 years ago when a Saab 340 operated by KLM Cityhopper returned to Schiphol because the crew mistakenly believed that the engine suffered from low oil pressure because of a faulty warning light. On final approach, at a height of 90 feet, the plane stalled and hit the ground. Of the twenty-four people on board, three were killed including the captain. Nine others were seriously injured. Fires caused by burning aviation fuel require special skills - training is a regular part of the airport firefighter's working life Airport firefighter training Even though the call to action to fight fires may come infrequently, the special characteristics of hot fires caused by burning aviation fuel need special skills. Training is a regular and frequent part of the firefighter's working life. At Schiphol, training is carried out on a daily basis. There are 125 full time firefighters on station who all work shifts of 3 teams over 24 hours. The size of the airport complex is such that the firefighters operate out of 3 fire stations - Rijk, Sloten and Vijfhuizen - which are located around the site. A Manchester airport firefighter training in the cab of a plane Michel Wendel gave details saying, "Firefighter training is carried out at the main station, Sloten, on a daily basis. Firefighters are on rotational duty at Sloten and their training is undertaken when they are on main station duty. Normally training sessions last about 4 hours. A range of training is carried out including simulated fire fighting on a Boeing 747 test rig with a computer-controlled gas fire." Gerard Montgomery, Senior Airport Fire Officer at Gatwick, has 80 firefighters on location including himself and a deputy. His team is responsible for dealing with all site emergencies and shares daytime callouts with the ambulance service. With responding to all fire alarms and traffic accidents at Gatwick his crew handle around 2,500 callouts annually. On training Gerard explained, "We carry out training on a weekly basis on an LPG Boeing 747 aircraft simulator. This would involve a number of fire scenarios and also provides training for breathing apparatus, hose management and ladder work. We are also acquiring a fire behaviour simulator which will provide carbonaceous fire scenarios. The new unit was installed in the summer of 2006." Firefighter clothing: emphasis on lighter weight, wearer comfort Most, if not all, airports use a selection procedure for purchasing firefighter Personal Protective Equipment (PPE) which routinely involves trialling samples of kit from several manufacturers. The alternatives are inspected and supplied to firefighters to carry out wearer trials. Selection is based on a number of criteria including wearer comfort, durability, price, sizing and availability of stock. A number of airport fire teams are being, or have been, re-equipped over the past 2-3 years giving them the opportunity to take advantage of the new lighter weight firefighter clothing being introduced to the market which provide greater wearer comfort and reduce heat stress associated with prolonged periods of wear. There is also growing interest in adopting managed care services as a means of providing regular inspection, washing and repair. Richard Cranham - Business Development Manager, Bristol Uniforms Ltd Ballyclare Acquires Lion Firefighter Business In The UK
The acquisition consolidates Ballyclare's position as provider of firefighter protection in the UK Ballyclare Limited is pleased to announce that it has acquired the Lion firefighter business in the UK from the LHD Group. Ballyclare is owned by David Ross, the entrepreneur who made his name with the success of Carphone Warehouse. Speaking of Ballyclare's latest move, Mr Ross said: "This is an important move for Ballyclare. It consolidates our position as a leading provider of firefighter protection in the UK and gives us an excellent base to build a broader protective clothing business". Speaking of his plans for merging Lion and Ballyclare Carlton Greener, Managing Director of Ballyclare, said: "Ballyclare and Lion are both well-known brands with a high reputation for service and product quality. Our objective will be to combine the best of both businesses to create a new and stronger Ballyclare". Lion was established in the UK 15 years ago by Lion Apparel from Dayton Ohio. Ownership was later transferred to the German LHD Group, before being acquired by Ballyclare. Ballyclare was acquired by David Ross in March 2013. New York Fire Department Gears Up With Lion's MT94 CBRN To Tackle Chemical, Biological And WMD Hazards
New York fire department is set to face all hazards equipped with the new protective suit from Lion Apparel The protective suit advancements will significantly improve safety and decrease the physical impact on New York's Fire Department first responders. Fire departments around the world are evaluating their operational readiness to respond to hazmat incidents. The Fire Department of New York (FDNY) city, the largest fire department in the United States, has taken the lead in upgrading its response protocol by improving its ability to respond against chemical, biological and WMD incidents. The advancements will significantly improve safety and decrease the physical impact on FDNY's first responders. As part of the upgrade to its chemical protective clothing program, the FDNY has selected Lion's MT94 CBRN protective ensemble to fit its mission-specific needs and increase its response capabilities for technical rescue, patient rescue, decontamination and air monitoring. The revamped program provides FDNY's hazmat response teams with a more functional alternative than wearing traditional Level A suits to respond to such incidents. Lion's MT94 is a one-piece ensemble designed to protect against some of the world's deadliest chemical and biological threats. It combines rugged GORE® CHEMPAK® Ultra Barrier Fabric laminated to a tough Nomex® outer textile to offer lightweight and comfortable multi-wear, multi-threat protection. The MT94 is certified to NFPA 1994, Class 2 and NFPA 1992. Providing the highest level of protection in a Class 2 suit, the MT94 helps block out high levels of CBRN agents that may be encountered in the "hot zone." IFRM Sends Donated Gear To Papua New Guinea
The IFRM has sent donated firefighter gear to a Papua New Guinea fire dept. IFRM sends equipment donated by fire departments across US In late June, the International Fire Relief Mission (IFRM) sent one pallet of donated fire and EMS equipment to the Ukarumpa Fire Department in Papua New Guinea. Later this year, IFRM will send a team of fire and EMS professionals to train members of the fire department on the safe and proper use of the equipment. IFRM is a nonprofit organization that collects used fire and EMS equipment and delivers it to needy fire departments in developing nations.The equipment was generously donated by fire departments across the United States, with most of it coming from fire departments in Minnesota and the U.S. Air Force base in Duluth, Iowa. The majority of the equipment shipped was turnout gear, aircraft rescue and firefighting gear, and SCBA air packs and masks. IFRM also sent first-responder equipment such as AED units and CPR training dummies. "In their letter to us, Ukarumpa's fire chief said the department was operating without any SCBA, boots, helmets or gloves," said Ron Gruening, IFRM president. Gruening is a retired paramedic and an active volunteer firefighter. "When a department asks us for help, we assess its greatest needs and fill those to the best of our ability. We sometimes take for granted how good we have it here in the United States. But often, fire and EMS equipment that no longer meets U.S. regulatory requirements is a profound upgrade to what many firefighters in developing nations are using today. This equipment immediately makes the firefighters' jobs safer and improves their chances of saving civilian lives. What may seem like a simple act of recycling to us dramatically changes their lives."Later this year, Gruening and his team will spend two weeks in Papua New Guinea teaching the Ukarumpa firefighters how to safely and effectively use the newly donated gear. IFRM is preparing other shipments to Roatan, Peru, and Bolivia. Those shipments also will be accompanied by on-the-ground training. "This global recession has made the need for fire and EMS gear greater than ever," Gruening said. "But through the generous support of American fire departments and our corporate partners like Rosenbauer, FRC, Lion Apparel, and GearGrid, we've been able to help those who risk their lives helping others."