Holmatro TRAINING EQUIPMENT
(3)
Browse TRAINING EQUIPMENT
Training Equipment products updated recently
The Impact Of The New Safety Bills
Mathew Baxter is the Founder and CEO of the echelon group with responsibility for the management of echelon Consultancy, Pretium Frameworks and echelon Improvement Partnerships. Mathew has spent most of his working life in the construction sector. The devastating Grenfell Tower fire has prompted what the government has referred to as 'the biggest change in building safety for a generation'. So what do the Building Safety and the Fire Safety Bills mean in terms of emergent legislation and is the housing industry prepared for substantive change on this scale? Fire Safety Bill Let's start with the new Fire Safety Bill, which has been designed to give clear definitive guidance principally around areas of responsibility for fire safety. One way of looking at the new Fire Safety Bill is as a piece of legislation designed to beef up the existing legislation, focused specifically around the envelope of the building. The Fire Safety Bill makes it clear that the person designated as responsible has undertaken a fire safety survey around exterior walls (including cladding, balconies and windows) and individual flat walls entrance doors, where they open onto common parts to make sure they are compliant and if not, then to take any necessary remedial action and precautions to make that building safe. We suspect that demand for fire experts may rapidly outstrip supply. Building Safety Bill The Building Safety Bill proposes a significant amount of consultation is going to be required with residents The Building Safety Bill proposes a significant amount of consultation is going to be required with residents. Every 'higher risk' property has to have a strategy around the program of change that it will need. Resident consultation exercises will result in organic documents that will live as long as that building is occupied. Ideally all stakeholders (for example repairs contractors) coming in and out of properties should be encouraged and trained to take a holistic view of that property, and to be prepared to raise an alert, if they see something that is not right, for example, a fire door that has been propped open. Checking and replacing old appliances Many fires are caused by residents' own appliances. Some local authorities are checking tenants' appliances and if they seem unsafe, either removing or disconnecting them and in some cases, they are also providing free replacements. Housing associations and landlords will need to demonstrate a comprehensive understanding of their property and stock. For example, if you have a cladded building, you need to know exactly what the specification of that cladding is. Not all cladding is equal and risk profiles vary. Intrusive surveys may be required to ascertain the exact construction and product used. There is still a clear issue that many building owners/managers are unsure of what their building is clad in and how the cladding is fixed for the building. Effectively, this is something landlords need to get a comprehensive understanding of immediately, for fear of very rapid enforcement action from the Local Authority. Adherence to fire safety regulation compliance Local Authorities are entirely within their rights to approach housing associations and ask for copies of the fire safety regulation compliance of these buildings and if it has not been done then they can take action and that can include decanting the whole building and ordering remedial works As previously mentioned, two new roles are also specified within the Building Safety Bill, that of the Accountable Person within an organization for fire safety and the Building Safety Manager. It is anticipated that the role of the Accountable Person role will need to be fulfilled by a senior member of staff within the client organization and the Building Safety Manager will have a high level of responsibility and accountability for maintaining the safety of the building. Competency frameworks and resident engagement strategies The Building Safety Bill may have a grace period, before it comes into force on existing buildings The Building Safety Bill may have a grace period, before it comes into force on existing buildings and elements that are likely to be included are already being discussed, for example competency frameworks, resident engagement strategies and two separate roles, namely Building Safety Managers and Accountable Person. One of the most significant changes that the Building Safety Bill will create is a new definition of buildings as 'higher risk' buildings. This category will obviously include high rise, but also student accommodation and supported living accommodation. High risk buildings Any building over 18 meters, or more than six floors high is immediately defined as high risk. The Bill also makes it clear that the new Building Safety Regulator (created under the Bill) can also add other buildings to the category at their discretion. The Bill places a lot more responsibility on landlords and owners of those buildings. In fact, the Accountable Person has legal responsibility for those buildings, as long as they are occupied. Assessment of fire safety risks Responsibilities include the assessment of fire safety risks, co-operation with any remedial action in terms of fire safety, the registration of high-rise buildings, building safety information and the appointment of the building safety manager. The Accountable Person has a duty to report the name and details of the Building Safety Manager to the Building Safety Regulator. This individual's contact details have to be available to everyone in the building, a safety case report has to be undertaken and managed along with a risk assessment and an ongoing strategy for the safety of the building and information provided to the new regulator. If the Building Safety Manager is found to be non-compliant then she/he risks a prison sentence. Many of the clients are appointing Building Safety Managers directly with a salary between £60,000 – £70,000. The guidance is that they should not look after more than five buildings each, as the responsibility carries too much weight for more and as such, this represents a significant resource for many landlords with a large portfolio of 'higher risk' buildings. Undefined transition period for Act rollout The new Building Safety Regulator will become the Building Control Authority for higher risk building There is expected to be an as yet undefined transition period before the Act applies to existing buildings. As well as the changes that will be necessary to existing buildings, it is essential that consideration is given to the design and thought process behind new developments and new builds. There is a whole new regime for the design and construction phase. The new Building Safety Regulator will become the Building Control Authority for higher risk buildings. Developers are no longer able to choose their building control authority at will. This imposes strict competency requirements on all duty holders working on higher risk buildings, including the client, the principal designer and principal contractor. Impact of the two safety bills The impact on these two Bills will have an enormous impact on leaseholders and indeed everyone involved in construction and building maintenance. The administrative burden and personal responsibility on those accountable will be equally enormous but, in our view, in the light of Grenfell, absolutely necessary. Our advice to all our clients is to start planning ahead and to develop a strategy of how they will deliver all the aspects of the Building Safety Bill once it becomes legislation.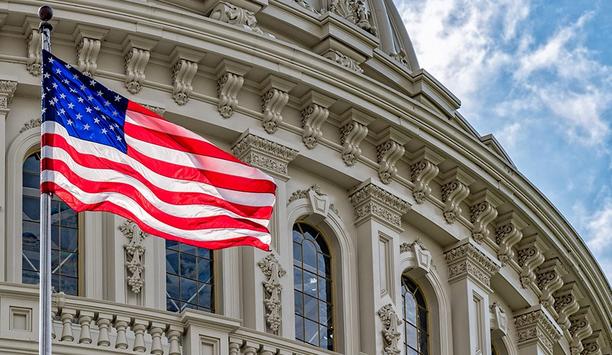 Reintroduced In Congress, HERO Act Would Promote Mental Health Wellness
Mental health wellness is a requirement for firefighters and emergency medical responders. Seeking to address the need is the Helping Emergency Responders Overcome (HERO) Act proposed by the International Association of Fire Fighters (IAFF). In the current 117th Congress, a bipartisan group of 31 legislators led by Rep. Ami Bera (D-Calif.) and Brian Fitzpatrick (R-Pa.) reintroduced the HERO Act into the House of Representatives. The proposal had previously been passed in the House but not in the Senate during the 116th Congress. HR1480 is vital to address the real need for increased mental health resources within the fire service. The Senate companion bill is to be reintroduced by Sen. Jackie Rosen (D-Nev.) Detecting, Treating, And Preventing Mental Health Challenges Tragic experiences on firefighters and emergency medical responders can lead to psychological injuries and even suicides "Firefighters and emergency medical responders repeatedly witness human trauma and scenes of devastation over the course of their careers," says IAFF General President Harold Schaitberger. "The cumulative toll of tragic experiences on firefighters and emergency medical responders can lead to psychological injuries and even suicides," he adds. "The HERO Act will help ensure emergency responders receive necessary resources to assist in detecting, treating, and preventing mental health challenges," says Schaitberger. IAFF's Commitment IAFF, a labor union representing paid full-time firefighters and emergency medical services personnel in the United States and Canada, has served as a leader in mental health and wellness. The HERO Act bolsters the IAFF commitment in four ways. Establishes a new grant program to train firefighters and peer counselors Directs the U.S. Centers for Disease Control and Prevention (CDC) to develop new guidance for fire departments on identifying and preventing post-traumatic stress disorder Directs the CDC to provide information to mental health professionals on the culture within fire departments and evidence-based therapies to treat psychological issues common to firefighters Creates a database to compile statistics on suicide among public safety officers Post-Traumatic Stress (PTS) Up to one-third of firefighters and emergency medical responders will demonstrate some or all of the criteria used to diagnose Post-Traumatic Stress (PTS). The rates of diagnosed PTS among firefighters and emergency medical responders vary due to inconsistencies in data collection; however, reported rates are between 16% and 37%. Peer-support behavioral health and wellness programs within fire departments will allow trained peer counselors to conduct outreach to firefighters and their families to assist with issues associated with PTS, substance abuse, and co-related conditions. Database And Guidance Establishing a specialized database to capture incidences of suicide among firefighters and other public safety officers will provide scientists information to examine PTS more fully and to understand broader mental health concerns. New guidance for departments will provide education on how to better identify and prevent PTS and co-occurring disorders in public safety officers. Meanwhile, new resources for mental health providers will promote understanding of the culture of fire departments and evidence-based therapies for common mental health issues.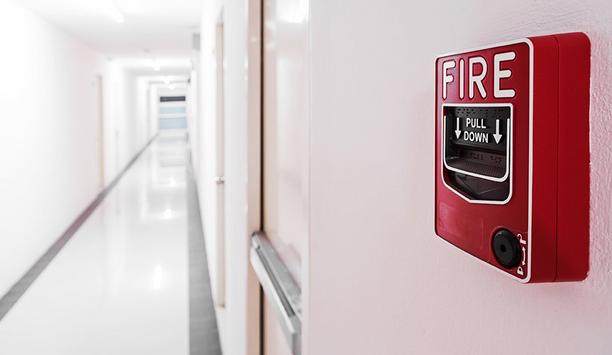 Don't Play With Fire Safety In A Post-COVID World
The risk of fire is thankfully not an immediate threat in most people's everyday lives. But this has led to a nonchalant attitude where many fail to appreciate the true dangers posed by a fire situation. The pandemic has served to make matters even more complex, and has pushed fire safety on the back burner as facility managers (FMs) turn their attention to COVID-proofing the workplace. Safety at work is now more of a focus than it has ever been, but the race to ensure we can return to work safely has seen other important matters, like improving indoor air quality, take precedence. Fire detection systems As new rules and regulations regarding the pandemic are introduced, many FMs have been unable to focus on anything except the immediate issues at hand. But fire safety is always immediate. Fire detection systems and servicing and maintenance contracts have always been considered grudge purchases, but this doesn't mean they should fall off the radar. As buildings have been left vacant, fire alarms have gone untested, have missed upgrades or have even failed to sound. Every business has faced unique challenges in their response to the pandemic But upholding fire safety measures in the workplace is both a moral and legal requirement to help ensure the protection of people and assets, and businesses must treat it with the attention it deserves. Every business has faced unique challenges in their response to the pandemic. We've seen some continue operating as usual, some pivot production to make face masks and hand sanitizer, while others have shut their doors for the foreseeable future. Fire risk assessments Those that remained open will likely have experienced considerable changes to workplace layouts, which may in turn have had adverse effects on fire safety – for example, fire doors being wedged open for ventilation, or because people don't want to touch door handles; and new one-way systems that affect shared escape routes. What's more, fluctuating staff occupancy levels mean there may not be enough fire wardens present should an alarm sound. All of these changes have an impact. In the event of a fire, your staff and assets might not be as safe as you think. But there is a simple solution: fire risk assessments. The vast majority of companies have undergone a change of occupancy during the pandemic and, as a result, must review their current fire safety measures through a risk assessment. Qualified third-Parties We often find that businesses lack staff with the appropriate training and skillsets in-house This involves looking at a building's people, processes, procedures, contents and technologies, from fire alarms to sprinkler systems, with the aim of addressing any faults. With occupancy levels and more changed for the meantime – and possible for the long-term too – it's vital to update your risk assessments. Failing to do so could have severe reputational and financial repercussions, particularly if livelihoods are affected. Should the worst happen, it could also lead to insurers refusing any pay-outs from failing to secure the premises, leading to even more difficulties down the line. We often find that businesses lack staff with the appropriate training and skillsets in-house to conduct a sufficient fire risk assessment. But even with the current restrictions, there's no reason risk assessments can't be easily carried out by qualified third-parties. Social distancing guidelines Many buildings lie vacant, meaning assessors simply need to show up in their PPE and conduct the assessment under social distancing guidelines. Technology can also play an important role, by ensuring a building's safety systems are in order through remote diagnostic tools. Some assessors can even carry out a vast majority of the assessment virtually, examining floorplans, exit routes, and tech stacks from the comfort of their own homes. That said, many businesses won't have the latest IoT sensors needed to notify FMs on the condition of a building's physical aspects, such as occupancy levels, open fire doors or signage. Need for office space The impact of COVID-19 on the way we work will be felt for years to come The purpose of a fire risk assessment is to provide FMs with the knowledge they need to ensure their business and assets remain safe and secure, should the worst happen. COVID has not put a stop to this – distraction has. The onus is on FMs to put fire safety back on the priority list. The impact of COVID-19 on the way we work will be felt for years to come. For example, the success of the move to widespread remote work could see businesses revaluating the need for office space, and this will likely have knock-on effects to fire safety as regulations are taken into the home. Associated regulatory changes Elsewhere, the decline of the high street and closure of physical stores may see shops converted for other purposes - and these developments will be accompanied by the associated regulatory changes. It's becoming clear that as the pandemic has changed the way we use buildings, it will also change the way we approach fire safety. People don't like to think they may be impacted by fire, but we cannot let fire safety fall off the radar when livelihoods and lives are at risk. As FMs have worked hard to ensure our workplaces are COVID-proof once doors reopen, they must also approach the risk of fire with the same attentiveness. Awareness of the issue is now more important than ever – fire safety needs to be a top priority.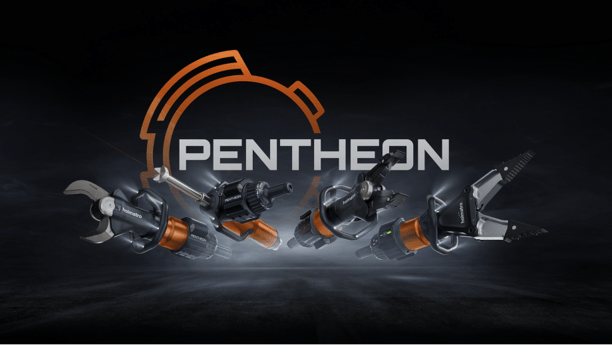 Holmatro Introduces Pentheon Series Rescue Tools With Speed Control And Battery Management
Unparalleled speed, ultimate control and battery management made easy: Holmatro launches a new series of high-tech cordless rescue tools, designed to outperform all other tools on the market, regardless of whether these are battery-powered or connected to an external pump by means of a hose. The Pentheon Series offers a much higher speed than other rescue equipment. This is thanks to a new and patented mechatronic system inside these tools. Maximized oil flow This system optimizes the motor and pump settings to deliver a maximized oil flow over the full pressure range. This system continuously optimizes the motor and pump settings to deliver a maximized oil flow over the full pressure range. Where all other rescue tools show a significant decrease in speed when switching to another stage to deal with higher loads, Holmatro Pentheon tools stick to the ideal stepless speed curve. Being much faster than previous generations of rescue tools Pentheon tools are equipped with a two-mode control handle for ultimate speed control. This enables rescuers, at any time during the rescue operation, to choose between the tools' high-speed and low-speed modes. Within these modes, the speed is still proportional to how far one turns the control handle to its left or right. On-Tool Charging For Battery Battery on the tool has priority over the one on the charger, which will resume charging when the battery on the tool is 100% With Holmatro Pentheon tools battery management is as easy as just plugging it in. Thanks to On-Tool Charging one can charge the battery while it remains on the tool. This means one doesn't need to swap batteries all the time. Simply connect the tool to the charger and the whole charging process will regulate itself. The battery on the tool always has priority over the one on the charger, which will resume charging when the battery on the tool is 100% full. Three chargers can be connected in series to be powered from a single outlet. This allows one to charge a total of 6 batteries without any management, whether placed on a charger or on a tool connected to it. The Pentheon Series consists of the following rescue tool models: Inclined Cutter PCU50, Spreader PSP40, Telescopic Ram PTR50 and Combi Tool PCT50. Spreader Tips For Instant Grip The tips on the spreader have pointed teeth on both sides that bite into the material The tips on the spreader have pointed teeth on both sides that bite into the material. The middle row of teeth is taller and offers instant grip. The teeth on the outside alternately point in the opposite direction, which allows for a superior grip over the full spreading range. Finally, an interlocking profile results in reduced insertion dimensions. Another user-friendly feature of the Pentheon Series is the Smart Extension of the telescopic ram. As soon as one connects the optional extension pipe, the ram will automatically adapt its force to the new maximum length of 1804 mm / 71 inches that can be achieved. Thanks to this solution Holmatro can offer one compact ram for all applications, including cross ramming over a large distance. Smart Ram Extension Now one only needs a compact ram and one extension pipe for all applications, including cross ramming from one side of the car to the other. There are many more unique features & benefits of Pentheon rescue tools, such as temperature management technology (which allows one to keep working in extremely hot conditions) and underwater use.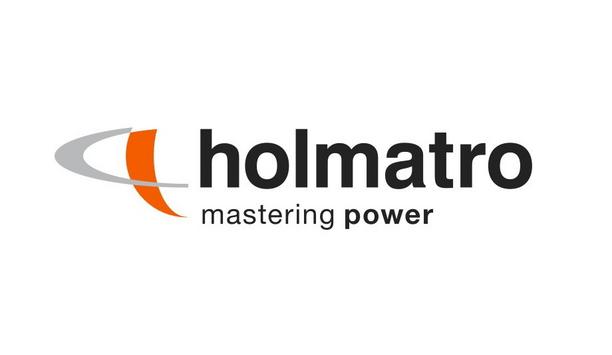 Holmatro Announces Unveiling Powerful Door Ram 200 (DR200) In Two Different Technology Models
Holmatro introduces the new powerful Door Ram 200 (DR200), designed in cooperation with the United States Military. This compact tool is suitable for breaching doors in multiple situations, both by tactical units and by fire and rescue teams. The DR200 combines a high spreading force with a long stroke and is designed for inward opening doors with multiple locks. When used in combination with a manual breaching tool it is also suitable for outward opening doors. Enhanced safety for operator With a toe height of less than 7 mm the new Door Ram is easy to insert between the door and its frame. The long stroke of 300 mm allows one to open even the most flexible doors. The toe is attached perpendicular (at a 90-degree angle) to the tool body, allowing the operator to work from a position next to the door, out of harm's way. Ultimate power and control DR200 Door Ram has a constant high spreading force over its full stroke to provide full power whenever needed Unlike combi tool style door openers, the DR200 Door Ram has a constant high spreading force over its full stroke to provide full power whenever needed. The DR200 Door Ram is double acting and offers operators optimal control over both, the outgoing stroke and the ingoing stroke. The new Door Ram is available in two models, the CORE Technology model and an EVO 3 Battery Technology model version: CORE model DR200 (CORE Technology model) The CORE model DR200 is compact and lightweight. The DR200 can be used with all Holmatro CORE Technology pumps. When used with Holmatro's new Backpack Pump the DR200, it can be operated by one person. Cordless model GDR200EVO3 (EVO 3 Battery Technology model) The Cordless model GDR200EVO3 is self-contained for optimal freedom of movement. It offers rapid deployment with simple press of the start button and commencement of working.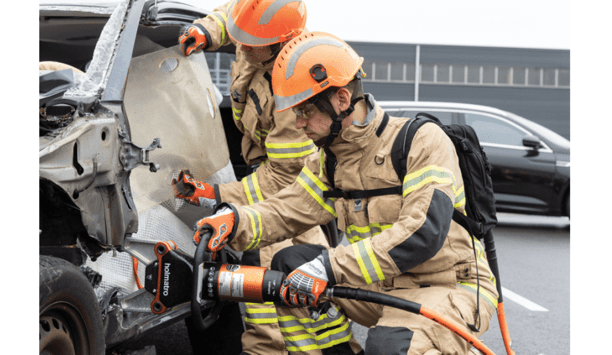 Holmatro Announces Backpack Pump GBP10EVO3 Equipped With A CORE Connector
Holmatro presents its new Backpack Pump: a small, lightweight, battery-driven pump, equipped with a CORE connector. The compact GBP10EVO3 pump gives one optimum flexibility to work with Holmatro's CORE tools. The Backpack Pump is powered by the well-known and proven EVO3 technology, using the same battery that is used for all other EVO3 tools. The pump and its battery are contained in a practical backpack that is easy to carry by one person. With the new Backpack Pump, one can quickly reach even the most inaccessible accident locations. Free of Emission The effective oil content of the pump is 425cc. This is large enough to be used in combination with all Holmatro CORE tools, except the larger (telescopic) rams. The Backpack Pump is emission-free and safe to use in confined spaces like tunnels, trains and collapsed buildings. Its IP 54 rating makes the new Backpack Pump protected against dust and all weather conditions.