Edilgrappa FIRE RESCUE TOOLS
(3)
Tool products updated recently
How Drone Technology Helps London Fire Brigade With Incident Command
Drones give Incident Commanders an aerial view, increasing their situational awareness of fires and helping them to develop tactics to tackle them. Station Officer Lee Newman details how the technology was implemented by London Fire Brigade and the continued benefits. Identify external risks The Grenfell Tower fire has resulted in revisions to several operational procedures and the introduction of new equipment within the Brigade. A few months after the fire, the Brigade was tasked with setting up a trial to test the feasibility of having a drone capability to identify external risks and assess building stability at incidents, providing essential safety information that could facilitate ongoing internal firefighting operations. Implement the use of drones The Brigade implemented the use of drones and acquired a Matrice 210 V1 and a Phantom 4 Working with partners who had an existing drone capability, as well as drone experts, the Brigade began work to implement the use of drones and acquired a Matrice 210 V1 and a Phantom 4 as a trainer and reserve drone. In the summer of 2018, an Emergency Services bespoke course was run by Essex Police to train the Brigade's team of drone pilots, who were all PfCO qualified within one week. From start to finish, it took just nine months to get London Fire Brigade's drone team operational. Working of the drones On its first day of being available for incidents, the team received an order to attend a 15-pump fire at a leisure center, which was under renovation. They were asked to confirm if there were cylinders on the roof of the building and immediately put the drone to use. The team flew and relayed the camera footage onto a large screen that was fitted into a van provided for the trial. The drone footage was able to identify, to the Incident Commander's satisfaction, that the cylinders were actually rolls of asphalt due to be laid on the roof as part of the renovation. If the drone concept could have proven its use in one job, this was it. The information from the drone allowed the Incident Commander to decide not to make it 'cylinders confirmed' and saved a lot of unnecessary extra appliance movements. Applications of drone Since that first callout, the team has been to around 300 incidents of six pumps or more, including persons in the water, fires, and various missing people's incidents both in London and into other counties, assisting police forces. From start to finish, it took just nine months to get London Fire Brigade's drone team operational Drone inventory The Brigade's drone capability inventory includes a Matrice 300 with an H20T dual thermal and optical camera; a DJI Mavic 2 Enterprise Dual with multi attachments; a Mavic Air 2 and a Yuneec 520. The Brigade also has a Teradek live streaming device and multiple tablets for receiving the streamed footage. The Brigade operates with two Mitsubishi Outlander PHEVs – plug-in hybrid SUVs – and has split the drone equipment into two, with one vehicle carrying the drone and batteries, and the other carrying all the support kit and ancillaries. Working in dark conditions The drones are permitted to fly up to 400 ft above ground level or higher in an emergency and can fly as fast as 50 mph. They also can act as a loudspeaker to give instructions or reassurance and shine a bright spotlight in dark or low light conditions. 24/7 service The Brigade has eight pilots trained and operates a 24/7 service The Brigade has eight pilots trained and operates a 24/7 service. The team is working closely with its blue light partners, including the: Metropolitan Police Service, several search and rescue teams, and a host of fire services surrounding the capital, as well as giving advice to other upcoming drone teams around the UK. Use of drone in future The Brigade's drone capability has been molded to how it sees the future and what it holds in the way of drone use. For example, the Brigade has developed a capability to drop water rescue aides to people at water incidents, which helps to keep them afloat long enough to be rescued. The drone can also be used alongside the swift water rescue teams to provide situational awareness of hazards and the resulting risks during the rescue phase. Delivering fire escape tools The Brigade also invested in fire escape hoods in late 2018 and has already demonstrated how one might be delivered via a drone to a balcony above the height of an aerial appliance while using the Mavic Enterprise 2 to relay instructions via the loudspeakers. These possible new uses are pushing the boundaries of the Brigade's original concept and demonstrate how London Fire Brigade works to stay ahead of the curve.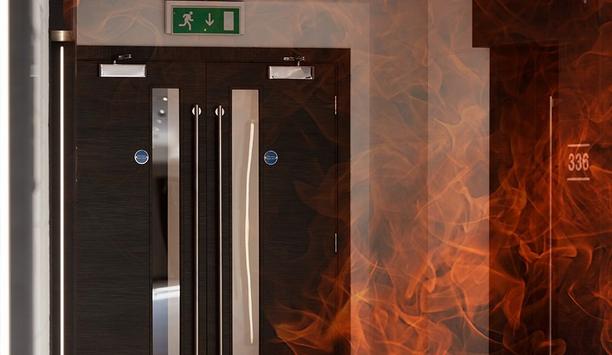 Maintenance Matters With Fire Door Hardware
Last year saw a 14 per cent increase in fires in England, according to UK Home Office statistics. And while around three million fire doors are installed in the UK every year, a lack of understanding during operation, maintenance and management of fire doors is still apparent. In this article, David Hindle, Head of Door Closer Sales at ASSA ABLOY Opening Solutions UK & Ireland, will address this issue. Importance of fire doors Fire doors are often the first line of defense in a fire, yet even after the Grenfell Tower tragedy in 2017, fire door hardware remains a significant area of concern. In May 2018, an Independent Review of Building Regulations and Fire Safety, led by dame Judith Hackitt, have been published. The review highlighted a range of issues, but the message stood clear, the UK's current approach to fire safety in buildings is not functioning as intended and a new, holistic approach to fire safety is required. Review of fire inspections In all fire inspections, there is a responsibility from the building owner to include checks on the fire doors In all fire inspections, there is a responsibility from the building owner to include checks on the fire doors. However, there is no legal requirement for them to complete any recommended upgrades or repairs, or to prove that they have done so. This represents a major problem, as doors that do not perform to the required standard could compromise a building's safety and put occupants at risk. Ultimately, this could lead to liability being assigned back to the building owner or facilities manager. Need to maintain fire safety standards Fire safety is only properly maintained if standards and checks are carried out throughout the lifecycle of the product and building. This is best addressed through regular inspection, maintenance and the replacement of products when required. A review by the Fire Door Inspection Scheme revealed the most common fire door faults, ranging from missing fire or smoke seals, to unsuitable hinges and damage to the door leaf itself. Any one of these issues can render a fire door useless and can seriously impede a door's capability to protect people from harm. Door leaf and frame maintenance Fire door hardware is often not afforded the attention it requires and is left mismanaged throughout its service life. So what needs to be done to ensure fire door hardware is working as expected? Naturally, the door leaf should not be damaged, warped or twisted, and it is vital to ensure the fire door closes correctly around all parts of the frame, with no distortion between the stiles, top and frame. Gaps between the door and leaf must not be greater than those specified in the manufacturer's installation instructions or fire certificate data sheet, typically around 3 to 4mm all the way round. Importance of door closers A door closer ensures a fire door returns to its fully closed position and the door seals correctly in the door frame A door closer ensures a fire door always returns to its fully closed position and makes sure that the door seals correctly in the door frame, when not in use. There are three steps to ensuring these components are working correctly. First, open the door fully and check that it closes without dragging across the floor. Next, open it to approximately 5-10 degrees and again check that it fully closes, engaging any latch or seal. Finally, check the door closing speed is approximately five seconds from a 90 degree angle, ensuring the door does not slam shut. Intumescent fire and smoke seals Fire and smoke seals should be in good condition, fit the full length of the door and be secure in the groove. If seals are badly fitted, damaged or painted, then they must be replaced with exactly the same size and intumescent material that was originally specified. If the smoke seals have to be replaced, then they should be fitted in one continuous length, if possible. To ensure hinges are in good condition, check for visible wear, dark marks or stains around the hinge knuckle that could indicate wear and impending failure. Hinges must be strong enough to carry the door mass, plus robust enough to work efficiently no matter the level of usage. The hinges should be firmly screwed into the door and frame, ensuring that the seals at the top and sides of the door are not damaged or missing at any time. Intumescent pads should also be used with hinges, as these are required for the door to get its appropriate fire rating. Locks and lever handles To measure a handle's condition, one needs to ensure the lock lever fully returns to a horizontal position after use Wiping any metal dust deposits off the handles will help ensure that the latch-bolt is engaging smoothly and completely into the keep during use. To measure a handle's condition, one needs to ensure the lock lever fully returns to a horizontal position after use. If it does not, the lever may, at best, need adjusting or lubricating. At worst, it may need replacing, as per the manufacturer's instructions. Again, ensure the lock case is protected by intumescent material. Maintaining record of fire door inspection No matter the component, a record of inspection and maintenance should be kept for all door hardware. Furthermore, those responsible for ensuring the fire safety of a site should encourage others to report any issues with any of the door components. Faults should be fixed as soon as possible, using the correct and fire-rated components. To check the compatibility of components, always consult the fire certificate data sheet or contact the manufacturer.
Medical Care In Vehicle Extrication Rescue
Extricating collision victims requires advanced medical care After a vehicle collision of significant force - as in the case of high-speed impact - it is likely that the occupants of the car, particularly the driver and front seat passenger, will be entrapped. Brendon Morris, Holmatro Rescue Equipment's Consultation & Training Manager, and a rescue paramedic in South Africa for many years, discusses the need for an advanced level of care for entrapped patients in vehicle extrication rescue. Entrapment in a vehicle accident can be physical, mechanical or both. In other words, the victim can be trapped by his or her physical injuries or by the fact that the vehicle has crumpled in such a way that it is not possible to get out of the wreckage (mechanical). Regardless of whether there is a physical or mechanical entrapment, victims are very likely to suffer significant internal injuries after a high-speed impact. It is these internal injuries that can be worsened due to inappropriate handling and lack of good medical care during the extrication rescue process. Combining technical extrication skills & advanced medical care The specialized discipline of extrication rescue is performed with varying degrees of efficiency across the globe. To reduce the negative effects of moving an entrapped victim (whose condition may worsen due to their already fragile state), specialized extrication tools and techniques are needed. With rescuers in more and more countries becoming aware of this, the overall demand for these tools and techniques has increased over the years. What makes the overall discipline of extrication rescue so successful is that it combines technical extrication skills with advanced medical care of the patient. From the second a crash occurs the medical condition of a trapped victim will continue to worsen From the second a crash occurs the medical condition of a trapped patient will begin to worsen. Approximately 50% of road traffic deaths occur at the crash scene. As we all know, the need for patients to get to a hospital as soon as possible is essential in increasing the chance of survival. To this end, we tend to invest much time and money developing well-run ambulance services that can carry the patient to a hospital safely and efficiently. What is often forgotten, however, is the importance of ensuring that we do not harm the patient any further when freeing him from his position in the vehicle. Extrication rescue should not only be used when it is physically impossible to remove a patient. It should also be routinely used to make sure that the patient is not moved or handled in a way that could further compromise his or her already delicate medical condition. Techniques such as a side and roof removal help to ensure that the patient can be removed from the vehicle in an in-line movement to protect him against the aggravation of potentially dangerous spinal injuries. This technique is just one example of how simple procedures can significantly increase the possibility of full recovery from a motor vehicle collision. Challenges with extrication rescue efforts Research in the field of extrication rescue, as with pre-hospital care, is extremely limited due to ethical and practical issues. Extrication rescue efforts are even more problematic to prove. What has been shown is that, of the high percentage of deaths occurring in the pre-hospital stage, many can be avoided. Moreover, many complications resulting in disability in the pre-hospital phase could also be avoided. Rescuers must use tools designed to cope with New Car Technology Unfortunately, we can see a large difference between the likelihood of surviving the pre-hospital stage in more developed countries as opposed to low and middle income countries. Perhaps this can be attributed not only to the lack of emergency medical services in these countries, but also to the lack of expertise and equipment for the extrication of victims from their damaged vehicles. Another important consideration is the advent of new stronger vehicle constructions on the roads today. To deal with these, rescue tool manufacturers constantly have to develop stronger tools (especially cutters). New Car Technology often introduces the paradox of safety vs. accessibility. In other words, the very construction that makes it possible for a driver of a car to survive the impact may well be the reason why it is impossible for a rescuer to free the victim when working with old, out of date rescue tools. Basic first-aid training is not enough In low and middle-income countries, patient transport by ambulance from the crash scene is rare, with most patients being transported by commercial vehicles having been "rescued" by the general public. Some programs are being developed to provide basic first-aid training to those most likely to come across vehicle collisions. Hopefully this will decrease mortality rates. It may also be worth further investigating whether providing more extrication skills to those responsible for the rescue of patients from their damaged vehicles may also decrease mortality rates. Providing only first aid skills may even prove to be harmful where there is no formal system in place to control the extrication process. Teamwork is critical to extrication rescue success Extrication rescue not only equips rescuers to aid victims, but also to maintain their own safety on scene The scene of a motor vehicle collision is not the controlled environment of an operating or consultation room. The rescue scene has many dangers and risks associated with it and these have to be controlled. Extrication rescue does not only provide knowledge to rescuers on how to safely extricate patients, it also equips them with the skills to ensure that they do not become injured themselves during the rescue. Extrication rescue techniques also include the various activities that must be done to ensure that all personnel involved in the rescue scene are working in a safe environment. A perfect example of this is the importance of ensuring that the vehicle's battery is disconnected in order to remove the chance of an electrical short circuit starting a fire. In terms of safety, the other matter to consider is the fact that many different services have to work together on a rescue scene. The only way to ensure safety for all involved is for the services to work together as one team: each knowing exactly what their responsibilities are. Brendon Morris - Consultation & Training Manager, Holmatro Rescue Equipment