Hurst Jaws of Life Fire Rescue Spreaders
(7)
Browse Fire Rescue Spreaders
Spreader products updated recently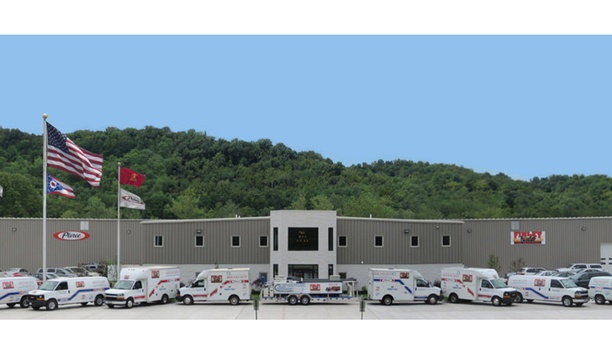 Pierce Announces That Finley Fire Equipment To Open New Western Ohio Service Center
Pierce Manufacturing Inc., an Oshkosh Corporation company, announced that Finley Fire Equipment, the exclusive Pierce dealer for Ohio, Kentucky, and part of West Virginia, has secured a location for development of the company's largest service center in Ohio. The Western Ohio Service Center is located off of I-75 at 11600 County Road 99 in Findlay, Ohio, with a planned opening in August 2019. In addition to preventive maintenance and major repair work for apparatus, including aerial platforms, the new service center will act as headquarters for a fleet of mobile service units. New service center Finley Fire Equipment's Western Ohio Service Facility will provide: Expanded indoor areas to accommodate ladder maintenance, repair, and aerial platform work and education Self-Contained Breathing Apparatus (SCBA) trainings Ample storage space for apparatus parts and equipment inventory to be kept on site for quick repairs Hydrostatic air bottle testing to DOT standards Pump testing A specialized service to clean and decontaminate firefighter gear exposed to carcinogens and other harmful substances Additional mobile service vehicles and on-the-road technicians Conference meeting room for fire departments and technician training use Expanded service support Located within easy interstate access from Toledo, Lima, Dayton, and Mansfield, the Western Ohio Service Center facility allows fire departments in the surrounding communities the ability to have apparatus inspected or repaired and put back into service quickly. The service center is conveniently located for fire departments within an expansive geographic region" "We are eager to begin operating out of the new facility and offer expanded service support to fire departments in the region," said John W. Finley, President and CEO, Finley Fire Equipment. "The service center is conveniently located for fire departments within an expansive geographic region and will allow us to stretch out aerial ladders for inspection, maintenance, and training, as well as offer gear testing and group and department training space." Preventive maintenance programs Finley Fire Equipment also operates service facilities in McConnelsville, Ohio, Fairport Harbor, Ohio, and Lexington, Kentucky. The centers provide preventive maintenance programs, minor repairs to total refurbishments, the largest fleet of mobile pump testers in the industry, and a growing mobile fleet of 24 service vehicles and 25 certified Pierce service technicians. "It's very important for fire departments to reduce the amount of time a fire apparatus is down for service, and having a center close to your department's home helps ease that concern," said Joshua Eberle, Fire Chief of Findlay Ohio Fire Department. "Finley Fire Equipment recognized this need with the planned opening of the Western Ohio Service Center, and departments in the surrounding regions are sure to understand and see the value Finley brings to the communities they serve." Hydraulic tool service We look forward to the opening of Finley Fire Equipment's new service center" Gary Hickman, Fire Chief of Allen Township Fire Department agrees. "The Allen Township Fire Department currently has several engines in service and we require a trusted partnership with our service provider." Chief Hickman added, "We look forward to the opening of Finley Fire Equipment's new service center because not only will the location be convenient, the services offered including pump testing, hydraulic tool service, and more will be a great benefit to our department." Finley Fire Equipment's service centers are supported by one of the largest and strongest teams of dedicated service and support professionals in the custom fire apparatus industry. In the future, the company hopes to expand services at the Western Ohio Service Center location to include hydro-testing of air cylinders, Scott Air-Pak testing, and Hurst repairs, as well as add outdoor water accessibility for pump testing.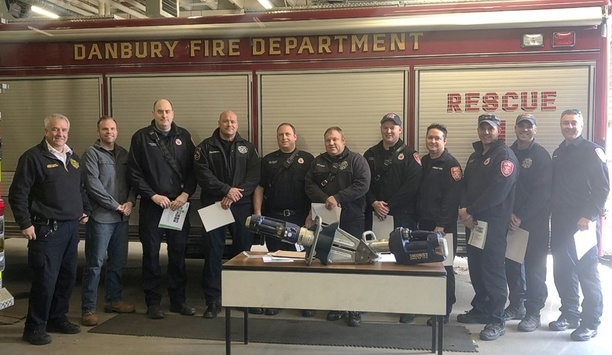 Danbury Firefighters Awarded Green Cross By Hurst For Their Life-Saving Rescue Work
On July 27, 2018, at just about midnight, a two vehicle accident occurred on Newtown Road, which left three people seriously injured, one trapped in one vehicle, two trapped in the other. According to the Hospital Trauma Coordinator, all three victims were suffering from life threatening traumatic injuries. In her opinion, without rapid extrication of all three of these victims, the outcome would not have been as favorable as it was, with all three victims eventually recovering from their injuries. Using Hurst eDraulic Rescue Tools Firefighters from D platoon arrived and went to work to rescue the trapped victims. Deploying one set of hydraulic Hurst Jaws of Life tools, along with four different Hurst eDraulic rescue tools, the firefighters began rescuing the victims from both vehicles. On one vehicle, the position of the trapped driver made it very difficult to perform a modern dash-lift maneuver to rescue him, so firefighters reverted to the more traditional method of a 'steering wheel/dash lift', utilizing an eDraulics jaws with chains to free this trapped driver. As this operation was on going, other members of the crew used the other Hurst tools to free the other two victims, and turning them over to paramedics for the transport to the trauma center. Details of this rescue were sent to the Hurst Company for consideration of their Green Cross program. For the actions of the Danbury Fire Department, D Platoon, on July 27, 2018, they are awarded the Green Cross. Pierce Manufacturing And Hurst Jaws Of Life Sponsor "Power To Protect" Sweepstakes At FRI To Support NFFF
Visitors to FRI can win Hurst eDRAULIC® rescue set valued at over $30,000 Pierce Manufacturing Inc., an Oshkosh Corporation company, together with Hurst Jaws of Life Inc., are sponsoring the "Power to Protect" sweepstakes at Fire Rescue International (FRI) August 13-16 in Dallas, Texas to support the National Fallen Firefighters Foundation (NFFF). Visitors to FRI can win a Hurst eDRAULIC® rescue set valued at over $30,000. A $10 suggested donation in the Pierce booth – with 100% of proceeds raised to benefit the NFFF – is all it takes to enter the sweepstakes. "This promotion represents Pierce's first-ever co-branded event with Hurst Jaws of Life and we are thrilled to work with Hurst in support of the NFFF, a cause very important to the entire fire service," said Bobby Williams, Pierce Manufacturing vice president of sales and marketing. "With more than $30,000 of state-of-the-art Hurst Jaws of Life® rescue tools to be awarded, FRI visitors and guests have the opportunity to help a great cause a chance to win these valuable prizes." The Hurst Jaws of Life hydraulic tools featured in the sweepstakes will be on display in the Pierce booth #4313; they include a spreader, a cutter, and a ram from the company's powerful and lightweight eDRAULIC™ line of tools that do not require hoses or a power unit. The winning ticket will be drawn and announced on Saturday, August 16 at 1:00 p.m. Winners do not need to be present at the drawing. "We're proud to team up with Pierce and its dealer network on the "Power to Protect" sweepstakes to benefit the NFFF and support its tireless work on behalf of the families of fallen firefighters," said Bruce Johnston, Hurst Jaws of Life, Inc. director of marketing. "Support for the important work of the NFFF is important to our employees and dealer team, and we urge those attending FRI to participate." Ron Siarnicki, National Fallen Firefighters Foundation executive director, expressed his gratitude. "Our sincerest thanks to Pierce Manufacturing and Hurst Jaws of Life for their support of the NFFF through their "Power to Protect" sweepstakes at FRI. Without initiatives like these, we would not be able assist the families and loved ones of these fallen heroes. Today, we need the industry's help more than ever.