FIRE RESCUE ACESSORIES
(1)
Browse FIRE RESCUE ACESSORIES
Rescue/RIT Accessories products updated recently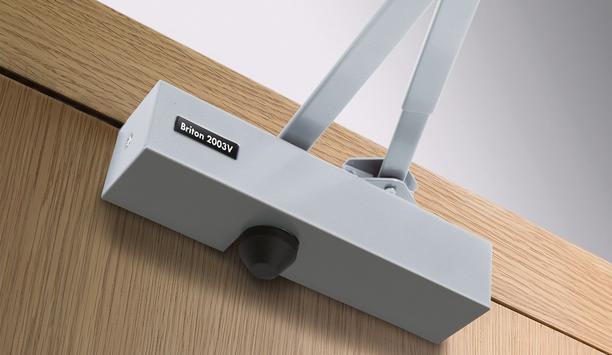 Door Closer Adjustments Explained
Door closers are required to protect people and property, but they are left useless without the appropriate adjustments. Kirk Smith of Allegion UK explains the key elements of door closer adjustments and how to correctly approach each type. Described as mechanically or electronically controlled closing devices, door closers are designed to open a door safely and close slowly but firmly enough to latch into place. Importance of closing doors When working as intended, closers play an integral role in a building's operational safety, enabling a user to operate a door in a way that doesn't harm them or damage the building. More importantly, a working door closer - whether concealed or surface mounted - will keep fire doors closed in the event of a fire, aiding in the compartmentalization of fire and smoke. As part of their building safety advice published in 2020, the UK government recognized the significance of 'compulsory closers' and has urged decision-makers and residents to recognize the importance of a working self-closing device. Yet, a lack of sufficient maintenance and installation know-how often results in indoor closers not functioning as required. Fundamental Safeguarding If a door closer is adjusted incorrectly, it can leave doors slamming open and shut compromises fire safety In their best practice guide, the Door Hardware Federation (DHF) states that a minimum power size 3 door closer must be used on fire doors. Additionally, to comply with UK Construction Products Regulations, controlled closing devices must be CE marked, and tested under BS EN 1154 standard and fire rated to BS EN 1634. Aside from using non-compliant hardware, complications arise when a door closer isn't adjusted correctly. Whether a door is opened manually, mechanically, or electronically, if its accompanying door closer is adjusted incorrectly, it can leave doors slamming open and shut and in some cases, failing to close completely. This compromises fire safety and building security – but it can be corrected. Operations explained Door closers operate by using spring tension, controlled by hydraulic fluid which passes from one section to the next as a door is opened. When the spring pushes the door closed again, the hydraulic fluid passes back to the previous section through a series of valves that control the speed of the mechanism. The valves can be adjusted at the installation stage or regular maintenance periods, and assist in controlling the speed of the door operation. Adjustments Explained When adjusting a door closer, it's essential to understand the type of correction a closer needs to operate in its desired way. Most adjustments can be implemented by opening and closing the various hydraulic valves found on the body of the door closer. This can be completed by turning them with an Allen key or screwdriver to increase or decrease until the door closes in a safe and controlled manner. Adjustable Closer Speed and Closer Power PowerAdjust mechanism provides a visual guide on the EN power level at which the closer has been adjusted" "In the first instance, if a door is closing with too little or too much speed, users are in danger of leaving the door ajar, or when slamming shut, damaging the surrounding walls or the door and hardware itself. This can lead to fire safety concerns and increased maintenance periods. With this in mind, it's commonly recommended to locate and adjust the valves so that the fire door closes within a 5-7 second period from a 90-degree angle." "A PowerAdjust mechanism provides a visual guide on the EN power level at which the closer has been adjusted. This visual guide is useful in showing what strength a door is currently closing at and can detail how many valves turns are required to increase or decrease the power. This helps to avoid overtightening which endangers breaking the regulator oil seal. It's also key to remember that a minimum power size 3 is required on any fire door." Adjustable Latch Action "At its most crucial stage of the closing cycle, a door must often overcome seals and latches to close effectively. An unlatched door can facilitate the spread of smoke and fire and renders a fire door useless." "Adjustable latch action allows you to control the speed of the door in the final 15 degrees of the closing cycle, ensuring the door completes closing and isn't left unlatched. In the event a door is closing too hard at the final stage, a closer can also be adjusted to soften the final 15 degrees, which helps avoid damage to the lock strike and frame." Adjustable Backcheck "In some cases, a fire door may be opening too quickly and violently and when poorly adjusted, this can leave the door to jam on the closing cycle." "To prevent damage to the door or injury to persons standing behind it, we recommend adjusting the backcheck. Doing so will provide a cushioning effect, slowing the door down which is optimal for active building environments such as schools. Even after adjusting the closer, it's always worth using doorstops." Adjustable Delayed Action Maximum delay permissible on and a fire door should take no longer than 25 seconds to complete its closing cycle" "A prolonged closing action is useful for busy environments such as schools, hospitals, and care homes – helping users pass through in adequate time." "By adjusting the delayed action, the speed at which the door closes can be set slower, giving people extra time to pass through the doorway. Adjustable timing is set between 70 degrees and 120 degrees. However, maximum delay permissible on and a fire door should take no longer than 25 seconds to complete its closing cycle." Adjustable Hold-open "Although mechanical hold open door closers are for use on non-fire doors only, electromagnetic doors can safely implement hold-open door closers under fire safety standards." Fire door closers operating at optimal speed and strength are a prerequisite for comprehensive fire safety. When it comes to the installation and maintenance of fire door closers, it's crucial to understand the intricacies of adjustments. After all, it's never right to risk building safety or non-compliance.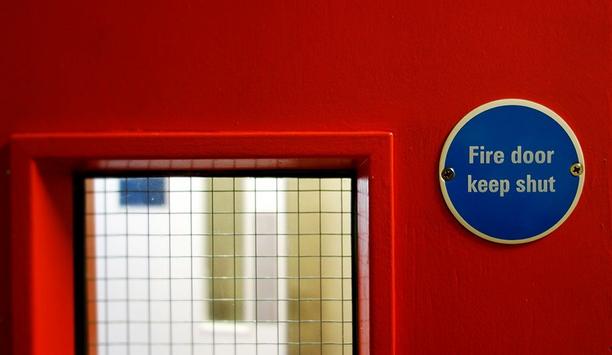 Fire Door Safety – Time To Bridge The Gap
Fire safety doesn't happen by accident; it requires universal attention. With that, Karen Trigg of Allegion UK explores why the importance of working fire doors is often overlooked and why now is an opportune time to bridge the gap between fire safety education and action. Improving fire safety within UK buildings is a challenge we are all continuously facing. Irrelevant of the sector, it's of the highest importance for any building type - from schools and hospitals to high-rise residential and industrial facilities. Because when it comes to fire, there are no exemptions. Most of us are only made aware of the danger of fire from headline disasters and yet, in the year ending March 2021, fire response teams attended 151,086 fires in the UK, of which the average total response time to primary fires in England was 8 minutes and 35 seconds. Role of Fire doors Fire door hardware is tested under BS EN 1154, BS EN 1155, and BS EN 1634 standards and CE marked Fire doors play a fundamental role in these scenarios and are rigorously constructed and tested to British Standards BS 476: Part 22 or BS EN 1634-1 to ensure they remain fire-resistant for a minimum of 30 minutes (FD30) or 60 minutes (FD60) - holding out long enough to cover response times and evacuation. Fire door hardware is also meticulously designed to comply with UK Construction Products Regulations and is tested under BS EN 1154, BS EN 1155, and BS EN 1634 standards and CE marked. After all, without functioning hardware, a fire door is rendered useless. Fire door safety Fire door safety is an area that should never be neglected. Often, fire doors are the first line of defense in protecting people and property in the event of a fire - but only when installed and maintained appropriately. Yet, as incident reports repeatedly highlight, the significance of working fire doors remains habitually overlooked. The latest in reformed guidelines hope to address this, with the introduction of this year's Fire Safety Act 2021 and the Building Safety Bill highlighting the diligent detail in which all responsible parties must approach the subject. Missing knowledge Fire doors fall under what's described as a building's passive fire protection system. At their most basic and when closed, they form a barrier and enable a building to compartmentalize the spread of fire and smoke. When open, they provide an essential means of escape. Yet there's nothing rudimentary about fire door safety. However, danger commonly lies where fire door safety is misunderstood. Especially when you consider that last year alone, for local authorities, a staggering 65% of 26,318 planned fire door maintenance and replacement phases did not progress as scheduled - leaving doors neglected and buildings vulnerable. And while some may dispute that 2020 fell to extenuating circumstances, there's no argument that fire door safety has become too easy to neglect. Closing The Gap The gap in fire door safety expertise is resulting in poor design choices, faltering standards Evidently, the gap in fire door safety expertise is resulting in poor design choices, faltering standards, and a general lack of knowledge. While it's clear that expertise is lacking across various touchpoints - think product selection, installation, and maintenance - there is momentum to incite real change and the resources to improve awareness and education. In response, and leading by example, is the Architects Registration Board (ARB) which recently published guidance to suggest fire safety is taught under the architecture curriculum at universities. And while this shows positive steps are being made, the onus can't solely be passed to the next generation of architectural professionals. All professional areas must commit and, in an age where information is almost instantaneous, there are several methods to gain a greater understanding of fire door safety - and all from trusted sources. Fire Door Safety Week In light of Fire Door Safety Week, the British Woodworking Federation Group shares regular advice and useful toolkits on fire door safety; including a five-step checklist that's designed to support building owners in assessing their own fire doors (via certification, apertures, gaps, and seals, closers and operation). Information pools like this provide modern building managers with the know-how they need to monitor and act - deciding to repair or replace fire doors where necessary. For those actively involved in the maintenance stage, further guidance on topics such as certification and door closer adjustments is available online and by manufacturer request - showing fire door safety doesn't need to be tackled alone. Fire safety awareness Professionals can ensure that their standards don't slip after time passes, by understanding more about fire door safety When it comes to product selection and installation, there's also a wealth of information and walkthroughs available in the form of detailed product datasheets and installation guides. These can often be found online and allow for a greater understanding of the hardware that's available, leading to better design decisions and more reliable installation. Aside from product manuals, installers and contractors are commonly offered specialist site visits, training portals, and even hardware classification guides in a bid to assist with projects post-installation. With this, professionals can ensure that their standards don't slip after time passes, by understanding more about the rounded process that fire door safety is and being ready for maintenance periods when they approach. Today's associations, professional bodies, and manufacturers are on hand more than ever to assist specifiers, installers, and end-users throughout the process that is fire door safety. The support is there, and the resources are readily available and so, there's now a real opportunity to improve fire safety awareness and education for the better. How Allegion UK can Help Allegion UK has a wealth of resources to help professionals undertake product selection, installation, and maintenance checks on fire doors and hardware. This simple toolkit provides information and tips on detecting potential faulty doors and poor installation, a guide to the EN classification system, and a safety checklist. There's also an option to order a free door gap tester or download Allegion's general guide to service and maintenance for free. For information on product selection and installation, please speak to the experts or head to the download center for technical fitting instructions.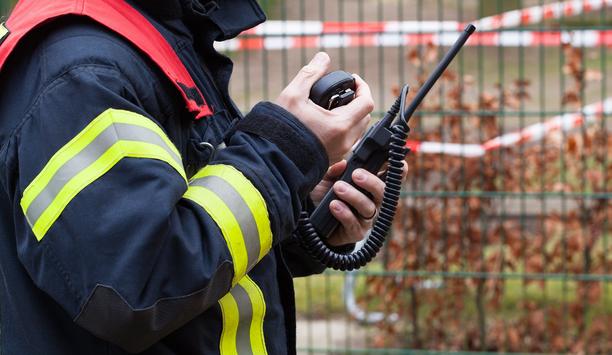 Why Communication Breakthroughs Are Going to Be Crucial To A Healthy Post-Pandemic Fire Sector
Communication technology has always been a key area of innovation for a variety of sectors, but the emergency services sector, in particular, is one of those that stands to gain a great deal. Those operating in the fire sector typically operate in noisy, dangerous conditions where communication is essential but difficult. hands-free communication From Bluetooth headsets to clunky hands-on radio systems, there have been a plethora of communication innovations in recent years designed to connect workers while keeping them safe and productive. Wearable, hands-free communication systems represent the latest frontier in this quest for safe communication Wearable, hands-free communication systems represent the latest frontier in this quest for safe, productive communication, and the pandemic has changed the communication game business of all shapes and sizes will be looking at 'hands-free' communication technology in a brand new light. Since the onset of the pandemic, even the most hands-on workplaces have had to practice social distancing and mask-wearing, adding another layer of health and safety onto an already complex set of rules and regulations. Where workers might once have been able to share radios and other equipment, they now need to do what they can to stay apart and not cross-contaminate surfaces. That means working hard to limit contact with surfaces, and each other. Critical communication in the fire sector If any sector is ready to lead the charge in terms of communication innovation, it's the fire sector, which typically sees its workers operating in loud, hazardous environments, has been a driving force behind some of the greatest communication innovations of the past couple of decades and will continue to innovate to keep its workers safe and connected. According to some sources, the critical communications industry is growing at a rate of knots and will be worth more than $20 billion by 2028. That's a compounded annual growth rate of nearly 10%, no doubt accelerated by the pandemic and our renewed focus on worker safety and the need for hands-free communication solutions. Perhaps the best way to speculate about future breakthroughs and how they will materialize is to first look back at how the emergency services, hospitals, and other sectors, have pioneered the way teams communicate. There have been countless communication breakthroughs over the years, but which ones have stood the test of time, and which ones are going to be most valuable to us as we emerge into a post-pandemic world? 'smart PPE' and wearable communication technology Workers in a variety of settings were able to communicate completely hands-free without removing their PPE Wearable communication technology isn't new by any means, but its adoption and innovation have certainly been accelerated since the pandemic. While front-line and mission-critical workers carried on throughout the pandemic, they still needed to adhere to social distancing guidelines wherever possible and that also meant limiting contact with surfaces and staying in PPE. Workplaces in other sectors, when they were able to go back to the office, also faced the same conundrum. Health and safety had changed and businesses needed to adapt accordingly. Their answer? Wearable communication technology in the form of 'Smart PPE'. By incorporating comms technology into masks, helmets, visors, and overalls, workers in a variety of settings were able to communicate completely hands-free without removing their PPE, giving them complete freedom without compromising on safety. No more pulling off visors to fiddle with intercoms, or reaching for the bulky radio that's been passed around from shift to shift. Smart PPE makes operating in hostile environments by giving them the ability to stay in touch with their co-workers without having to interface with anything physically or share personal devices. Intelligent 'active listening' ear protectors Did you know that an estimated 22 million workers every year are exposed to potentially damaging levels of noise? The traditional solution would be to muffle the sound with ear guards, but that comes with its own set of problems. Communication is as much about listening as it is speaking. For workers in busy, loud, or dangerous environments, being able to hear what's going on around you while also protecting your ears from potentially damaging sounds is crucial. Active listening headphones can protect workers from potentially damaging noises such as heavy machinery, but let through important sounds such as warning signals, radio communications, or the voices of their co-workers. That means instead of constantly taking protective ear guards on and off, or lifting a cup of the gear to hear a colleague yell something important, active listening headphones allow workers to stay alert and in-tune with their surroundings without putting their hearing at risk. Pioneering self-healing networks A perfect companion to 'smart PPE' but also an excellent technology in its own right, self-healing networks are designed for teams that are constantly on the move, from hospital staff to busy fire teams. They're called 'self-healing' because of their ability to reconnect units that come back within range, and they stay connected even when one or more units drop off the network. Sectors like the emergency services are going to play a critical role in keeping those innovations coming A self-healing network is a cut above Bluetooth, which is typically unreliable with limited range and requires no base unit - allowing team members to roam far and wide and stay in touch so long as they're in range. It facilitates 'always on' communication, meaning no need to push buttons to talk and can be voice-activated, so no member of staff has to come into contact with another or with any surface. While not invented since the pandemic, much like Smart PPE, its uptake has increased dramatically. Communication breakthroughs have been central to health and safety for several years, but as we emerge into a so-called 'new normal' following the pandemic, sectors like the emergency services are going to play a critical role in keeping those innovations coming.