Waterous FIRE PUMPS
(100)
Pump products updated recently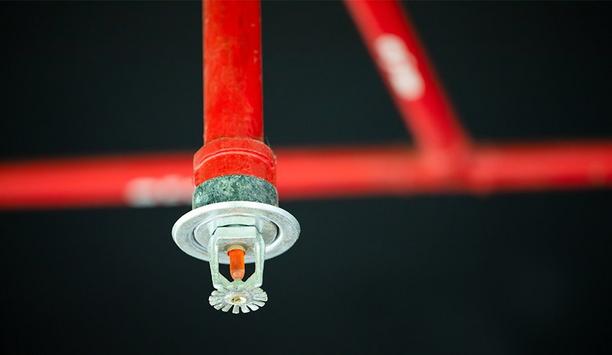 Fire Sprinkler Failures In Buildings: Why They Happen & What To Do
The fire sprinkler system in your building is a critical safety measure and, when needed, it can save lives. Still, even the best systems can malfunction, and sprinklers do occasionally fail. When they do, they can drench the interior of your building, damaging everything from furniture and personal belongings to drywall and building materials. As a property manager, dealing with fire sprinkler failure can feel overwhelming. What do you do next? Where do you start? And why did the sprinkler system fail in the first place? In this post, we'll discuss the common causes of accidental discharge, and what to do if it happens to you. Reasons for Fire Sprinkler Systems Failure Today, all building fire sprinkler systems must meet NFPA 13 standards. These National Fire Protection Association benchmarks define safety requirements for components and installation, and help ensure that sprinkler systems are well maintained and ready to perform. Still, fire sprinkler systems can fail. Here are a few of the most common culprits: Aging parts Building renovations (collisions with construction equipment, displacement or disturbance, etc.) Incorrectly placed heating systems that activate sprinklers Vulnerable pipes that freeze and cause sprinkler heads to burst Corrosion Fire sprinkler malfunctions can be incredibly problematic, causing extensive damage to your building Regardless of what causes the sprinklers to discharge accidentally, fire sprinkler malfunctions can be incredibly problematic, causing extensive damage to your building and requiring costly repairs from a water damage repair contractor. 5 Things to do if Your Sprinklers Fail There are no flames in your building, but your sprinklers are soaking everything in sight. You have to move quickly to avoid even more damage. Stay calm and follow these five steps: Get everyone out Even if there's not an active fire in the building, water poses its own set of dangers. To avoid problematic slip and fall conditions, get everyone out of the area immediately. Move them to a safe location outside the building, preferably one you've agreed on in a previously established evacuation plan. Shut off electrical equipment Water and electricity are a deadly combination. To avoid electrical shocks, shut off all nearby electrical equipment and appliances, and then, turn off the building's main power supply, as you exit the building. Turn off the water main Instead of wasting time shutting off broken sprinkler heads individually, go to the building's main water supply immediately and shut it off at the valve. This will stop all water flow and prevent additional water damage. Take photos of the scene Once it's safe to re-enter the building, document the scene. Use your smartphone to take photos of broken sprinkler heads or anything else you believe may have caused the accidental discharge. Additionally, take photos of the damage the sprinklers caused to floors, walls, personal belongings, and more. These photos can help response specialists understand the cause of the malfunction and may streamline your insurance claims process. Contact a restoration specialist Even if your water damage looks minimal, you'll need to contact a skilled water damage restoration expert, like the Chicago-based maintenance and service company, ServiceMaster Restoration by Zaba. Accidental sprinkler discharges soak drywall, destroy carpets and textiles, and lead to dangerous mold and mildew growth, which can happen just 24-48 hours after water exposure. Prevent worsening damage and the dangerous conditions by contacting a sprinkler repair specialist right away. Cleanup and water damage restoration services Using your documentation, your insurance company will work to determine the cause of the sprinkler failure Using your documentation, your insurance company will work to determine the cause of the sprinkler failure. This can be a lengthy process that takes weeks or even months. As that happens, your cleanup team will focus on providing water damage restoration services. Typically, fire sprinkler water damage involves 'blackwater'- a dangerous mixture of sediments and other contaminants that leave behind an unpleasant smell and a film that can destroy belongings. To reclaim your space, the water damage restoration service will focus on extracting the remaining water, drying the space to prevent mold and mildew formation, and decontaminating all surfaces. This is a critical step that you can't afford to rush. Work with the best water damage cleanup company you can find to ensure positive results. Protecting Your Sprinkler Systems in the Future While it's impossible to completely avoid every accidental discharge, there are certain steps you can take to safeguard your sprinkler system. Proper maintenance, for example, allows you to avoid preventable issues that could lead to malfunction. You should also take care to keep all remodeling and construction work away from sprinkler heads and systems to avoid accidental damage. These are simple tips, but they can help keep your building and tenants safe and dry - both now and in the future.
Mobile Firefighting Systems Provide Flexible Fire Protection For Major Facilities
Within traditional commercial and industrial firefighting systems, engineers have primarily focused on permanent installation designs rather than entertaining alternative or supplemental mobile firefighting systems. Permanent installation design is typically better understood, supported, and supplied throughout the fire protection engineering and manufacturing community. However, mobile firefighting systems provide unique solutions and advantages compared to their permanent installation cousins such as flexible deployment, simpler servicing, improved economy, and much higher performance availability. The combination of both systems is frequently the most strategic solution for the facility operator. Limitations of fixed installation systems Permanent installation (fixed) systems include everything from sprinklers, foam systems, primary watermain pumps, and the plethora of piping in between. A large refinery complex will need to address various hazard mitigation and control problems that span both hardware and personnel needs. In the event standard hazard mitigation safety procedures and equipment have failed, the facility immediately initiates a hazard control operation. Passive fixed systems automatically engage the hazard through an array of sensors, mechanical triggers, and control algorithms. A properly designed system with adequate hazard coverage, preplanning, preventative maintenance, and testing will successfully terminate the hazard, while firefighting personnel respond and ensure no further hazards develop. This conceptual approach relies on hardware and personnel all operating as planned…. Combining permanent and mobile apparatus "According to plan" would never have any failures or fires, but history has a different script. In the worst-case petrochemical scenario, fixed systems fail to extinguish a hazard putting the entire response on human and mobile hardware resources. This would include but is not limited to firetrucks, mobile high-flow pumping systems, large mobile monitors, foam proportioning units, and large diameter layflat hose. This type of response escalates into a larger scale operation, sometimes involving agencies beyond the facility operator itself. Although a low probability event, the risk to life and property is significantly substantial. Fixed systems may be rendered inoperable due to the loss of electrical power or actual physical damage Reducing fire-related expenditureMore typical than the worst-case scenario, facilities experience both maintenance-related system downtimes and natural phenomena damage such as extreme weather and seismic events. In this case, fixed systems may be rendered inoperable due to the loss of electrical power or actual physical damage. In any of these situations, mobile fire apparatus may fill the gap requirements of the facility as their flexible storage and deployment would protect them from everything but the worst natural disasters. Their further benefit is that a smaller set of mobile apparatus resources may be used to protect a larger amount of infrastructure, especially while in use in a mutual-aid program between facilities and communities. According to the NFPA's report "Total Cost of Fire in the United States", fire-related damages and expenditures from 1980 to 2014 have risen from roughly $200B (adjusted for inflation to 2014) to nearly $330B. The greatest expenditure is in fire safety costs in building construction, amounting to $57.4B. Although the overall losses per year as a ratio to protection expenditures has dropped by roughly 70% over the past 30 years, petrochemical facility losses have continued to rise over the same time. In the worst-case petrochemical scenario, fixed systems fail to extinguish a hazard Petrochemical facility challenges According to the NFPA, refineries or natural gas plants had reported an average of 228 fires or explosions per year through the 1990s. Furthering this data with Marsh's "100 Largest Losses, 25th edition", refinery losses have continually expanded throughout the last two decades with 11 of the top 20 largest losses of the past 40 years happening during or after the year 2000. Two primary drivers of this trend are the advanced age of petrochemical facilities and their staggering complexity. As oil margins fall, upstream operational businesses are detrimentally affected by reduced investment in everything to new equipment, maintenance and passive safety systems. There is an observable correlation between a major oil price drop followed by upstream facility fire losses. Even with reduced investment and oil throughput growth rates, US refinery utilisation at the end 2017 was at 96.7%, the highest since 2005 (Marsh, The Impact of the Price of Oil). The short story is that systems and personnel are being asked to do more with less with each passing year. Cost-effective mobile apparatus systems Mobile fire apparatus is generally more cost-effective to procure when using standardised designs and application methodology. They can access open water sources by either drafting (when in close proximity to the water) or using floating source pumps (for variable level or difficult access water sources). Mobile fire apparatus is generally more cost-effective to procure when using standardized designs and application methodology With this open water access, they can provide significantly more water (upwards of 10,000 GPM or more per system if necessary) than any typical fixed fire pumping solution. Moreover, as their primary benefit, they are easy to move and deploy. This benefit allows them to be utilised at the point of hazard as needed while being easily accessible for service. While fixed systems are installed at "every known" hazard and must be continually maintained to operate effectively, mobile systems may be used sitewide or across facilities. This flexibility reduces overall capital expenditure requirements and establishes a valuable primary and secondary firefighting system depending on the hazard and facility resources. Combining fixed and mobile systems Permanent installation fire suppression systems are a mainstay of modern day firefighting. They provide immediate passive response with little human intervention. However, as facility utilisation is pushed to maximum capacity while fixed systems continually age out without adequate replacement or maintenance, mobile systems will need to both fill the response gap and provide a final wall to total loss incidents. The reality is that both fixed and mobile systems need to work together to provide the safest possible operation. Service and training requirements need to also be maintained to manage an adequate, or even better, exemplary response to hazard control incidents. Managing major facility uptime requires continuous oversight and to drive hazard mitigation standards throughout the organisation, including executive management. A safe, reliable and fully-functional plant is also a profitable and cost-effective plant much like a healthy worker is a better worker. Protect your people and property and you will protecting your company's future.
Monticello Fire Department Updates Fleet With New Toyne Pumper
In the eastern Iowa city of Monticello, the area fire department has taken delivery of a new and fully customized Toyne Pumper. Dubbed the "MF8" by the Monticello Fire Department (MFD), this apparatus will be replacing an older pumper that has served these volunteer firefighters for more than two decades. Including this latest addition to the MFD fleet, the department now has three Toyne Tailored Apparatus actively serving alongside them. The apparatus is a stall built with bolted painted stainless steel. This highly durable material was also incorporated into the swing-out doors. Designs called for flexible storage spaces and compartments. The department has specialized storage in the wheel wells for up to eight SCBA bottles, with additional SCBA brackets fitted inside other compartments. Throughout the apparatus are Toyne Tailored slide-out shelving and under-step storage. There is rear slide-in hard suction storage, ladder, and pike pole storage. Pumper Design and Additions Monticello firefighters can also utilize the pumper's Akron Hi-Riser monitor for added fire suppression MFD's pumper body is mounted on a four-door Freightliner M2 106 chassis. Under the hood is a 350-horsepower Cummins ISL9 engine and a powerful Allison 3000 EVS transmission. Inside the cab is seating for five firefighters, an in-cab Firecom radio system, and a back-up camera. Features on the exterior of the chassis are front-mounted tow hooks and On-Spot tire chains. With added custom lettering and striping, Monticello's pumper is ready for action. As a pumper, it's equipped with a specialized fire suppression system that is tailored to the department's needs. Onboard is a 1,000-gallon UPF tank that is monitored by an ICI SL Plus tank gauge. The pump is a Waterous CS, capable of moving water at 1,250 GPM. A class-one TPG pressure governor controls the pump power. Throughout the apparatus is piping for several different discharge and intake points. Monticello firefighters can also utilize the pumper's Akron Hi-Riser monitor for added fire suppression. Other Accessories Toyne outfitted MFD's pumper with a full suite of lights, making the apparatus stand out while getting to and arriving at the scene. MF8 has Whelen PFP2 scene lights, warning lighting, an LED arrow stick, and a PFH2 LED brow light. Inside the storage areas is ILI LED strip compartment lighting. "It is always a pleasure working with Fire Chief Joe Bayne and the members of Monticello Fire Department," said Michael Schwabe, President of Toyne, Inc. "They are a team that stays eternally dedicated to their community and their fire service needs. We believe their new Toyne will be up to the task and answer the call."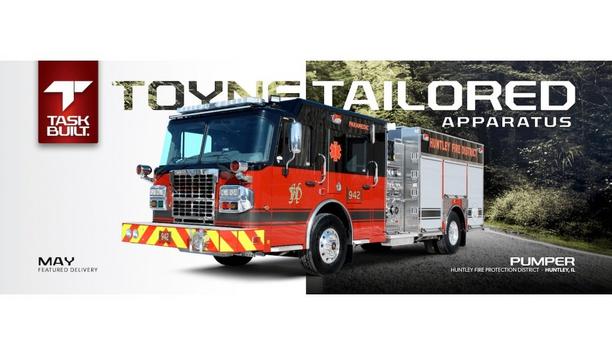 Toyne Provides A Customized Pumper Vehicle To Enhance Fire Safety Systems At The Huntley Fire Protection District
Illinois' Huntley Fire Protection District (HFPD) recently received delivery of their customized pumper that was built by Toyne, Inc., an Iowa-based fire apparatus manufacturer. This apparatus will be deployed to the district's 'Station 2' where it is replacing a higher-mileage fire engine. There it will be ever ready to serve the resolute firefighters and the communities they protect. Established in 1959, the HFPD tirelessly fulfills the fire service needs of over 50,000 residents in the communities of Huntley, Algonquin, Hampshire, Gilberts, Lake in the Hills, and the rural areas of Kane and McHenry Counties. This territory covers 55 square miles and includes busy freight routes and nine miles of the Interstate 90 corridor. Conducting emergency response The Huntley Fire Protection District has 90 personnel. Operations are overseen by a Fire Chief, two Deputy Chiefs, three Battalion Chiefs, twelve Lieutenants, and a host of other vital staff. HFPD conducts its emergency response from five stations spread throughout its jurisdiction. Continuing to invest in their response capabilities has been one of the focuses of HFPD In 2018 alone, the district received close to 5,300 calls. Continuing to invest in their response capabilities has been one of the focuses of HFPD. Along with opening a fifth station in April of 2020, replacing one of their older engines in their fleet of eleven apparatus with a new Toyne was a part of that response initiative too. Painted stainless steel body "As a first time Toyne customer, they exceeded our expectations! From the spec and design process to the final delivery, the pride of a family-owned business was evident," said Battalion Chief Michael Pierce. "Toyne allowed us to get the custom quality build we were looking for while staying fiscally responsible to the residents we serve." The pumper has a bolted painted stainless steel body that is mounted onto a Spartan Metro Star ELFD chassis. A 380-horsepower Cummins ISL 9 engine and an Allison 3000 EVS transmission combine to create a robust powertrain. This apparatus has a 10-inch raised roof cab and boasts seating for four firefighters. Hard suction hose Toyne made slide-in storage for a ladder, pike pole, and hard suction hose Water storage comes in the form of a 750-gallon UPF tank that is monitored by an ICI SL Plus tank gauge. For fire suppression, a Waterous CS 1,500-gpm pump and a Fire Research Pump Boss pressure governor were integrated into the apparatus. Customized storage was positioned throughout the apparatus. There are compartments for seven SCBA bottles in the wheel wells, a front bumper hosewell, and Toyne Tailored slide-out shelving. In the rear of the pumper, Toyne made slide-in storage for a ladder, pike pole, and hard suction hose. Low-Light situations Further customization was implemented by wiring the apparatus with an array of lighting options. Whelen warning lights, a Whelen LED arrow stick, and a 72-inch Firetech HiViz brow light ensure high visibility when responding to calls. During low-light situations, HFPD can utilize the onboard Fire Research telescoping lights, and Whelen M9V2R LED scene lights. "We worked closely with the Huntley Fire Protection District to identify their needs and apply that criteria throughout the design and build of their pumper," said Bill Bird, Toyne Product Support Coordinator. "The overall result speaks for itself, and we expect the apparatus to serve these firefighters well–for years to come." Dinges Fire Company, based out of Amboy, Illinois, sold the Toyne pumper to the district.
Toyne Provides Four Pumpers And Four Tankers To Enhance Emergency Response For Pottawatomie County Consolidated Fire District
A fleet of four pumpers and four tankers, custom-built by Toyne, Inc., have been delivered to their new home with the Pottawatomie County Consolidated Fire District (CFD) No. 1 in Wamego, Kansas. This delivery is a part of the fire district's massive apparatus and equipment replacement program, taking their emergency response to a whole new level. Formed in 2013, the Pottawatomie County CFD serves the Kansas communities of Olsburg, St. George, Wamego, Wheaton, Havensville, and Emmett. With a total area of 862 square miles, the county is under the watch of a multitude of fire departments and fire districts. Building fire stations To cover their designated territory, the fire district operates out of five stations and has 74 volunteer firefighters on the roster. Since its creation, Fire District No. 1 has made it a mission to enhance response effectiveness. This goal included building fire stations and procuring new apparatus. From this Toyne Apparatus delivery, four stations will each be receiving one of the pumpers and tankers. "We admire Pottawatomie County CFD's dedication to protecting its community members," said Michael Schwabe, President of Toyne, Inc. "We are proud to deliver these eight apparatus that will be there–ready to take the call–for these brave men and women." Four-Door chassis The fire district's four pumpers were designed with identical specifications The fire district's four pumpers were designed with identical specifications. Each pumper is mounted to a Freightliner M2 106 four-door chassis. The apparatus boast powerful 350-horsepower Cummins ISL 9 engines and response-ready Allison 3000 EVS transmissions. For fire suppression, Toyne fitted the trucks with Waterous CS pumps, capable of moving water at 1,250 gallons per minute, and Foam Pro 1600 Class A foam systems. Water is stored in 1,200-gallon UPF tanks. The pumpers have also been piped for monitors, allowing the CFD to add them in the future. Water hauling capabilities Toyne manufactured the tankers around a two-door Freightliner M2 106 chassis. While the powertrain is the same as the pumpers, each of these trucks have a hefty 6x4 drivetrain to accommodate more substantial water hauling capabilities. Top-of-the-line water storage and pumping hardware is integrated into each tanker. Outfitted with Waterous 3030 LE pumps and 3,000-gallon UPF tanks, the fire district is set to battle big blazes. Portable tank racks are also onboard these four heavy-duty tankers, holding portable tanks that have a 3,000-gallon capacity. Weis Fire and Safety Equipment Company, based out of Salina, Kansas, sold the fleet of Toyne apparatus to the fire district.