Richard Waterhouse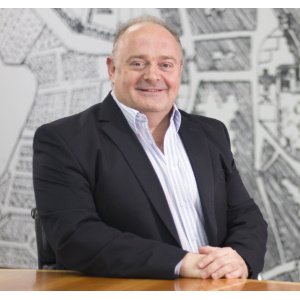 Richard Waterhouse
Chief Strategy Officer,
NBS
Richard Waterhouse is currently working in the capacity of Chief Strategy Officer at NBS. He has previously served as Managing Director and Development Director at NBS.
Articles by Richard Waterhouse
As Grenfell remains a chilling reminder of the importance of fire safety in construction, new digital methods are now being adopted to guarantee the safety of end users. But how is digitization helping and how will this further advance fire safety during the wider construction process? There's no doubt that the past five years have had a profound effect on the construction industry. Events such as the 2017 Grenfell Tower fire disaster have forced the industry to sit-up and rethink the processes it currently has in place. Campaign for a complete system overhaul The result has been a campaign for a complete system overhaul. Advocates for change, such as Dame Judith Hackitt, are now speaking at length of a 'broken industry' and how without major reform, the construction industry will never reach acceptable levels of safety. Yet hope is on the horizon and as is often the case with such events, they can and must serve as a catalyst for major change. Hackitt's inquiry into building regulations and fire safety, following Grenfell, revealed a need for greater fail safes and a requirement for what Hackitt termed as 'The Golden Thread' of information. This is an accurate record of a building, providing a timeline of what has gone into the structure, from design to occupation and its ongoing maintenance. By having this in place, the industry can then deliver full transparency and accountability to help keep end users safe. Introduction of new building safety regulator Hackitt's inquiry into building regulations and fire safety, following Grenfell, revealed a need for greater fail safesA further response has been the introduction of a new building safety regulator and new construction product regulator, both of which represent a landmark moment not just in fire safety, but improved levels of safety across the board. The first, which is under the Health and Safety Executive, will oversee the safety and performance of all buildings with a new, more stringent framework for higher-risk builds. The latter, (the construction product regulator), will be aimed at manufacturers to ensure that their products are safe, before being sold and that they abide by pre-determined levels of industry safety. If products aren't deemed fit for purpose, these stricter measures will grant the regulator the power to remove products, revoke building safety certifications, as well as prosecute those who attempt to side-step rules. Building Safety Bill Speaking at the Construction Leaders' Summit in February 2020, Hackitt explained that the Building Safety Bill and the creation of the new regulators will help the sector to change both technically and culturally, moving away from decisions that result in the 'cheapest solution', to one where safety and quality become paramount. Hackitt also warned that the regulators will have real bite. She said, "It will not look to see you have merely followed the rules, but check the building is safe from planning to occupation and you've done everything in your power to ensure this." New laws post building regulations and fire safety review New laws have also been introduced since Hackitt's review of building regulations and fire safety New laws have also been introduced since Hackitt's review of building regulations and fire safety. In April of 2020, UK Housing Secretary, Robert Jenrick announced a series of measures comprising of what he called 'the biggest change in building safety for a generation.' These were changes that applied to multi-occupancy buildings of 18 meters and above, or six stories, whichever is reached first. For buildings in-scope, a duty holder regime will apply, with a Client, Principal Designer and Principal Contractor. The contractor and designers will have to demonstrate that the building is safe and the ability of the duty-holder to choose which building control body to oversee the removal of the construction/refurbishment. To make sure the regulation is followed, there are gateway points at various stages, requiring regulator sign-off before the project can move forward. The sign-off procedure can then only take place once the right evidence is in place. Before residents are allowed to occupy the building, a full digital documentation will have to be provided which includes drawings and datasets and any design changes will need to be amended, signed-off and recorded. The need for digital adoption It's clear that with so many changes coming into play that a new way of working is needed, with the needle pointing towards digital adoption as an answer to these issues. One of its main benefits is that it gives specifiers, contractors and residents the ability to access extensive datasets on specific fire related products. This feature plays a huge role in guaranteeing the safety of buildings and end users, by supplying them with the most up-to-date information and the latest in industry laws and regulations. If the industry is to iron-out the risk of products being 'mis-specified', then architects must be given a vehicle to access this information as easily as possible. Rise in use of digital tools, 3D and data Another example is the recent changes to the RIBA Plan of Work – the industry blueprint for the process management of a build. While this still remains as the 'go-to' map for how a construction process should take place, digital innovation continues to transform many aspects of its project workflow. This can be seen in the likes of 'Part 3 – Changing Processes' where the use of digital tools is helping to shift the balance away from 2D information towards 3D and data. Digital site surveys are also becoming the norm, using cloud surveys, photogrammetry, lidar sensors and the ability to mount cameras on drones, to help with the success of projects. BIM (Building Information Modeling) BIM can be used to improve the design, construction and operation of buildings, making them safer for end users Feeding into this is also the greater use of BIM (Building Information Modeling). This digital approach can be used to improve the design, construction and operation of buildings, making them safer for end users. Again, it's a concept that has been around for some time, but the recent shift in perceptions has allowed this way of working to flourish, with three quarters of specifiers now using BIM, compared to just one in ten a decade ago. Digitization – The only way forward It's obvious to see that shifting to digital has an immeasurable benefit to the future of the construction industry. Not only do digital tools improve standards, reduce mistakes and improve record keeping and auditing at every stage, but it also keeps costs down and drives up quality. From previous history, we've seen that the construction industry is notorious for dragging its heels when it comes to change, but as we've seen so far, the quicker it adopts this way of thinking, the quicker improvements in fire safety and compliance can be achieved. 'Build Back Better' We've heard the government talk of 'Build Back Better' and the digitization of the industry will hold all the keys to ensuring this is possible. If nothing else, the construction industry owes it to the victims and survivors of the Grenfell fire tragedy to make sure that all is being done to eradicate the chances of future mistakes from happening again.
News mentions
NBS, a specification and product information platform for the construction industry, has entered into a new partnership agreement with the ASFP (Association for Specialist Fire Protection), the UK's association for the passive fire protection sector. The partnership aims to assist with peer review and ensure the accuracy and quality of specifications relating to passive fire protection. It allows NBS to publish references to and extracts from ASFP Technical Guidance in NBS products and services, and to provide ASFP with extracts of NBS content for peer review. Passive fire protection The move will result in improved support to architects, designers, and specifiers in developing specifications for passive fire protection products and systems. It ensures they will have access to appropriate high-quality guidance and technical content, helping them to produce accurate and structured specifications. It will also assist passive fire protection manufacturers to provide product information It will also assist passive fire protection manufacturers to provide product information and technical data in an appropriate and structured format. Commenting on the partnership, ASFP CEO, Steve Davies, said: "One of the ASFP's key aims is to raise the standards and improve the quality of passive fire protection products and installations. This new partnership with NBS offers us the opportunity to influence the way in which passive fire protection products are specified and to improve understanding throughout the construction sector of the properties and performance of these key life safety products." Best practice guidance "We look forward to working with NBS to raise awareness so that passive fire protection will be considered much earlier in the construction process. By sharing our technical expertise and best practice guidance we hope to promote the correct design, specification and installation of passive fire protection products and systems." By sharing our technical expertise and best practice guidance we hope to promote the correct design" Richard Waterhouse from NBS, said: "Fire safety has never been more important, and the ASFP brings a wealth of knowledge that's unmatched in the industry. Having them on board will no doubt prove invaluable to our users when looking to specify passive fire protection products. Equally, this will be hugely beneficial to manufacturers who are looking to provide the very best standard of data and in a format that architects and specifiers can easily obtain." Specification writing platform "As specialists in their field, they are the leading authority on fire protection and the design and installation of fire protection products, so we're thrilled to be announcing this partnership. We're also keen to share with ASFP members how NBS software can help protect against risk through our digitally collaborative specification writing platform." Commenting on the partnership, Sascia Elliott, Head of Partnerships at NBS, said: "Similar to the NBS ethos, end-user safety is at the heart of what they do. The need for further expertise and guidance on this matter has never been more relevant and we're looking forward to introducing this knowledge into the NBS platform as soon as possible."
Experts sections