Marina Crnoja-Cosic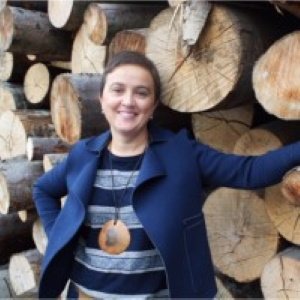 Marina Crnoja-Cosic
Head of Application Development and Innovation,
Lenzing AG
Marina Crnoja-Cosic is currently serving in the capacity of Head of Application Development and Innovation at Lenzing AG. She is an alumnus of the prestigious Technische Universität Wien.
News mentions
Under the motto 'Space for Innovation', Techtextil, the globally renowned international trade fair for technical textiles and non-wovens, presented the entire spectrum of technical textiles, functional apparel textiles, and textile technologies and their potential applications, earlier this year, from the 14th to 17th May 2019. Techtextil 2019 As one of the long-term international exhibitors, Lenzing participated in the event and introduced their LENZING fibers and products to the industry partners. Key highlights from the Techtextil 2019 event included the press conference, attended by over 40 journalists and hosted by Marina Crnoja-Cosic, Head of Application Development at Lenzing AG, which covered Lenzing's botanic solution for aquatic farming to reduce plastic in the sea, where mussel nets application was first announced. Post the press conference, the Innovation Roadshow presentation offered key insights on the best sustainable solutions by Birgit Schnetzlinger, Segment Manager Footwear, Global Business Management New Business Areas at Lenzing AG. Bernard Philipp Alowonou, Vice President Global Business Management - New Business Areas at Lenzing AG, also spoke in a forum about synthetic change makers and the future of wood-based fibers, sharing insightful opinions on sustainable textile industry. LENZING branded fibers At the event, Lenzing's exhibition focused on protective wear and work wear From agriculture, packaging, and engineered products, to protective wear and work wear, the LENZING branded fibers serve a wide range of various industrial applications. At the event, Lenzing's exhibition focused on protective wear and work wear, showcasing the product developments for polo shirts. With LENZING branded fibers, it is possible to generate bright and long-lasting colors for clothing and even produce work wear clothes with many intensive colors, ranging from bright red to lush green and deep blue. Driving sustainability More importantly, the fibers from LENZING help brands to drive sustainability at root, as the fibers are derived from the renewable raw material wood and made in environmentally sound production processes. Techtextil 2019 offered a great platform for the industry players to showcase technical textiles for architecture, the automotive industry, construction, clothing, and many others. It was also a valuable platform for Lenzing to network with a wide range of companies, all with similar values and ethics, and raise awareness on LENZING fibers.
Experts sections