David O'Mara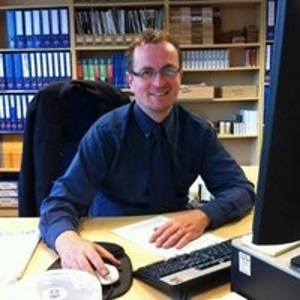 David O'Mara
Marketing Manager,
Hörmann KG
David O'Mara is currently working in the capacity of Marketing Manager at Hörmann. He has previously held the profiles of Assitant Marketing Manager and Marketing Coordinator at the firm. David is an alumnus of the prestigious Loughborough College.
News mentions
In line with current government guidance, Europe's door manufacturer, Hörmann, has released a video outlining how professionals can keep themselves, their colleagues and their customers safe while installing its popular range of garage, entrance and internal doors. Available to view on Hörmann UK's YouTube Channel, the video provides installers with guidance on the measures they should take before, during and after an installation to ensure the wellbeing of all individuals involved. Following processes for safe practices This includes processes such as sending COVID-19 instructions prior to arrival, ensuring the correct PPE is available and worn at all times and a two meter distance is maintained while all work is taking place. The video also encourages colleagues to travel in separate vehicles where possible and advises professionals not to share tools and regularly disinfect them, along with any PPE that is worn throughout the installation. Contactless handover of documentation and controls is also advised to eliminate physical contact between installers and customers. Safety of employees, suppliers and customers The creation of the video is part of Hörmann UK's wider strategy to keep its employees, suppliers and customers safe during these difficult times, whilst still maintaining the same high levels of service. David O'Mara, Marketing Manager at Hörmann UK, said: "The wellbeing of our employees, suppliers and customers will always remain our main priority. However, we also recognize the responsibilities we hold as one of the manufacturers of garage and entrance doors within the UK to provide our nationwide distributors and house builders with our high quality products. By continuing to working closely with these partners, and in line with government guidance, we can proactively facilitate demand to support the completion of ongoing construction projects, whilst also ensuring the safety of all individuals involved."
2020 marks the tenth anniversary of globally renowned door manufacturer, Hörmann's innovative RollMatic garage door range. Ten years on from its UK launch, Hörmann's RollMatic garage door range remains a popular choice for architects, house builders, installers and homeowners, providing the highest standard in quality and safety. RollMatic garage door range Building on Hörmann's German manufacturing expertise, the RollMatic door opens vertically for enhanced usability, requiring minimum space inside the garage whilst simultaneously offering maximum space inside the garage. Adding to its appeal, the RollMatic door delivers first class safety standards. With the inclusion of an innovative and reliable automatic safety cut-out, the door securely stops and reverses into the opening if it encounters an obstacle, eliminating the need for an additional closing edge safety devices. Integrated with Hörmann multi-spring technology The RollMatic also includes Hörmann's multi-spring technology, which allows for smooth operation The RollMatic also includes Hörmann's multi-spring technology, which allows for smooth operation and prevents the door from closing suddenly, even when operated manually. The door also has a mechanical security kit, so in the event of a power failure, the door will stay firmly closed. To open the door during a power-cut, it is a simple matter of putting the door into manual and lifting it without the need for a crank handle, due to its multi-spring technology. The RollMatic range offers 11 different colours coatings and two varieties of timber designs in Hörmann's unique Decograin and or Decopaint surface finishes. The range is complemented by Hörmann's durable matching side doors, which can be installed across the exterior of a property for a cohesive look. Enhanced fire safety David O'Mara, Marketing Manager for Hörmann, said "Throughout Hörmann's longstanding history, the design and manufacture of quality garage doors has been at the very core of our business. Through continuous research and development, we have been able to offer our customers exceptional standards in functionality and quality, and our popular RollMatic door is a prime example of this." He adds, "We look forward to working with our nationwide network of distributors to supply and install our RollMatic garage doors for the next 10 years and beyond." Hörmann's RollMatic range is supported by an impressive 10-year warranty and can be installed in a wide range of openings for greater design flexibility.
Hörmann, Europe's renowned door manufacturer and supplier, will be launching its new internal timber door offering to fabricators and installers from the 21st - 23rd May, 2019 at the NEC, Birmingham, while also showcasing its high quality steel and aluminum entrance doors. Security entrance doors Having firmly established itself as the number one provider of entrance doors, garage doors and timber internal doors, Hörmann prides itself on offering the highest standards in products and services via its nationwide network of distributors. On stand D26, visitors will have the opportunity to meet with Hörmann's dedicated team of experts to find out more about its new range of timber internal doors, which feature uncompromising quality to deliver a long service life that meets the daily needs of modern families. Thermo65 and Thermo46 entrance doors The doors are constructed of high-quality components including a 46mm or 65mm thick steel door leaf Designed to suit both contemporary and traditional properties, the doors feature a range of designs including frameless glass, stylish Grey Oak or Anthracite options for modern interiors, with Spanish Oak and Parchment White finishes for more classic homes. Also on show will be Hörmann UK's innovative Thermo65 and Thermo46 entrance doors, which offer world class U-values as low as 0.87W/m².K. The doors are constructed of high-quality components including a 46mm or 65mm thick steel door leaf, which features a composite sub-frame for high stability, combined with an aluminum frame that incorporates a thermal break, contributing to excellent thermal insulation. ThermoSafe entrance door Featuring a large selection of styles at an attractive price-performance ratio, the Thermo46 and Thermo65 entrance doors are industry favorites, offering a uniform view from the inside due to the solid door leaf construction. Also on FIT show is Hörmann's popular ThermoSafe entrance door, available in over 70 different styles and 18 colors, which offer impressive energy efficiencies. This is combined with first class security benefits due to its standard security equipment, certified to EN1627 resistance class 3, including a 5-point security lock. FIT Show Celebrating its 40th anniversary throughout 2019, Hörmann has developed a strong relationship with its nationwide network of distributors, homeowners, architects, specifiers and construction professionals over the last four decades, which is reflected in the company's diverse and ever expanding product and service offering. David O'Mara, Marketing Manager for Hörmann, said "Here at Hörmann we are dedicated to providing professionals with products that are not only easy to install, but are also readily available, which is why we work closely with our nationwide network of distributors to ensure we offer the shortest lead times possible." Timber internal doors David adds, "The FIT Show is the ideal opportunity for us to showcase all that Hörmann has to offer, including our innovative new timber internal doors. We're looking forward to receiving feedback on the latest product range and welcome all professionals on stand for an exclusive look."
Experts sections