Cory Hohs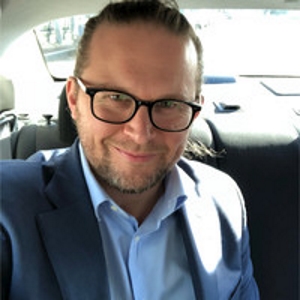 Cory Hohs
CEO and Co-Founder,
HAAS Alert
Cory Hohs works in the capacity of CEO and Co-Founder at HAAS Alert. He had also co-founded Janitor, Ltd. and served as Senior Product Management Head at Nokia HERE Maps.
News mentions
Pierce Manufacturing Inc., an Oshkosh Corporation company, has announced that it has further improved safety in the fire industry by collaborating with HAAS, Inc. d/b/a HAAS Alert to offer digital collision avoidance technology as a standard integration on Appleton-built custom chassis produced for domestic and Canadian municipal customers, and as an available aftermarket solution for apparatus currently in service. Safety Cloud solutions HAAS Alert's Safety Cloud works by sending real-time digital alerts from a hardware device mounted within the cab of a fire truck to nearby motorists via mobile navigation apps (e.g., Waze) and vehicle infotainment screens. System integration will begin on trucks that are in the production process in early 2020. Jeromie Johnston, VP of Segment Strategy and Business Development for Pierce, said of the collaboration, "As a leader in the fire apparatus manufacturing market, Pierce doesn't just meet safety requirements - we continuously seek methods and tools to further improve safety. Adding HAAS Alert's collision avoidance service as a standard safety solution to our custom fire apparatus demonstrates our commitment to customer safety." Collision avoidance technology Collision avoidance tech sends an alert to a motorist's mobile device if they are close to an emergency vehicle A 2013 University of Minnesota study notes that the risk of collision between a civilian vehicle and an emergency vehicle can be greatly reduced when nearby drivers receive an advanced warning about the hazardous situation. HAAS Alert's collision avoidance technology sends an alert to a motorist's mobile device if they are in the vicinity of an emergency vehicle that is in route or positioned at the scene. "Distracted driving continues to be a major concern on roadways as members of fire service put them at risk while responding to emergencies both in route and positioned at a scene," said Jim Johnson, president of Pierce Manufacturing. "Working with HAAS Alert enables us to offer an innovative new way to incorporate technology that extends beyond the fire apparatus to support safety protocol for firefighters and members of the communities they serve." Safety protocol for firefighters HAAS Alert's mission is to make roadways safer by alerting drivers of emergency vehicles. Cory Hohs, co-founder and CEO of HAAS Alert, stated, "Despite increased measures put into place by public safety agencies and the rise of initiatives including Vision Zero and the Move Over law, roadway collisions involving first responders and motorists continue to increase year over year." Since launching two years ago, the Safety Cloud has delivered more than 100 million driver alerts. The alerts extend the reach of traditional lights and sirens to improve motorist awareness, allowing more time for drivers to make safe maneuvers and comply with Move Over laws.
REV Group, a manufacturer of globally renowned specialty vehicle brands, has entered a multi-year partnership with HAAS Alert Safety Cloud service on E-ONE, Ferrara and KME fire apparatus. AXIS Smart Truck Technology E-ONE, Ferrara and KME fire apparatus with AXIS Smart Truck Technology will also be equipped with the HAAS Safety Cloud to allow first responders to broadcast their route to nearby motorists via smartphone apps when emergency vehicles are nearby. By delivering real-time alerts to drivers and connected cars, the HAAS Alert Responder-to-Vehicle (R2V) service can aid in preventing collisions and enabling safer and faster emergency response. The new service will give firefighters another tool in protecting their crews and the public. HAAS Alert's Safety Cloud service aligns perfectly with our commitment to fleet and crew safety" "HAAS Alert's Safety Cloud service aligns perfectly with our commitment to fleet and crew safety," said Jay Johnson, Vice President of Product Management, Marketing and After-Market at REV Group's Fire Division. "Fire Departments are always looking for ways to make their communities safer and they turn to E-ONE, Ferrara and KME to help make that happen." R2V Safety Cloud service Cory Hohs, CEO of HAAS Alert, commented, "HAAS Alert is proud to provide safety-focused technology to the First Responder market through our R2V Safety Cloud service. This partnership with REV Group's fire division will make these innovations more accessible than ever, allowing more Fire Departments to introduce R2V real-time alerts into their communities." HAAS Alert is a globally renowned emergency and rescue services technology firm, based out of Chicago, Il. The HAAS Alert Safety Cloud service connects emergency responders, utility and slow-moving fleets with motorists.
Experts sections