Events News
Disaster & Emergency Management Summit 2017 to focus on mitigating natural disaster and manmade emergencies
Published on 30 May 2017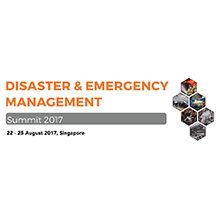 The event will enable knowledge sharing to develop strategic planning in disaster management
You can't do it alone, the constant terrorist attacks and natural disaster incidents can happen to anybody at anywhere. Equip Global is proud to present Disaster & Emergency Management Summit 2017, which will focus on bringing you case studies on recent natural disaster and manmade emergencies. Visitors can expect to hear from governmental agencies, disaster management authorities, and frontline responders who were involved in the planning and rescue operations.

Strengthening community resilience

This conference happening on 22nd – 25th August, 2017, in Singapore is designed to help participants to meet the evolving challenges in strengthening community resilience, building capacity in local level and response operations, and improving communication and coordination between internal and external agencies. The aim is to enable knowledge sharing to develop strategic planning in disaster management and ensure emergency response operations are conducted in the most effectively manner.

Increasing emergency preparedness efforts

Participants can expect a packed programme that ranges from the current trends in strengthening community resilience, best practices to increase emergency preparedness efforts to boosting search and rescue operations involving collapse of buildings and in remote areas as well as maximising preparation and response effort in dealing with terrorism. Do not miss out four additional workshops that are designed to allow participants to foster and strengthen the exchange and experience with industry experts.

Disaster and emergency management

This event is targeted at people who are responsible for disaster and emergency management at national, regional, and local levels, national disaster response forces or national search and rescue, civil defence involving hazardous materials, police department involving counter terrorism or special tactics and lastly, emergency response teams and fire safety manager of corporate organisations.
Other news
Related links
Related news
View all news from
| Product Category | Month | Company |
| --- | --- | --- |
| | | |
| | | |
| Country | Events | |
| | | |
| | | |