Code 3 EMERGENCY LIGHTING ACCESSORIES
(3)
Browse EMERGENCY LIGHTING ACCESSORIES
Lighting Accessories products updated recently
Code 3 Launches A New C3900 Series Slimline Speaker Specially Designed For Undercover Vehicles
Code 3®, Inc., a pioneer in emergency response products, proudly introduces the sleek, new C3900 series slimline speaker. Two highly efficient 50-Watt speakers deliver 100 Watts of exceptional sound quality through a durable aluminum casing. The best part: the slimline is 40% thinner than its competitors and it is designed to mount behind the grille with universal or custom brackets. Other vehicle placements are compatible and the speaker works seamlessly with all Code 3 sirens. Unparalleled customer service The simple mounting and intuitive design make installation a breeze. The fleet will be road-ready and roaring in no time. Code 3 is in tune with the undercover officer's needs, which inspired the slimline speaker's design from concept to production. Along with Code 3's line of low-profile gear and custom kits, officers, supervisors, and investigators alike can hit the street discreetly with reliable equipment that performs when it is needed most. The slimline speaker is backed by a no-hassle, five-year warranty along with unparalleled customer service. Whether using the slimline or other Code 3 products, the user will be heard in more ways than one.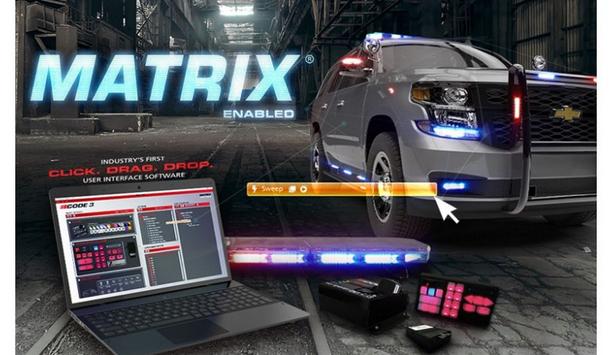 Code 3 Launches Matrix Emergency Vehicle System To Quickly Program Police Vehicle Lights And Sirens
Code 3 Inc., a manufacturer in public safety emergency systems, announces the public launch of the Matrix® System. Matrix is an emergency vehicle system designed to program police vehicle lights and sirens – quickly and efficiently. The intuitive software allows users to configure the entire emergency package on the vehicle by simply reading signals being sent throughout the vehicle's CAN (Controller Area Network) system. Intuitive programming software Once configured, the software triggers different flash patterns and siren tones through indicators specified by the vehicle's driver. Users can select from a standard configuration or completely customize the entire emergency system via Code 3's intuitive programming software – the first in the industry to provide click, drag, drop functionality. While in pursuit, drivers can effortlessly trigger flash patterns and siren tones from data pulled from the CAN system via actions like high beams or driver side doors open. Matrix is also compatible with some of Code 3's most popular emergency products. Code 3 Appointed Eric Doty As New Northeast Regional Sales Manager For Fire/EMS Markets
Eric will manage the Fire/EMS & OEM sales activities within the Northeast territory Eric Doty has been hired as the new Northeast Regional Sales Manager for Fire/EMS markets for Code 3® Inc. In this role, Eric will manage the Fire/EMS & OEM sales activities within the Northeast territory, to ensure delivery of the OEM Division sales and order goals, as well as manage the key end-user contacts. Background Eric brings 27 years of business experience in sales, account management, and customer service. His most recent employment includes Northeast Regional Sales Manager for Fire Research Corporation (FRC), a manufacturer of state-of-the-art equipment and solutions specifically designed for the fire, rescue, and emergency services. Academically, Eric holds a B.S. in Engineering, obtained from Northern Arizona University. Eric will continue to reside in the Elmira, New York area.