Silent Knight EMERGENCY LIGHTING ACCESSORIES
(23)
Browse EMERGENCY LIGHTING ACCESSORIES
Other Silent Knight products
Lighting Accessories products updated recently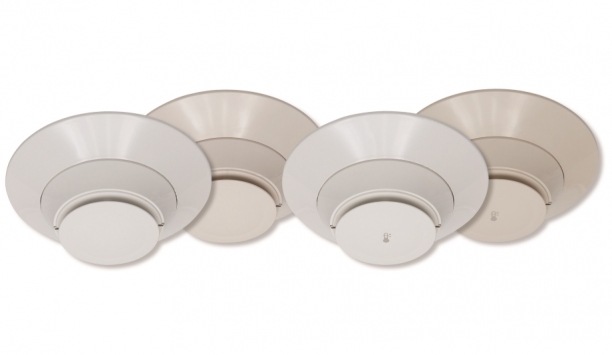 Honeywell's Addressable Fire Detection Devices Improve Protection For Modern Buildings
The new line of addressable detectors includes photo, photo/thermal, and heat detectors, along with bases and accessories Honeywell, a pioneer in Connected Buildings, is helping customers get ahead of upcoming building code changes and improve fire detection through a new line of addressable smoke and heat detection devices available across all Honeywell Fire brands. The devices improve detection of fires involving synthetic materials that are commonly used in modern buildings, and offer improved system reliability against false alarms. In addition, these devices have been designed to meet new industry requirements that go into effect in the United States in 2020 – the UL 268 7th Edition standards – ensuring a smooth transition to the new codes. "Honeywell's newest fire detection devices step up to the challenge of modern construction methods and codes with the latest technology in fire safety," said Samir Jain, general manager for Fire Americas, Honeywell Home and Building Technologies. "Serving customers in more than 10 million buildings around the world, we were able to redesign our devices with an unwavering focus on customers and end users. Our products across all of our fire brands are easy to install and use with a lower cost of ownership without sacrificing safety." Photo/thermal and heat detectors Whether it's a photoelectric detector or more advanced multi-criteria solution, the Honeywell devices provide advanced features for fire or life safety systems So-called 'addressable' detectors connect to a fire alarm control panel and are assigned an address so responders can more easily locate the source of an alarm. The new line of addressable detectors includes photo, photo/thermal, and heat detectors, along with bases and accessories. Additional specialty detectors, including higher-sensitivity and combined carbon monoxide detectors, will be available in the coming months. Each spot-type detector is designed for ease-of-use, simple installation, and project flexibility. With varying base sizes, an expanded colour offering and modern design, the new line supports contemporary aesthetic needs to fit any environment. Whether it's a photoelectric detector or more advanced multi-criteria solution, the Honeywell devices provide advanced features for fire or life safety systems. Beneficial to the small and medium sized facilities Honeywell addressable smoke detectors and accessories can be used in commercial building spaces across the country including offices, hotels, schools, airports, hospitals, high rise, retail, stadiums, military buildings and more. Small- to medium-sized facilities can benefit from photo and heat detectors in a contemporary white colour to meet popular design demands. Diverse commercial environments can integrate broader offerings, like remote test capabilities in the ducts, heat detectors in furnace rooms, photo detection across the main building, high sensitivity for a server closet, and the wider system connection. The new line of smoke detection devices will be available across Honeywell Fire brands: NOTIFIER, Honeywell Gamewell-FCI, Honeywell Farenhyt, Honeywell Silent Knight and Fire-Lite Alarms. Silent Knight Introduces SK-FIRE-CO Detector For Fire And Carbon Monoxide Detection
Silent Knight's SK-FIRE-CO replaces multiple devices, including a CO and a smoke detector, mini horn, monitor modules Silent Knight by Honeywell recently introduced a single detector that senses both fire and carbon monoxide (CO) and greatly reduces nuisance alarms. The SK-FIRE-CO Detector minimises parts and labour, equalling big cost reductions. It is also the only non-proprietary, addressable detector of its kind to be made readily available through Security Equipment Distributors nationwide, which ensures competitive pricing and readily available parts. "This detector will satisfy the new CO legislation many states are implementing for commercial properties, and save the owners a lot of money by eliminating the cost of separate devices that require additional junction boxes and wiring," said Loren Schreiber, product marketing manager, Silent Knight. Currently, 40 states have CO detection requirements, which largely affect commercial sleeping spaces, such as hotels, dormitories, apartment complexes and nursing homes, for example. In addition, CO detection can be required for buildings with mechanical/boiler rooms, laundry rooms, gas fire places and any other facility containing fossil fuel-burning appliances. When compared to a typical installation of separate fire and CO sensors, the SK-FIRE-CO Detector and its compatible B200S Sounder Base, replaces multiple devices, including a CO detector, a smoke detector, a mini horn, monitor modules, three junction boxes and all of the wire associated with each. Utilising fewer devices within a space also gives a cleaner appearance. To satisfy both local and national fire alarm requirements, the SK-FIRE-CO Detector's sounder base provides distinct tones for a fire versus a CO emergency. In response to customer requests, tones emitted from the B200S Sounder Base can also be synchronised to nearby horns. "When you have a fire alarm in a dorm or apartment, it's important the sounder in your room synchronises with the temporal horns in the hallway as one consistent, clear tone, otherwise it can cause a lot of anxiety in the midst of an evacuation," Schreiber explains. Silent Knight By Honeywell Releases SK-F485C Wire To Fibre Converter For Its New And Existing Systems
SK-F485C is designed to allow new and existing Silent Knight systems to increase wire runs Silent Knight by Honeywell recently released the SK-F485C Wire to Fibre Converter, designed to allow new and existing Silent Knight systems to significantly increase wire runs between fire alarm control panels and power supplies, while providing a major boost in surge protection. Being the first wire to fibre converter to be UL listed for a non-proprietary line of fire alarm systems and sold over-the-counter at Security Equipment Wholesalers nationwide, allows Silent Knight to offer the ideal solution to large facilities and multi-building campuses seeking non-proprietary fire alarm systems. A fire alarm system run on copper wire underground, between buildings is incredibly susceptible to lightning damage due to earth ground differentials. The new fibre converter allows one Intelliknight addressable fire alarm control panel from Silent Knight to be extended over fibre-optic cable to protect multiple buildings while severely limiting the risk of damages from electrical surges. Covering longer distances over fibre allows Silent Knight systems to offer more economical and reliable fire protection to larger facilities such as warehouses and factories, as well as for multi-building projects, including K-12 schools, universities, corporate campuses, apartment buildings and assisted living complexes. The fibre converter offers a great solution for adding smaller, standalone buildings, such as maintenance sheds and guard shacks to a fire alarm system over fibre too. The adaptable design elements of Silent Knight systems enable them to provide a closer-fit to the fire protection needs of each facility, which can equal big savings in parts and labour. This has a positive effect on recurring fees too. Case-in-point, the costs associated with monitoring one control panel versus many are much less. "Flexibility in the design of its systems and minimisation of wire has been a continued focus for Silent Knight's product development teams", says Loren Schreiber, Product Marketing Manager for Silent Knight. "We've always been unique with 'distributed intelligence' built into power supplies and other s-bus devices to allow you to place them where needed, as opposed to home-running wire all the way back to the main control," Schreiber explains. Silent Knight's complete portfolio of IntelliKnight products are non-proprietary and sold through security equipment wholesalers throughout the U.S., which helps to ensure competitive pricing and readily available parts.