Foam Equipment products updated recently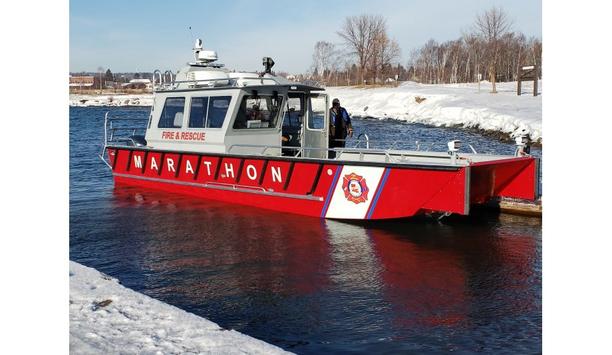 Lake Assault Boats' Fireboat Serving With Marathon Petroleum Company At Louisiana Refinery Operation
Lake Assault Boats, part of Fraser Shipyards and a renowned manufacturer of purpose-built, mission-specific fire and rescue boats, has placed a custom 36-foot fireboat into service with the Marathon Petroleum Company at its Louisiana Refining Division in Garyville, Louisiana. The craft is serving on the waters surrounding the nation's newest major refinery. "Marathon's Garyville refinery, located near New Orleans and the Mississippi River, is an important facility and a vital component of our nation's infrastructure," said Chad DuMars, Lake Assault Boats Vice President of Operations. "We're proud and honored to provide the Marathon Fire Department with a state-of-the-art vessel engineered to quickly and effectively respond to a wide range of on-the-water emergencies." certified fire pump The modified V-hull craft features a 36-foot hull, a 10-foot, 6-inch beam, and is powered by twin 300 hp four-stroke outboards. Its overall height is less than 13-feet 6-inches; its draft is less than 18-inches with motors trimmed up, and 24-inches when trimmed down. Weighing approximately 12,200 pounds and providing a person and cargo capacity of 5,000 pounds, the fireboat sports a 72-inch hydraulically operated bow door with an integrated ladder for diver reentry and flat tread areas for ATV deployment. The firefighting system includes a Darley PSDE fire pump certified at 1,500 GPM that is driven by a dedicated 365-hp V-8 engine. There are twin 4-inch discharges located on the forward deck along with an electronically controlled monitor. The vessel is equipped with a full-width and fully enclosed pilothouse with an interior clearance height of 76-inches. Its ergonomic helm station features controls for the fire pump and monitors. In addition, there are two Garmin 12-inch touchscreens controlling GPS, Sonar with SideVu and DownVu, Chart Plotting, high definition radar, and forward looking infrared.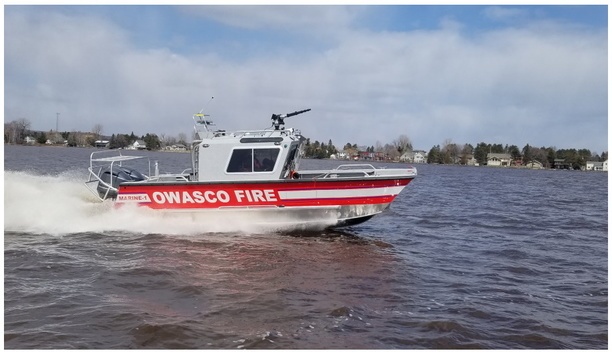 Lake Assault Boats Delivers A 26-Foot Custom Fireboat To Owasco Fire Department In New York State
Lake Assault Boats, part of Fraser Shipyards and a renowned manufacturer of purpose-built, mission-specific fire and rescue boats, has delivered a 26-foot fire and rescue craft to the Owasco Fire Department in Auburn, New York. The boat was scheduled to be featured at the 2020 FDIC Expo. "The Owasco Fire Department's protection area includes Owasco Lake, one of the iconic Finger Lakes in New York State and a very popular recreational body of water," said Chad DuMars, Lake Assault Boats Vice President of Operations. "We are proud to have the opportunity to engineer and manufacture a craft ideally suited for Owasco Fire Department's protection area." ground-based firefighting operations The Owasco Fire Department's V-hull craft features a 9-foot, 6-inch beam and a carrying capacity of 3,500 lbs. It is powered by twin Yamaha four-stroke outboard engines (rated at 225 HP each). The boat is equipped with a walk-around pilothouse offering an interior clearance height of 76-inches. The ergonomic helm station and dash console includes a 12-inch Garmin touchscreen integrated with GPS, sonar with SideVu and DownVu, Chart Plotting, and Forward Looking Infrared (FLIR). Other features on the Owasco FD craft include a 1,250 GPM Darley fire pump powered by a dedicated 4.3 liter engine, stainless steel plumbing, a TFT monitor, three 2.5-inch discharges, and connections for a five-inch large diameter hose (LDH) to support ground-based firefighting operations. A proprietary sea chest design prevents cavitation and assures proper water flow.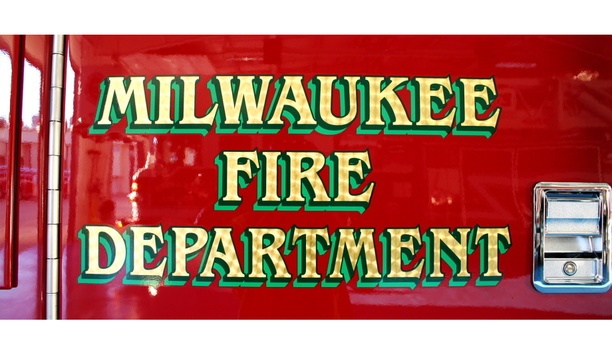 Pierce Manufacturing Provides Two Custom Pumpers For The Milwaukee Fire Department
Pierce Manufacturing Inc., an Oshkosh Corporation company, announces that it has secured an order of two custom pumpers for the Milwaukee Fire Department in Wisconsin. The new pumpers will be built on the Pierce® Enforcer™ custom chassis, and will address the community's fire safety and emergency response needs for shorter apparatus with greater turning radius and maneuverability. The Milwaukee Fire Department placed the order in partnership with exclusive Pierce dealer for Southern Wisconsin and Iowa, Reliant Fire Apparatus. "It was critical to spend time making design revisions from the current pumpers in our fleet to address the changes our department has faced," said John Litchford, Deputy Chief of the Fire Support Division, Milwaukee, Wisconsin. Designing new pumpers "As we see increases in call volume and a need for our equipment to perform at a higher level, we are confident that the thoughtful engineering and design of the new pumpers will result in a superb resource to aid the public." With 30 fire stations and staffing of 196 personnel per day, the Milwaukee Fire Department covers over 96 square miles that make up the Midwest's most densely populated city, situated on Lake Michigan's western shore. The new custom pumpers will replace engines that have surpassed 18 years and a total of 26,000 hours of service while meeting several needs for greater maneuverability – particularly during times of extreme winter weather. Supplying quality apparatus We were particularly interested in the ancillary safety features that Pierce offers" Chief Litchford continued, "We were particularly interested in the ancillary safety features that Pierce offers including increased storage that can hold essential gear used during a response, reduction of the wheelbase that make the engine more maneuverable for drivers, increased hearing protection from sirens, and clean cab technology helping to reduce exposure to carcinogens. Pierce's Carcinogen Awareness & Reduction to Exposure (CARE) program helps us protect our most valuable assets – our firefighters." "Throughout our 21-year relationship with the Milwaukee Fire Department, we've seen how committed the department is to protecting its firefighters and providing the highest level of service to the City of Milwaukee, and our team is proud to supply quality apparatus that allow them to focus on the lifesaving work they do each day," said Scott Krueger, Founder and President of Reliant Fire Apparatus. Low hose bed configuration "With a firefighting fleet made up entirely of Pierce apparatus, it is an honor to be chosen again to assist with the 77th and 78th Pierce apparatus order the department has placed with our team. We look forward to continuing our partnership to support the department's needs into the future." The Milwaukee Fire Department's new pumpers will feature an Enforcer cab and chassis, cramp angle of 50 degrees, low hose bed configuration with 500-gallon water tank capacity, single stage Darley® 1,500 GPM pumps, Cummins® L9 engines, and full-height storage compartments with enclosed ground ladder storage.