MSA FIREFIGHTER UNIFORM ACCESSORIES
(1)
Browse FIREFIGHTER UNIFORM ACCESSORIES
Firefighter Uniform Accessories products updated recently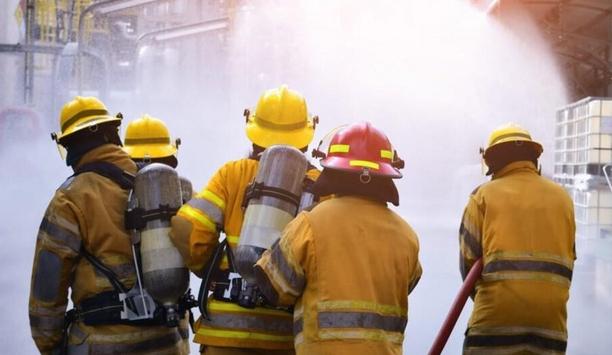 Need For Wearable Technology In Mission-Critical Environments
The front line fire and rescue teams have had their hands full during the pandemic, more so than one might think. In the UK, for instance, fire and rescue teams attended more than half a million incidents throughout 2020, with more than 150,000 of them regarded as serious fires. Across the Atlantic, the US Fire Administration has reported 42 firefighter fatalities so far this year, despite swathes of the country still being in lockdown as the vaccine rollout continues to pick up the pace. These figures are down on previous years, but only by a very slight margin. firefighters work Endlessly Despite much of society going into a form of hibernation to protect themselves and loved ones from the spread of COVID-19, firefighters are among the many frontline workers still putting their lives on the line to keep us safe, and their job hasn't changed. If anything, they've been exposed to even more risk than usual in carrying out their frontline duty, from putting our fires at homes and businesses to maintaining a presence at protests. Put simply, the firefighters are putting themselves at risk every day. Attention has therefore turned to ways everyone can mitigate that risk and keep the front-line workers safe, such as hands-free critical communications equipment and protective gear. Those on the front line have been considering these technologies very carefully since the beginning of the pandemic, re-evaluating how they can best be used to facilitate social distancing and reduce contact without compromising on mission-critical activities. protective, wearable technology 'Smart PPE' is a new generation of protective, wearable technology that can keep front-line workers safe, connected They say necessity is the mother of invention, and that certainly holds in this instance. The rise of so-called 'smart PPE' represents a new generation of protective, wearable technology that can keep the front-line workers safe, connected, and mobile - all vital prerequisites to a team of fast-moving firefighters during a global pandemic. Seamless mission-critical communication All front-line workers need to be able to maintain contact with one another during busy shifts whilst also staying safe and keeping their distance from one another to limit the spread of the virus. That's as true for nurses as it is for warehouse staff. However, mission-critical front-line workers such as paramedics, police officers, and firefighters frequently find themselves in noisy, hazardous environments that require fast movement and near-instant reaction times. Smart PPE Firefighters in particular can rarely afford the time to handle a hands-on radio unit or interface with buttons and switches to get a message across to their colleagues. They need to be able to speak to their colleagues on the other side of a burning building or across a crowd of people as if they were in the same room together, without the need to handle any additional equipment or touch surfaces unnecessarily. Doing so slows them down and could increase their chances of catching COVID-19. That's where Smart PPE comes in. Smart PPE is a future-proof approach to mission-critical comms that combines protective gear like helmets, visors, and overalls with wearable technology Cardo Crew Pro-1 Smart PPE is a future-proof approach to mission-critical comms that combines protective gear like helmets, visors, and overalls with wearable technology. This technology can be manufactured into the PPE from the beginning, or retrofitted into existing equipment to gain the same effect. Take the Cardo Crew Pro-1 for instance. It's a lightweight mesh communication module that fits inside equipment such as ear guards, helmets, and visors without compromising on comfort or safety. It's designed specifically to allow PPE manufacturers themselves to integrate mission-critical comms technology into their equipment, massively increasing its value and usefulness to teams on the ground. Mesh communications technology It can be voice-activated, making it ideal for COVID-secure environments where contact should be minimum This kind of mission-critical, comms-enabled PPE is built on a technology known as 'mesh communication'. While not a replacement for PMR or cellular communication altogether, a mesh-based intercom system is quickly becoming the technology of choice for small teams who need to exchange information quickly, reliably, and securely. One of the greatest advantages of wireless mesh communication is that it operates as a self-sufficient standalone network, with no need for a 'base station' and zero dependence on cellular reception. It can be voice-activated, making it perfect for COVID-secure work environments where contact should be kept to a minimum. It also enables two-way conversation at a range of up to 3,000 meters, making it ideal for busy front-line teams working in the field. Beyond emergency services Even with vaccine rollouts firmly underway, everyone is likely to be mindful of social distancing and reduced contact for some time yet, particularly as new variants of the virus emerge and people take their first tentative steps toward international travel. Therefore, there is a likeliness to see wireless mesh communication technology extend beyond frontline emergency services and into other environments such as hospitals, warehouses, factories, and anywhere that requires teams to communicate while maintaining social distancing and keeping contact to a minimum. Development of new technologies The surging popularity of wearable technology and mesh communications is likely to strengthen the relationship between PPE manufacturers and their customers, resulting in even more innovation in the PPE industry. Organizations such as fire and rescue teams will continue to push themselves to find new, forward-thinking ways of carrying out their duties safely - not only in a way that enables hands-free, COVID-safe working but in a way that allows them to stay in lockstep with their colleagues with minimal effort. The impact of COVID-19 on the fire industry has no doubt thrown up challenges, as it has with every frontline sector, but the response to those challenges has been overwhelmingly positive and the future of the industry will be better for it.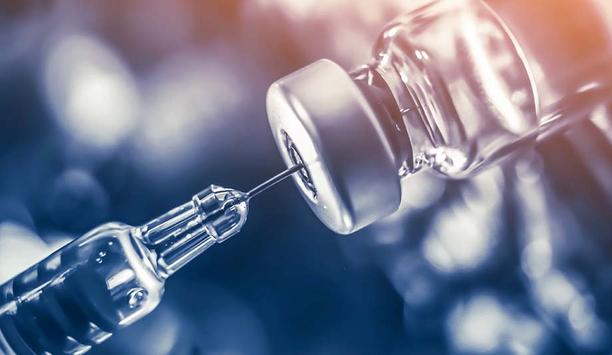 Firefighter Health: Precautions to Take During Flu Season
This time of year we remind communities to change their smoke detector batteries, advise them how to be safe while cooking during the holidays and, for those of us in wildland fire-prone communities, encourage them to follow the "Ready, Set, Go" model to properly prepare. But there's another dangerous "season" out there we need to be aware of. In addition to Covid–19, flu season is among us and, as with fire, it's important to take preventive measures and prepare your resources (you!). When it comes to being exposed to airborne and bloodborne pathogenic germs, firefighters are among the most at risk. And this is not just a little inconvenience that one or two sick days can cure. Emergency rooms become saturated this time of year with people suffering from the flu, which generally peaks between December and April. Harvard Medical School estimates that 36,000 people die and more than 200,000 are hospitalized each year in the U.S. due to flu. So, how's your personal "Prevention Bureau" doing? Are you taking preventive measures to mitigate your risk for flu? Have you and your family received the flu vaccine? How about those you work with? Are you stocked up on over-the-counter medications? If you think about it, firefighting and "flu fighting" are very similar. Both start out small, but if not rapidly attacked, they develop into a much worse situation. Let's look at this similarity a little more closely. Firefighting versus flu fighting: Incipient stage 36,000 people die and more than 200,000 are hospitalized each year in the U.S. due to flu Fire - This first stage begins when heat, oxygen and a fuel source combine and have a chemical reaction resulting in fire. This is also known as "ignition" and is usually represented by a very small fire that hopefully goes out on its own before severe stages are reached. Recognizing a fire in this stage provides your best chance at suppression or escape. Cold/Flu - The incipient stage is the incubation period, or the time it takes for a person who has been exposed to the virus to become infected (think of infection as ignition). The Merck Manual's Online Medical Library section on influenza reports the incubation period may be from one to four days (first stage), averaging about 48 hours from exposure. Controlling the spread Fire - As the fire grows, the structure's fire load and available oxygen are used as fuel for the fire. The fire starts rapidly spreading to other parts of the building, creating more damage. It is during this shortest of the four stages when a deadly "flashover" can occur, potentially trapping, injuring or killing firefighters. Cold/Flu - The U.S. Library of Medicine defines communicability as the time it takes an infectious agent to be transmitted from an infected person to another person (spreading rapidly). Once infected with influenza-type illnesses, the affected person may begin shedding the virus to others one day before signs and symptoms occur and continue to be contagious after symptoms begin. Prevention is all but impossible at this stage of the disease. Fully Developed When it comes to being exposed to airborne and bloodborne pathogenic germs, firefighters are among the most at risk Fire - When all combustible materials have been ignited, a fire is considered fully developed. This is the hottest phase of a fire and the most dangerous for anybody trapped within it. At this point our efforts are generally focused on protecting endangered structures. We surround the fire, apply massive amounts of water and let the contents burn themselves out. Cold/Flu - Fighting a fully developed flu virus is not much different. You position yourself in a safe place (usually your bed!) and "surround and drown" with fluids/rest. You generally cannot do much except protect exposures (others) by limiting your contact with them. The Firefighter Flu Prevention Bureau If fighting the flu has similarities with fighting fire, we can extend the metaphor a little further. In the fire service we rely on our Fire Prevention Bureau to educate the public as to the common causes of residential fires. We understand that a little education goes a long way in preventing fires. Well, the flu is no different, except this time we're educating ourselves! So, following are a few tips from your friendly Flu Prevention Bureau: Wash your hands. The most important prevention measure for preventing colds and flu is frequent hand washing. Rub your hands with warm soapy water for at least 20 seconds to slough germs off the skin. Get a flu vaccine. Within two weeks of getting a flu vaccine, antibodies develop in the body and provide protection against flu. Children receiving the vaccine for the first time need two doses delivered one month apart. If you get exposed or get sick, take action. Give yourself time to recover, with plenty of fluids and lots of rest. Seek medical help if your symptoms don't improve. Antiviral medicine may also help prevent flu if you have been exposed to someone with flu symptoms. In this flu season, take steps to protect your health and the health of those around you. Check with your NFPA—or Nearest Family Physician Available—for additional preventive measures on reducing this risk!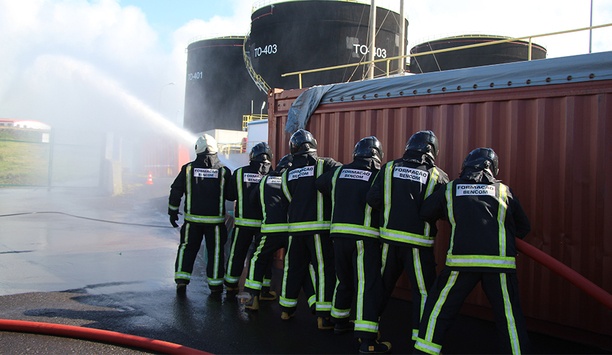 PPE Designers To Develop Innovative Solutions For Firefighters With Maximum Protection And Comfort
Across the world, fire and rescue services vary greatly, and each will have their own unique circumstances and challenges to deal with. Firefighters in the USA and Australia are more likely to face wildland fires, whilst in the Middle East, firefighters deal more regularly with transport related fires involving hazardous materials. In many European countries, less than 10% of call-outs are fire related at all, with firefighters much more likely to attend traffic accidents, medical emergencies or flooding. A range of different climates also provide firefighters with specific challenges. Providing Optimum Protection These fabrics can offer resistance to fire, increased breathability, control of moisture, and a lighter weight Firefighters in hot and tropical Indonesia for example, will have different requirements to those in hot and arid South Africa, whilst those in Scandinavia operate in more temperate and cooler conditions. It's important, therefore, that PPE manufacturers can provide a wide variety of options to suit particular environments and operations. PPE must be highly effective, comfortable, and suitable for the job in hand, wherever in the world the firefighters are operating. Selecting the right fabric for your PPE is the first step in providing optimum protection for the environment you are operating in. International fibre and fabric manufacturers have developed a number of highly specialized materials offering a range of benefits. Used in combination, these fabrics can offer resistance to fire, increased breathability, control of moisture, and a lighter weight. Best Quality Firefighting Garments Highly specialized and lightweight fibers for the outer-shell of a garment, for example, can provide outstanding air permeability and breathability, allowing metabolic heat to escape, whilst of course providing vital protection against the intense external heat and flames of a fire. The best quality firefighting garments combine this type of outer shell with an inner moisture barrier and liner system which draws moisture away from the skin, helping to keep the body cool and dry. Strenuous work in a hot environment causes profuse sweating, and if this sweat is not able to evaporate, the body is not able to cool itself effectively. Once the most appropriate fabric is chosen, the design and style of a garment also plays a crucial role in contributing to a firefighters' safety. Maintaining A Comfortable Body Temperature Search and Rescue operations often take place once the immediate danger of flame is removed Whether operating in bushland, floods, on the roadside or even in extremely cold conditions, firefighters need to maintain a comfortable body temperature and stay dry. They are also likely to need to crawl, run, and climb to carry out the job in hand. Any protective clothing must be ergonomic and has to be able to work with them rather than hinder them. As a result, over and above the full structural firefighting garments available to FRSs, manufacturers have also developed innovative designs for more specific applications. For example, Search and Rescue operations often take place once the immediate danger of flame is removed, with USAR or technical rescue teams entering enclosed and confined spaces where high temperatures and often toxic smoke are hazards. Particular Protection Against Radiant Heat USAR firefighting garments therefore should be tear and puncture resistant, provide protection against blood-borne pathogens, offer physical protection at high risk points such as the knees and elbows, provide a high level of flexibility to afford maneuvrability in confined spaces, and crucially be lightweight and breathable to minimize heat stress. Alternatively, for firefighters engaged specifically in combatting forest and wildland fires, garments need to provide particular protection against radiant heat, and ideally feature a double layer of fabric to protect against sharp thorns and undergrowth. Today, many FRSs across the world use a combination of structural and technical rescue garments which can be particularly useful when faced with a range of operations requiring different levels of protection. Rescue jackets are worn with standard structural trousers when responding to a road traffic accident International Standards Of Performance For PPE Frequently, rescue jackets are worn with standard structural trousers when responding to a road traffic accident, for example. So long as these garments are tested and approved as compatible before they are used in combination, this can serve to improve ergonomics and comfort, and crucially can contribute to the lowering of heat stress in firefighters. There are currently three major standard-setting bodies on the world stage To ensure the best level of protection, most countries demand conformity with both national and international standards of performance for PPE. There are currently three major standard-setting bodies on the world stage, the National Fire Protection Association (NFPA) which covers the USA, Latin America and the Asia/Pacific region, the European Committee for Standardisation (CEN) which covers Europe, and the International Standards Organisation (ISO) which sets standards worldwide. Lighting And Communications Equipment In addition, each country will have its own National Standards Body (NSB), setting standards for its own specific interests. Ultimately, it is down to the customer to decide which standards they would like their PPE to follow. The best manufacturers can create PPE to meet a number of these standards simultaneously. These include alternative types of trouser front, leg openings and knee-pads, as well as cuff styles on fire coats Different countries, and even individual FRSs, often have particular additional requirements for their PPE, which can simply be down to style or color preference, or to accommodate particular tools or equipment they use. These include alternative types of trouser front, leg openings and knee-pads, as well as cuff styles on fire coats. Operational safety features such as integrated safety harnesses and drag rescue devices can also be specified. In addition, firefighter accessories including tools, lighting and communications equipment all have to be carried safely requiring a selection of loops, straps, D-rings, glove hooks, and pockets and flaps. Developing Innovative Solutions Finally, most FRSs aim to present a professional and clearly recognizable identity to their communities, so particular colors and badging can be an important feature of PPE. This has led to the introduction of a wide range of fabric colors and the increased use of Velcro fixings for identification badges with logos, names and roles being individually catered for. Called upon to handle an ever-increasing variety of challenges, in contrasting climates and situations, firefighters across the world are certainly faced with complex environments in which to operate. By carefully studying these conditions and listening closely to customers, PPE designers and fabric manufacturers will continue to work together to develop innovative solutions to meet these specific needs and create optimum garments for maximum protection and comfort.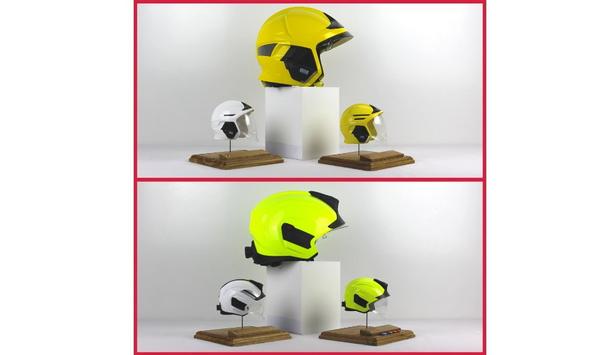 Firefighter Creates Bespoke Miniature Replica Helmet Gifts Exclusively For The Fire Fighters Charity
A firefighter has teamed up with MSA Safety and Rosenbauer to create and release a series of handcrafted miniature helmet gifts exclusively for The Fire Fighters Charity, to raise funds to support its vital services. Adam Tubby, a whole time and retained firefighter with Suffolk Fire and Rescue Service, wanted to create a lasting memento for firefighters like himself once they retire from the service – by recreating their most vital piece of equipment. The miniature replica helmets – which are copies of real-life helmets by MSA Safety and Rosenbauer - are mounted on a solid oak plinth and presented in a display case. Each one is created using a 3D printer over several hours, before being mounted by hand and personalized according to the buyer's specifications. Miniature Replica Helmets - Memento Adam said: "Firefighters' helmets get put through a lot; sweat, smoke, grime. But cleaning regimes have got a lot better in recent years, which means that helmets can be passed on. So firefighters don't always get to keep them when they retire, like they used to." For retiring firefighters to have something like a helmet to remember their time "My father-in-law was a firefighter and kept his. It's a good memento of his service and what he did in his career… I thought, what can I do to create the same, but make it something that's modern and smaller? It would be great for retiring firefighters to have something like a helmet to remember their time, but a real one is also too big to have in your front room on a piece of wood! So the idea for the miniature version hit me, and it just went from there." Personalizing Helmets The replica helmet gifts are available in two styles: the MSA Safety Gallet F1 XF and the Rosenbauer Heros Titan Helmet. They can either be ordered in yellow or white and can be personalized with rank markings, from firefighter right through to CFO. There's also the option of having a personalized BA Tally or Engraved Plaque, and Service Medal Ribbons can also be added. Once ordered, they can be completed and shipped directly within 21 days. Authority Comment Kevin Biles, The Fire Fighters Charity's Sales Manager, said of the new addition: "We are very excited to be working with Adam on these exclusive replica helmets and want to say a very big thank you to MSA Safety and Rosenbauer for their support with the project too." "Our shop has a fantastic range of gift items and this new addition of miniature replica helmets gives our customers the best in quality and choice when it comes to celebrating the dedication and service our fire and rescue service beneficiaries provide. Of course, all money raised from the sale of the helmets also goes straight back to the Charity, helping us to support firefighters in need across the UK."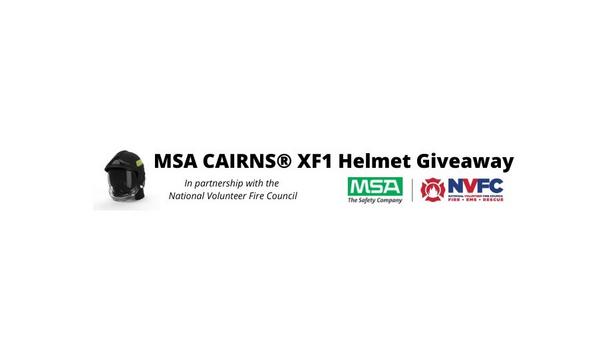 MSA To Provide A Personalized Cairns XF1 Fire Helmet To NVFC Member Through A Giveaway
MSA and the National Volunteer Fire Council (NVFC) are working together to provide the most innovative and up-to-date technology to help first responders improve their health and safety. Through June 30, NVFC members can enter to win a personalized MSA Cairns® XF1 Fire Helmet. To be eligible to enter, applicants must be an active U.S. volunteer firefighter and a member of the NVFC. Integrated light module This is the second of three entry periods to win an XF1 helmet throughout the year. One recipient will be randomly selected after each entry period. The jet-style design of the Cairns® XF1 Fire Helmet reduces snag hazards, provides a personalized fit, and houses its own integrated light module. Plus, the soft goods are removable, washable, and replaceable, helping firefighters align with cancer awareness programs as written by the Firefighter Cancer Support Network. Approvals include NFPA 1971-2018 Structural Firefighting and NFPA 1951-2013 Rescue and Recovery. The current entry period is open through June 30, 2021.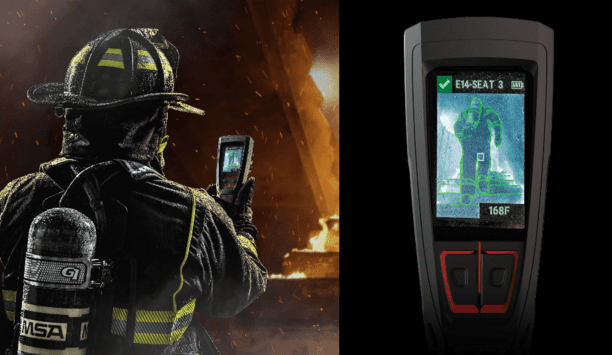 MSA Safety Launches LUNAR Cloud Technology For Firefighter Search And Rescue
Over the decades, milestones in firefighter safety technology have included the open-circuit breathing apparatus, flame-resistant fabrics, thermal imaging cameras, and Bluetooth communications. Safety equipment manufacturer, MSA Safety Incorporated announced the availability of LUNAR, a new multi-purpose search, and rescue device that promises to join that list of breakthrough innovations. While production will begin in the coming weeks, LUNAR is available to order now. cloud technology Resulting from years of working directly with Firefighters, LUNAR uses Cloud technology to deliver breakthrough fire-scene management capabilities for incident commanders. According to Nish Vartanian, MSA Chairman, President, and CEO, the introduction of LUNAR delivers on the company's vision of being a leader in introducing new-to-world technology that protects lives. Fire management "We've always viewed LUNAR, and its many potential applications, as a major leap forward and game-changer when it comes to enhancing fire-fighter safety," Mr. Vartanian said. "Based on firefighter feedback that our team gained through months of LUNAR testing and evaluations with hundreds of firefighters around the world, we believe LUNAR has genuine potential to change the way fires are fought." Understanding the need Mr. Vartanian added that LUNAR is a great example of how MSA has continued to invest in R&D and technology to advance its vision to protect firefighters from head to toe. "We understand our customers at a deep level. We listen, watch and learn from them. With this knowledge, we then look for ways to use new and advanced technology to help keep them safe, solve their problems and simplify their day." LUNAR Features Versatile in design, LUNAR can be used as a stand-alone device or as part of an MSA SCBA system. Key features include: Exclusive Firefighting Assisting Search Technology (FAST), which combines distance and direction data enabling firefighters to locate separated teammates faster, when every second counts Personal thermal imaging enhanced with edge detection for improved situational awareness Direct cellular cloud connectivity to send real-time stats, including estimated air pressure, time remaining, and battery life, to Incident Command and remote monitoring personnel for a complete safety point-of-view A unique LUNAR-to-LUNAR network that automatically keeps each device connected to all others on-scene Overcoming challenges According to the National Fire Protection Association (NFPA), there has been a 35% increase in Mayday calls during the COVID pandemic, with more than 40% of Mayday calls never making it to Rescue Teams due to radio communication challenges. Connected Technologies Jason Traynor, MSA's General Manager of Global Fire Service Products says that LUNAR will help alleviate that burden. "The ability to stay connected to your team can make all the difference during a rescue mission," Mr. Traynor said. "To be prepared for a day that is more unpredictable than ever, firefighters need advanced tools that can help connect those who are on- and off-scene and support the safety of the entire team with accountability, technology, and data-driven insights. LUNAR will do that and more." Enhances situational awareness LUNAR is designed for every firefighter on-scene, both on-air and off LUNAR is designed for every firefighter on-scene, both on-air and off, and represents the latest addition to a suite – or ecosystem – of MSA products the company has branded as "Connected Firefighter." When used together, MSA's suite of Connected Firefighter products creates greater visibility, increases efficiency, promotes situational awareness, and enables accountability, all while creating an enhanced network of safety. Increased firefighter safety "Accounting for all firefighters on a fire ground has been a consistent need expressed by the fire service profession, but it's also been a challenge for many manufacturers to solve," said Mr. Traynor. "When we looked at what we could do to enhance firefighter safety, we used a holistic approach to build a connected ecosystem of products where the sum of the individual components is the key to keeping firefighters better connected – and safer – than ever before." Connected Firefighter platform Other products comprising MSA's Connected Firefighter platform include: The company's industry-leading G1 and M1 SCBA; The MSA HUB, a small, modular device that enables on-scene data and asset management; FireGrid, which gives incident commanders the ability to evaluate and manage multiple situations at one time from any location; and The company's ALTAIR 4XR and 5X portable multigas detectors with embedded Bluetooth technology provide complete scene management. Responding to Increased Demand Despite the ongoing global pandemic, LUNAR has already generated high interest and demand from across the globe. To respond to this growing need, the company also announced the launch of a live, virtual demo experience that will allow firefighters to learn more about LUNAR from the comfort of their own fire station, at a time that works best for them. Live, virtual demo experience The launch of this immersive, online experience is another example of the company's ongoing investment in a go-to-market strategy that delivers a unique experience in a way today's customer expects. "As we continue to deliver on our mission of protecting people at work, I feel we are uniquely positioned to exceed the expectations of those who put their trust in the MSA brand and do so in a way they've come to expect from MSA – with speed, agility, and customer-driven innovation," concluded Mr. Vartanian.