Husky Portable Containment Firefighting Accessories
(12)
Browse Firefighting Accessories
Apparatus and Equipment Accessories products updated recently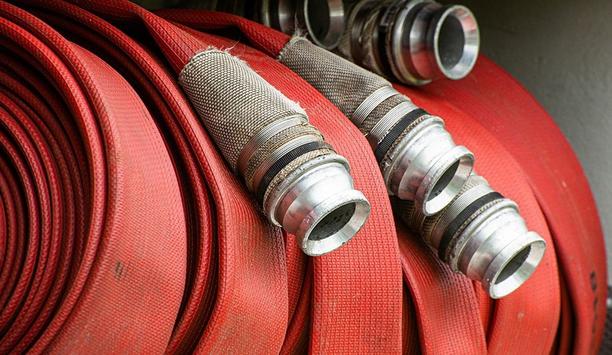 Smart Specifications: Differences Between British And European Fire Safety Standards Part 2
In my latest article for TheBigRedGuide.com, I gave a detailed explanation of the differences between British and European fire safety standards. To help shed some light on this complex world, our team of fire safety experts concisely defined the Euroclass and UK standards, and explained how they differ. This article will aim to go one step further and demonstrate what architects, specifiers, and other industry professionals should be looking for when they're selecting materials and products for a project. While each build is unique, several key factors should always be considered by those responsible for the specification of materials. Keep reading for four factors to consider. Thermal barrier usefulness This is the most important point. It's crucial that what is specified for the final project is identical to the configuration that was tested. If it's not, delve deeper and search for comparative data between two or three possibilities. The Field of Application in the Classification Report may cover the configuration, but that should be based on test evidence. Glassfibre insulation is Euroclass A, but it melts in a fire, completely negating its thermal barrier usefulness It should be emphasized that Euroclass B isn't inherently worse than A, nor is Euroclass A necessarily better – it depends on the application. Glassfibre insulation is Euroclass A, but it melts in a fire, completely negating its thermal barrier usefulness. Equally, combustible material such as wood cannot attain A, as it will eventually burn due to its chemical make-up. This doesn't make it any less attractive, or useful. As a building material - if correctly specified and fire protected – it is an entirely appropriate selection. The correct rating for each build is dependent on several factors unique to each project. Active fire protection These include, but are not limited to: The actual application requirements. This involves considering important aspects including the height of the building, and what its intended purpose will be. For example, a residential property will be in use 24 hours a day including overnight, and this will create different safety requirements compared to buildings such as offices which are usually only in use during daylight hours. Fire contribution to a system. Assessing how a material contributes to the overall fire risk the proposed system carries, and what measures have been taken to protect the structure in the event of a fire. This includes both passive and active fire protection measures. Consideration of engineering implications of each available product. This requires a careful analysis of how each potential material choice differs. For example, one product may be heavier or much harder to install than another which will impact how fit-for-purpose it really is for the project in question. How products react when they're exposed to external weather conditions should always be carefully assessed. Some materials degrade as a direct result of exposure to the elements. Over time this will negatively impact the building, and in some cases make it far less safe and secure as the building ages. Better-Informed decision Go beyond product classification reports and hunt for test reports on proposed systems Be wary of claims about individual products. These can become null and void when they are incorporated into a larger system, as the overall fire rating will almost certainly change. This could result in the whole being significantly less than the sum of its parts, completely jeopardizing the safety of the end-users or occupants. Before you commit to a product, make sure you're well versed in what you're working with. Go beyond product classification reports and hunt for test reports on proposed systems. This will help you make a conclusive, better-informed decision. However, be warned, this information is notoriously hard to come by, so persistence is key. Make sure only to specify products that have been accredited by a third-party lab. Fire protection treatment Although it's still legal for companies to self-certify materials, the practice allows for sub-standard products to become readily available on the market. Along with a third-party accredited test certificate, request CE documentation to ensure the product in question is still CE rated after its fire protection treatment. Some treatments will invalidate the CE mark on the non-treated product. The practice allows for sub-standard products to become readily available on the market There's no denying that current safety standards are wildly complex and, even for the most experienced specifier, can take time to get your head around. Under time pressure, you need peace of mind, so it would be worth involving certified fire safety consultants from the outset. They will ensure you're specifying certified, fit-for-purpose materials, prioritizing the build's safety and offering clarity. Robust fire safety A collective concerted effort to thoroughly understand and select products that are tried and tested to create robust builds can only ever be a positive step. Combine this with the Government's new building safety bill due to come into effect in August (2021), and the fact that many more companies are investing heavily into R&D to produce new materials with safety at the forefront, means the future is looking bright for construction, with robust fire safety baked into a building's DNA as standard. Developing more state-of-the-art technology and facilities, and sourcing highly-skilled, knowledgeable professionals to ensure all bases have been fully covered, will achieve better fire-rated products and systems across the board. This is key to achieving the outcome we are all chasing - safer material choices that work as a system and deliver excellent fire protection.
Protecting The Front Line with Self-Contained Breathing Apparatus
The product lifecycle of self-contained breathing apparatus (SCBA) is approximately ten years, during which time technology inevitably advances considerably in terms of digitization and ergonomics. Increasingly pertinent in the last decade, and especially since the Pandemic, has also been how kit can be designed for ease of cleaning to ensure firefighters are protected from harmful carcinogens as well as bacterial and viral infections. When we surveyed UK firefighters as part of our 'Health for the Firefighter campaign' to understand their concerns about exposure to carcinogens and COVID-19, we learned the vast majority (84%) admitted they were concerned about the risk of cancer, while more than two thirds (68%) fear the impact COVID-19 might have on their long-term health. Unequivocal statistics that warranted action in our technology design. Proven support infrastructure The SCBA product lifecycle allows time for medical and safety technology manufacturers, such as Dräger, to take advantage of technological developments, and thoroughly test and future proof them. It also enables us to utilize our direct relationships with the UK fire services, not only to accommodate day-to-day feedback, but also to learn from our support of major incidents such as Grenfell and the Salisbury poisonings. The SCBA product lifecycle allows time for medical and safety technology manufacturers Following Grenfell, for example, we saw the critical importance of reducing the weight and size of kit to allow for greater ease of movement, as well as how critical it is to have the equipment underpinned by a resilient and proven support infrastructure. AirBoss, Dräger's latest SCBA offering represents a digital progression, where telemetry and connectivity provide the information, and enable the integration and communication required to further firefighter health and wellbeing. This decade's launch is no longer a product, but a connected solution. Providing vital information Digitalization is critical. Dräger offers the only operationally-proven telemetry solution, providing vital information which is automatically communicated between the wearer of the BA set and the Entry Control Point – without the need for either team to stop what they are doing to send communications. These signals include manual and automatic distress signals, team withdrawal signals, cylinder pressure, time to whistle and time of whistle. This system also provides comprehensive data regarding the firefighters' condition in relation to their SCBA, proving invaluable to those responsible for monitoring and directing BA crews. A new feature, unique to Dräger's AirBoss, are 'Buddylights' fitted to the backplate, which use digital data from the set to provide immediate and highly-visible signaling to firefighters of their team's cylinder pressures and physical condition. AirBoss, Dräger's latest SCBA offering represents a digital progression Providing comprehensive data The optional Dräger Web client enables workshop, management and command staff to utilize the data created on scene wherever they are, and at any time. Reporting can also be customized for multiple purposes from user or device history to synchronized overviews of complete incidents. The ability to create incident reports on evidential and tactical levels provides comprehensive and valuable post-incident analysis tools for debrief and training purposes, or in case of any investigation or inquiry. For future developments, Dräger is working with partners in the UK looking at solutions for location and tracking of firefighters and providing comprehensive data regarding the firefighter's condition at an incident. The latter includes information such as body core temperature, heart rate and other vital statistics to allow external teams to monitor the early signs of heat stress and other physiological strains. Reducing physical stress Another critical focus is ergonomics. Improved wearer comfort has been achieved through working with medical experts in this field and shifting the center of gravity relationship between the human body and the set, creating a ventilated space by the SCBA backplate. AirBoss' new Type 4 Nano cylinder provides a continued reduction in cylinder weight AirBoss' new Type 4 Nano cylinder provides a continued reduction in cylinder weight, which can also reduce full life costs to the service, as the Nano has an unlimited life. These improvements reduce physical stress on the firefighter which in turn reduces the risk of strain-related injuries and fatigue when wearing the set operationally as well as extending the working duration due to reduced physical exertion. With AirBoss, the weight is carried by the legs and pelvis rather than the back. Improving personal comfort This not only improves personal comfort, but also enhances mobility within confined spaces and while descending ladders and stairwells. In an industry where a split second can be the difference between life and death, these advancements are crucial. On a practical level, the Dräger AirBoss has also been designed to be 'snag-proof', ensuring that all attachments are neatly connected or integrated to mitigate any risk of snagging or entanglement. Alterations have been made to maximize cleaning practices, including the introduction of smoother, non-absorbent, water-repellent surfaces to make equipment easier to wipe down and decontaminate. Numerous attachment points have also been included so kit can easily be dismantled for optimum cleaning – both mechanically and by hand. To this point, some fire services are moving towards mechanical washing systems, which provide complete consistency in washing temperatures, concentration of detergent, speed and temperature of drying. Vehicle charging systems The Dräger AirBoss solution is centered around four pillars: usability; safety; serviceability and connectivity Recognizing the financial pressures which the fire services are under, the AirBoss system is designed to enable fire services to maximize the significant investment already made into their SCBA and telemetry. With a modular design, AirBoss is backward compatible with existing Dräger PSS SCBA and Telemetry, enabling elements of the existing set to be upgraded over a period of years. This reduces the requirement to purchase a full suite of new equipment including telemetry, pneumatics, electronics, integrated communications, cylinders and vehicle charging systems. Overall, the Dräger AirBoss solution is centered around four pillars: usability; safety; serviceability and connectivity. These pillars, which support utilizing digitalization, improved ergonomics and ease of cleaning, are how we intend to protect our firefighters' health and wellbeing, both today and as our future-proofed technology advances to meet the needs of tomorrow.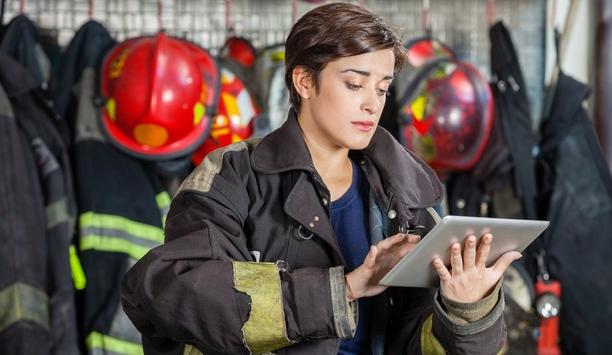 Securing The Next Generation Of 911
While conducting research for my 2021 Wisconsin Public Safety Commission (WIPSCOM) conference presentation, it became immediately clear that securing the nation's public safety answering points (PSAPs) is no longer just an IT challenge. Shifting from an analog to digital operating environment — the next generation of 911 — will require strategic investments into three key areas: people, processes and technology. As call center technology evolves nationwide, the need for greater cybersecurity in the public safety space has never been more important. Internet connected systems Traditionally, PSAPs received calls over analog telephone networks consisting of copper wire transmission lines and dated cellular networks spanning a smaller area in close proximity to call centers. With the introduction of next generation 911 and the accompanying digital telephone networking services, the exposure of call center networks to would-be attackers has exponentially increased, allowing potential access from anywhere due to internet connected systems. A good analogy is thinking of the points of entry into your home. The legacy method allowed two entries into the house — the front and back door. With the introduction of digital networks, there are now more doorways into the home or call center, signifying a greater need for security and employee awareness of threats. Many of these recent attacks target people using a technique called social engineering First responder organizations Since 2019, there have been approximately 300 cyberattacks impacting local government agencies, including police stations, emergency dispatch call centers and first responder organizations. 125 of these attacks specifically focused on public safety agencies such as firefighting or EMT stations, with attacks reported in all 50 states. More recent examples show that cyberattacks focusing on our first responders are increasing at an alarming rate. Many of these recent attacks target people using a technique called social engineering. This is when attackers attempt to trick victims through telephone calls and/or emails to assist the attacker in introducing viruses to the network, provide sensitive data or share usernames and passwords to achieve their criminal motives. Cyber criminals' primary objective is to use social engineering techniques to achieve a much more serious attack: ransomware. Critical computer systems Ransomware is a type of malicious software (malware) that prevents access to sensitive files Ransomware is a type of malicious software (malware) that prevents access to sensitive files, data and critical computer systems using encryption that only the attacker can unlock. Victims must pay a random sum of money, usually in an untraceable cryptocurrency, to the attacker who promises to decrypt data once they receive the funds. A look at attacker motivations can help us all understand — and mitigate — the threat to our first responders. Here are three primary reasons why cybercriminals target public safety answering points: Monetary gain: Infecting a PSAP with ransomware can lead to significant payouts in order to restore first response services. Disruption of services: Shutting down critical services can put threat actors in the public eye while also playing a major role in multi-stage attacks. Cheap thrills: Attackers and, at times, even misguided amateurs can target critical services for notoriety or social standing. Mitigating cyber risk The human element, actions or inactions played a direct role in 85% of data breaches Regardless of the motivation, the outcome is generally the same: a disruption of first response services that are critical to protecting our communities and families. According to Verizon's 2021 Data Breach Investigations Report, the human element -- or people's decisions, actions or inactions -- played a direct role in 85% of data breaches. As cyber threats targeting PSAPs and first responder teams continue to grow in number and severity, addressing the threat through employee awareness and education is a good first step in mitigating cyber risk. Here are four steps any PSAP can take now to assess and mitigate cyber threats targeting their organization. Security awareness training Educate employees with security awareness training - Ongoing security training efforts should occur at a general level for all PSAP employees, followed by more targeted, role-based security training for key roles and departments such as call center managers, dispatchers or those with access to sensitive data. General security awareness training efforts should focus on broad but relevant security topics employees are likely to encounter, such as how to identify a phishing email. Security training programs should occur at least annually, and training content reviewed semi-annually Role-based security training efforts should go one step further and include topics like how management should respond to ransomware payment demands or how to verify the identity of external callers asking for sensitive information or urgent payments. Security training programs should occur at least annually, and training content reviewed semi-annually to ensure completeness, accuracy and relevance of training content related to your operating environment. Physical building access Verify and strengthen employee access controls - This includes physical building access and logical access to any information or computer systems your organization operates. Most organizations have several internal or external users such as vendors, cleaning companies and other organizations who come into contact with the offices or other physical locations, increasing the risk of theft or unauthorized access via impersonation or tailgating attacks. Ensure exterior locations are sufficiently secured via electronic badge access or a minimum of key access with code entry. First responders and public service agencies should train employees to visibly display employee badges and report infringements to management in the event an attacker infiltrates the building. Multi-Factor authentication External visitors should be required to announce their arrival in advance to the organization External visitors should be required to announce their arrival in advance to the organization, enter through designated areas, check-in with a receptionist or direct contact, log their entry, show identification and wear a clearly identifiable visitor badge. Access to computer systems that contain sensitive data such as employee records or connections to other state and federal agencies should be secured via multi-factor authentication. Multifactor authentication is a security term referring to authenticating a computer system using several factors, including something you know (e.g., username or password) , something you have (e.g., smartphone) or something you are (e.g., fingerprints or voice pattern). Using two or more factors when accessing a computer system is crucial to keeping the cybercriminals out! Federal threat intelligence Leverage free resources to mature your cybersecurity posture - First responders and public service organizations have many free cybersecurity resources at their disposal. This includes federal threat intelligence via security advisories, which outline vulnerable software or hardware products they use, and direct consultation services from cyber response teams local to the area, which are taxpayer funded. The US-CISA also provides regional consultation services to assist all local government agencies Every first responder and public service organization should consider becoming a member of a relevant Information Sharing and Analysis Center (ISAC) such as the Multi-State Information Sharing and Analysis Center (MS-ISAC), as they provide free threat intelligence services and consultation resources to help boost cybersecurity. The US-Cybersecurity and Infrastructure Security Agency (US-CISA) also provides regional consultation services to assist all local government agencies in maturing their cybersecurity posture. Public service organizations Hire external security firms to identify and correct weaknesses - To the extent allowed by budgets and personnel, first responders and public service organizations should hire external security or audit firms to assess the state of their cybersecurity practices and posture. These firms specialize in security best practices and assess security controls' adequacy across a wide array of organizations. It is often useful to bring these firms in for a fresh perspective on how the organization operates and its vulnerabilities. These engagements are typically performed annually and focus on core computer systems and business processes that involve sensitive data.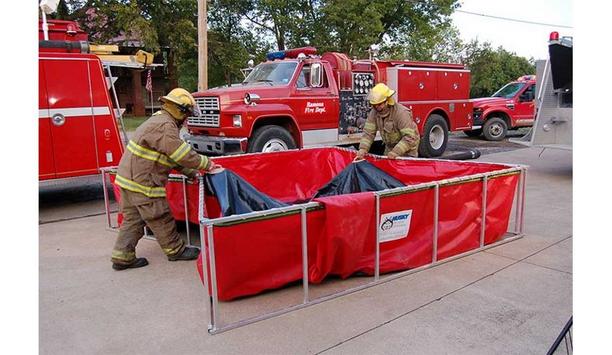 Husky Portable Containment Receives Second Patent For The Portable Liquid Storage Tank With Floor-Mounted Handles
One of Husky Portable Containment's core products is the folding frame tanks and they are proud to announce they have received the second patent for the Portable Liquid Storage Tank with floor-mounted handles. Patent No. 10,518,967, Dec 31st 2019, along with Patent No. 8,746,478, June 10th 2014, provides them with complete protection on their revolutionary invention, 'Easy Lift Handles'. Tear down procedures These handles are dielectrically welded to the folding frame tank liners and provide firefighters with the ability to remove standing water during tear down procedures and they also help fold their tanks with ease by having center-mounted handles in a zig-zag pattern. Firefighters from all over the country have had an initial response saying, "Why hasn't someone thought of this years ago?" Husky's design team puts in tremendous efforts in designing new products and new features for the current product line Husky's design team puts in tremendous efforts in designing new products and new features for the current product line. Standard folding frame tanks over the last 50 plus years have had a fabric chute or drain sleeve that was tied to the top rail of the frame. This would be untied to release the drain sleeve and in turn, drain the tank. Stainless steel buckle system Unfortunately, these could unintentionally come undone and release all the water in the tank during the firefighting process. Not good. Husky changed that back in 2007 with a quick-release drain that has a heavy-duty webbing and stainless steel buckle system that clips to the inside of the liner. The drain sleeve actually drapes over the top rail of the frame virtually eliminating any issues and releases the drain sleeve with one push of the buckle. In 2013 they went a step further and invented the Quick Dump drain system. This is a drop-down framed door that is incorporated into the sidewall of the tank's frame and liner. Release the two d-rings and latch and the door slowly drops down draining the tank in a fraction of the time. This option has become very popular. They received Patent No. 8,733,579 for this invention on May 27th 2014. Husky Helps Local Garden Donating Water Storage Tank
One of Husky's tanks helped save a garden from draught Husky's portable Folding Frame Tanks are most commonly used to store water for fire-fighting purposes. This last summer, however, one of their tanks helped save a garden from drought. Bartlesville First United Methodist Church had tough time keeping their "Garden of Eatin'" Community Garden alive last summer. There wasn't enough rain to keep the plants alive, and they had no way to transport and store water. Husky joined with several local business to help. DASH CF Custom Apparatus Unveiled By Pierce At FDIC 2011
Pierce Manufacturing unveiled the revolutionary cab forward Dash CF custom apparatus at FDIC 2011 There are two Dash CF pumpers on display. Both vehicles feature a 450 hp engine, 70-inch cab with raised roof and an overall height of 9-feet 9-inches. Pierce Manufacturing, an Oshkosh Corporation company, unveiled the all-new Dash CF custom Apparatus at the opening of the Fire Department Instructors Conference (FDIC) in Indianapolis, Ind. The Dash CF features an innovative tilting cab-forward design that repositions the engine rearward and down low between the frame rails, resulting in a wide-open interior configuration. Two Dash CF apparatus were flanked by seven additional Pierce vehicles inside Lucas Oil Stadium in booth #8805/9902. "The Dash CF is designed to meet the situation readiness needs of firefighters: it is, in effect, built around the firefighters and not around the power train and fire pump," said Jim Johnson, Oshkosh Corporation executive vice president and president, Fire & Emergency. "Every component of its cab forward design is engineered to help firefighters prepare for any emergency and respond with confidence. We are proud to showcase its many advantages to FDIC visitors, along with a full range of Pierce aerials, pumpers and rescue vehicles." There are two Dash CF pumpers on display. Both vehicles feature a 450 hp engine, 70-inch cab with raised roof and an overall height of 9-feet 9-inches. Each apparatus also features a 177-inch aluminum body, PUC 1500 gpm pump, 500-gallon water tank, Command Zone advanced electronics and single point service access. The Dash CF is is designed in a way so that firefighters can respond to incidents with greater efficiency Other vehicles on display include a first-of-its-kind aluminum rear mount PUC aerial platform, shown courtesy of the Sister Bay Fire Department in Wisc., that features the innovative Pierce Ultimate Configuration, 1500-gpm single stage pump, pump and roll with two-step shift technology, and a short-jack spread of 12-ft 3-inches. The unit also features a Velocity 70-inch cab with 10-inch raised roof, TAK-4 independent front suspension and side roll protection. In addition, a Quantum pumper, shown courtesy of the Sacramento Metropolitan Fire District, Calif., features an overall height of 9-feet 10-inches, a 152-inch aluminum body and an overall length less that 32-feet. The vehicle is built with a 700-gallon "New York style" water tank, 1500-gpm single stage pump, Husky 3 foam system, and stainless steel plumbing. An Arrow XT Heavy Duty Ladder, shown courtesy of the Stoughton Fire Department of Mass., features a 105-ft aerial device, 10-inch raised roof cab, front and side roll protection systems, blue LED rope lighting on all ladder sections, an aerial collision avoidance system and a 500-lb dry tip load capacity. The Saber pumper on display features an extended cab with 12-inch raised roof, 6-person seating capacity and an overall height of 9-ft 6-inches. The vehicle features a 1,000-gallon water tank, 1250-gpm single stage pump, foam system with 30-gallon foam cell, aluminum body with roll-up doors and standard NFPA ground ladder storage. A Responder pumper, built on a Freightliner chassis and with an overall height of 10-feet, is also on display. This vehicle features an extended cab with side storage compartments, 3-person seating capacity (with a Pierce exclusive center third seat), 1,000-gallon water tank, stainless steel plumbing, and a Command Zone advanced electronics system. Also on display is a 75-foot heavy-duty aluminum ladder built on the Impel chassis. This apparatus features a 70-inch cab length, seating for six firefighters, and a frontal air bag and side roll protection system to enhance safety. The vehicle is equipped with TAK-4 independent front suspension, Command Zone advanced electronics and 101-feet of ground ladder storage. A non-walk-in heavy-duty rescue vehicle, shown courtesy of the Hillcrest Fire Department in NC, is on display as well. This rescue is built on a Velocity chassis with a 220-inch wheelbase, seating for six firefighters and both front impact and side roll protection systems. The 20.5-foot aluminum rescue body features four roof storage compartments, a roof light tower, electric awning, 40 kW 3-phase PTO-driven generator, complete breathing air system and a wide assortment of shelves, utility trays, and tool boards. Other Pierce vehicles on display at FDIC include a Peterbilt pumper in booth #9902 and a Freightliner pumper in booth 4120. Finally, the Oshkosh Foundation is sponsoring a "signature wall" within the Pierce booth. For every signature collected at FDIC, the Oshkosh Foundation will donate $1 to the National Fallen Firefighters Foundation (NFFF) up to a total $10,000.