Hurst Jaws of Life Couplings: Adapters & Fittings
(4)
Browse Couplings: Adapters & Fittings
Adapter/Fitting products updated recently
FDIC International 2021 Review: Despite August Heat, The Show Triumphs Amid the Lingering Pandemic
Back in Indianapolis for the first time since 2019, FDIC International 2021 offered a full slate of conference sessions, hands-on training and equipment exhibitions. Attendance was down, but everyone appeared happy to be back at the show, after cancellations and delay caused by the COVID-19 pandemic. Masking compliance was low, despite continuing concerns about COVID-19 and the Delta variant. There was little social distancing. In many respects, the show seemed back to normal. A highlight of the event was the National Fallen Firefighters Foundation's (NFFF) 9/11 Stair Climb. It's a way for attendees to honor and remember those in the fire service community, who gave their lives in the 9/11 tragedy. Hundreds of FDIC participants paid tribute by climbing or walking the equivalent of the 110 stories of the World Trade Center. MSA's LUNAR hand-held device on display As always, safety was a huge theme at the FDIC exhibition, including development in hand-held tools As always, safety was a huge theme at the FDIC exhibition, including development in hand-held tools. MSA Safety displayed the new LUNAR hand-held device that helps keep firefighting teams connected, combining direction and distance information with thermal imaging to help find separated teammates and decrease response time. LUNAR uses cloud technology to increase fire-scene management capabilities for incident commanders. LUNAR can be used as a stand-alone device or as part of an MSA SCBA (self-contained breathing apparatus) system. Thermal imaging with edge detection identifies hot spots and ventilation points, so as to simplify navigation through low-visibility environments. Tethered drone and Reveal FirePRO X thermal camera FotoKite (Perspective Robotics AG), which has a joint development agreement with MSA Safety, featured a tethered drone that hovers over the site of an emergency, in order to provide networking capabilities through the tether for better connectivity. Seek Thermal offers the 'smallest and lightest' thermal imaging camera, available for US$ 799 and seeks to bring the benefits of thermal technology to every position on the fire team. The Reveal FirePRO X can now be charged using a four-station charging dock priced at US$ 399. The compact size makes the FirePRO X easy to carry and manage, while its high resolution and fast frame rate ensure superior images. Teledyne gas detection systems exhibited Teledyne displayed a range of gas detection systems, starting with the simple Protégé ZM carbon monoxide meter that can clip onto pockets, helmets, and EMS bags. A new product is the Gas Laser, a hand-held device that can quickly scan common venting points from a safe distance, in order to identify the presence of dangerous explosive gas. Teledyne recently acquired FLIR and the combined companies will provide a spectrum of imaging technologies and products spanning X-ray through infrared and from components to complete imaging systems. FDIC International's Innovation Hub focused on new technologies coming to the fire service Innovation Hub FDIC International's Innovation Hub focused on new technologies coming to the fire service, featured in a presentation theater on the show floor. Leading the initiative was SafeTech, a College Station, Texas-based non-profit organization, whose mission is to bring new technologies to first responders and armed forces. One featured company was Tracks North America, which provides unmanned vehicles with fork-lift capabilities. Another was Infysort, which makes superabsorbent pellets – 'hyper-blown polypropylene sorbent nanomaterial' that can absorb 50 to 60 times its weight in oil. Hale Products SAM control system HURST Jaws of Life demonstrated eDRAULIC 3.0, a new underwater power extrication tool The SAM control system, by Hale Products, is gaining in popularity, offering computerized/integrated water flow controls that manage a fire truck's pump, tank, intakes and discharges using touch-screen display for simplified interface. The new SAM Smart Nozzle allows firemen to control flow from the end of the fire hose. HURST Jaws of Life demonstrated eDRAULIC 3.0, a new underwater power extrication tool that can withstand salt water. The Lifeline Firehose provides a source of continuous breathable air coming from the nozzle of a fire hose. The patented coupler design enables the continuous air supply, which can also be used to power air tools. Seeking to help small and medium fire departments replace paper documentation, incident management systems offer low-cost digitization. Environmental awareness From Rosenbauer A topic among fire apparatus companies is idle reduction systems designed to shut off the main engine in a fire apparatus when not needed, eliminating loud diesel engine noise and exhaust, while maintaining power for lighting and air conditioning, for example. It is a reflection of growing environmental concerns among fire manufacturers. For example, Rosenbauer's Green Star system makes idle reduction easy, using electronic controls to shut down the chassis engine on-scene (if the fire pump is not engaged or no aerial operations under way), and starting a diesel-driven Auxiliary Power Unit (APU). Pierce Volterra zero-emissions pumpers The first Pierce Volterra zero-emissions pumper has been placed in service in Madison Pierce launched their Volterra platform of electric vehicles. The first Pierce Volterra zero-emissions pumper has been placed in service in Madison, Wisconsin. At FDIC International 2021, the Pierce booth included an electric vehicle technology kiosk and took attendees through the electric fire truck's attributes. CMC Rescue Rope and Harness Systems CMC Rescue Inc. demonstrated rope and harness systems for rescue operations, including special duffle bags and access packs for easy transport of harnesses. The CMC Clutch is now available in 13 mm and 11 mm models, for hauling, lowering, ascending, descending, belaying and deploying twin-tension rope systems. The CMC Triskelion 10-foot tripod features rapid deployment, for example, over a hole where a rescue is taking place and is certified to NFPA (National Fire Protection Association) standards.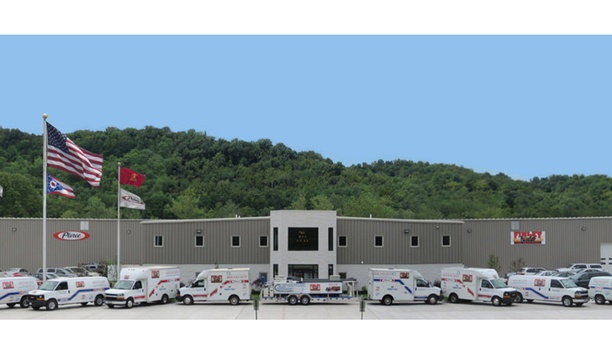 Pierce Announces That Finley Fire Equipment To Open New Western Ohio Service Center
Pierce Manufacturing Inc., an Oshkosh Corporation company, announced that Finley Fire Equipment, the exclusive Pierce dealer for Ohio, Kentucky, and part of West Virginia, has secured a location for development of the company's largest service center in Ohio. The Western Ohio Service Center is located off of I-75 at 11600 County Road 99 in Findlay, Ohio, with a planned opening in August 2019. In addition to preventive maintenance and major repair work for apparatus, including aerial platforms, the new service center will act as headquarters for a fleet of mobile service units. New service center Finley Fire Equipment's Western Ohio Service Facility will provide: Expanded indoor areas to accommodate ladder maintenance, repair, and aerial platform work and education Self-Contained Breathing Apparatus (SCBA) trainings Ample storage space for apparatus parts and equipment inventory to be kept on site for quick repairs Hydrostatic air bottle testing to DOT standards Pump testing A specialized service to clean and decontaminate firefighter gear exposed to carcinogens and other harmful substances Additional mobile service vehicles and on-the-road technicians Conference meeting room for fire departments and technician training use Expanded service support Located within easy interstate access from Toledo, Lima, Dayton, and Mansfield, the Western Ohio Service Center facility allows fire departments in the surrounding communities the ability to have apparatus inspected or repaired and put back into service quickly. The service center is conveniently located for fire departments within an expansive geographic region" "We are eager to begin operating out of the new facility and offer expanded service support to fire departments in the region," said John W. Finley, President and CEO, Finley Fire Equipment. "The service center is conveniently located for fire departments within an expansive geographic region and will allow us to stretch out aerial ladders for inspection, maintenance, and training, as well as offer gear testing and group and department training space." Preventive maintenance programs Finley Fire Equipment also operates service facilities in McConnelsville, Ohio, Fairport Harbor, Ohio, and Lexington, Kentucky. The centers provide preventive maintenance programs, minor repairs to total refurbishments, the largest fleet of mobile pump testers in the industry, and a growing mobile fleet of 24 service vehicles and 25 certified Pierce service technicians. "It's very important for fire departments to reduce the amount of time a fire apparatus is down for service, and having a center close to your department's home helps ease that concern," said Joshua Eberle, Fire Chief of Findlay Ohio Fire Department. "Finley Fire Equipment recognized this need with the planned opening of the Western Ohio Service Center, and departments in the surrounding regions are sure to understand and see the value Finley brings to the communities they serve." Hydraulic tool service We look forward to the opening of Finley Fire Equipment's new service center" Gary Hickman, Fire Chief of Allen Township Fire Department agrees. "The Allen Township Fire Department currently has several engines in service and we require a trusted partnership with our service provider." Chief Hickman added, "We look forward to the opening of Finley Fire Equipment's new service center because not only will the location be convenient, the services offered including pump testing, hydraulic tool service, and more will be a great benefit to our department." Finley Fire Equipment's service centers are supported by one of the largest and strongest teams of dedicated service and support professionals in the custom fire apparatus industry. In the future, the company hopes to expand services at the Western Ohio Service Center location to include hydro-testing of air cylinders, Scott Air-Pak testing, and Hurst repairs, as well as add outdoor water accessibility for pump testing.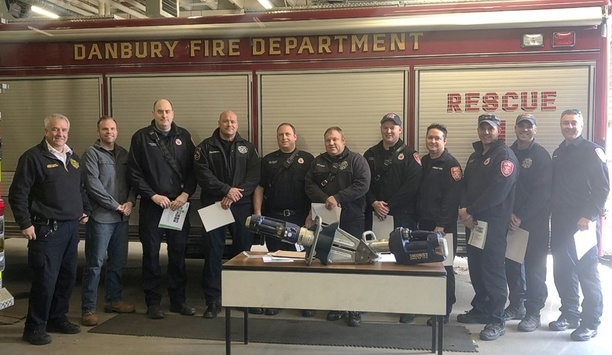 Danbury Firefighters Awarded Green Cross By Hurst For Their Life-Saving Rescue Work
On July 27, 2018, at just about midnight, a two vehicle accident occurred on Newtown Road, which left three people seriously injured, one trapped in one vehicle, two trapped in the other. According to the Hospital Trauma Coordinator, all three victims were suffering from life threatening traumatic injuries. In her opinion, without rapid extrication of all three of these victims, the outcome would not have been as favorable as it was, with all three victims eventually recovering from their injuries. Using Hurst eDraulic Rescue Tools Firefighters from D platoon arrived and went to work to rescue the trapped victims. Deploying one set of hydraulic Hurst Jaws of Life tools, along with four different Hurst eDraulic rescue tools, the firefighters began rescuing the victims from both vehicles. On one vehicle, the position of the trapped driver made it very difficult to perform a modern dash-lift maneuver to rescue him, so firefighters reverted to the more traditional method of a 'steering wheel/dash lift', utilizing an eDraulics jaws with chains to free this trapped driver. As this operation was on going, other members of the crew used the other Hurst tools to free the other two victims, and turning them over to paramedics for the transport to the trauma center. Details of this rescue were sent to the Hurst Company for consideration of their Green Cross program. For the actions of the Danbury Fire Department, D Platoon, on July 27, 2018, they are awarded the Green Cross.